Let's face it:
Power outages happen every now and then. What if someone breaks into your home during those moments? You know, some clever burglars might just turn off the power before committing the crime. Or you just occasionally need to do electrical work, which requires power to temporarily go down.
You are off guard.
That is where the security camera with battery backup comes into play.
Today I'll introduce two most popular battery backup security camera solutions, together with their battery backup time, wiring instructions and everything you should mind.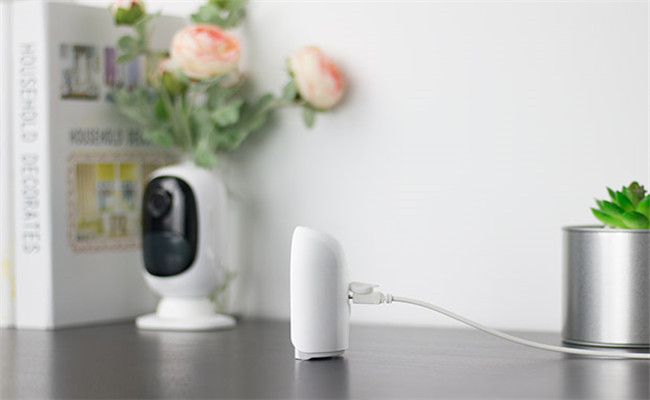 IP Camera Battery Backup Basics
As you could intuitively understand, the plugged in wired or wireless security cameras won't work when the power is out, no recording, no remote access, no motion detection, and no video saving to the NVR or DVR.
Well, good news is that you will not lose any settings saved on the system or video recorded to the hard drive. And the camera will start to work as your previous scheduled settings after the power is restored. No more configurations needed to connect it to the Internet or phone app again.
So the essential points lies in how your cameras can survive those dark times when power is out.
Basically, two solutions.
Solution 1: Security Camera with Battery Backup
"Do I need battery backup for all security camera system?"
Not for battery powered security cameras, the best budget choice without adding any hardwire and extra pay!
Actually, the CCTV battery backup is constant, which means you will have motion detection, sound alarms, continuous monitoring and recording 24/7, getting you protected even when the power is out.
Well, do remember to charge the batteries in time. But no need to worry too much about it. Most battery backup CCTV have the low-battery-power notifications sent to your phone, so you won't miss it.
Better still, some battery backup for CCTV cameras supports solar power to save you the trouble of battery recharge. For example, when you connected the Reolink Argus 2 to the Reolink Solar Panel, you can get CCTV backup power all the time, even in rainy and cloudy days, and just forget about the charging thing.
Reolink Argus 2
100% Wire-Free Starlight Camera
Rechargeable Battery & Solar Powered; Outdoor/Indoor Protection; 1080 Full HD; Starlight Night Vision; 2-Way Audio; Live View Anytime Anywhere.
Note that even you have CCTV power supply with battery backup, you may not be able to access the WiFi camera via your phone, like checking the camera live feed, which will need Internet connection. And that requires power supply to your router also. You can use a UPS for it.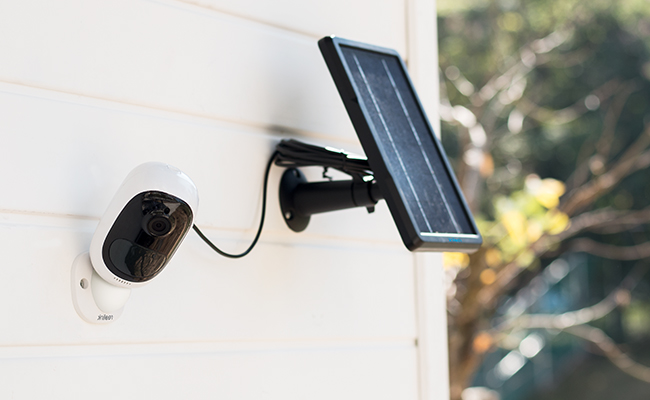 Solution 2: UPS for CCTV Camera
"Do I have other options except for the battery backup IP cameras?"
Of course! Just get a UPS for CCTV.
The Uninterruptible Power Supply (UPS) for CCTV camera system provides short-term electric power to the cameras, recorders, router, monitor, and all the necessary counterparts connected to it, so that the camera can work even when power goes out.
Whether you want to build a PoE or wireless home security camera with battery backup, the UPS could help with it. But mind that a UPS for CCTV is likely to cost you at least $100, comparable to a decent battery backup IP camera. So make a tradeoff before the purchase.
Besides the cost, you may curious to know how long the UPS for CCTV may sustain, and how to set up the UPS for CCTV camera system. Now let's check it out.
#1. UPS CCTV Backup Time
Note that the UPS for CCTV can't last too long. And how much time the UPS for security system could run depends on the UPS battery capacity, and the camera models you use.
Here is a simple formula to calculate for a precise answer:
UPS Backup [in hours and in actual load] = Battery Ah * Volts/Actual Load
For example:
You've got an 8 channel security camera system, like the Reolink RLK8-410B4, with 4 cameras (5.5W) and an NVR (25W), along with a 1500VA UPS (2 batteries at 9AH, 12V).
The CCTV backup power run time:
2129/(5.5*4+25) =4.6 Hours
So generally, the UPS power backup for security camera system could hold nearly 5 hours period of power cut, which is enough to deal with most power issues. And you may calculate the time your UPS for NVR or DVR accordingly.
#2. CCTV UPS Battery Backup Wiring
An easy way to start the project is to ask yourself a question:
What are the components in your security camera system that couldn't live without power?
Just connect those devices with the UPS for CCTV camera, that's all.
For wireless IP cameras or PoE security cameras with battery backup, just connect the camera, monitor, and router to the UPS. I will recommend you to use the mini UPS for standalone CCTV camera, which is cheaper and convenient to use.
For wired or wireless security camera systems with battery backup, you will need the UPS for NVR or DVR.
You might require more than one UPS since it's likely the camera is going to be located far away from the wireless router location. In that case, you might go with 2 mini UPS for CCTV camera.
#3. Pro Tips for the Best UPS Backup
The market is inundated with various UPS for CCTV camera system, good and bad. Here are some guidelines for you to pick out the best UPS CCTV system:
Consider the distance of your security first, and then decide which types of UPS to go for.
Estimate your wattage requirement first, and make sure it doesn't exceed the system's wattage limit.
Get the automatic reset UPS for DVR/NVR, which ensures it to turn back on as soon as power is restored.
Choose the UPS for CCTV camera that provides surge protection, and has DC output.
Larger UPS capacity will be better if your budget permits.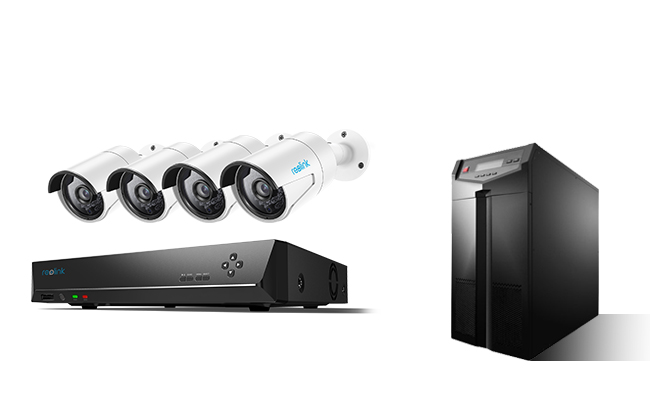 CCTV Battery Backup Button Line
Getting a battery backup CCTV camera could be the easiest way to deal with the power outages, and getting a UPS for CCTV could make the best use of your existing security camera systems.
And you can always choose to add a camera with backup power supply and independent data transmission network, like 4g security camera Reolink Go, to make sure you can always record what you want and check on your property in whatever adverse situations, no power, no WiFi, and no wire.
Let us know if you have any questions concerning battery backup for surveillance cameras, in the comment down below!