"Need to monitor remote land where I have great 4G signal but no power nor WiFi. Is that possible?"
That's when the 4G security cameras shine, as they are exactly designed to meet your security needs in the remote off-grid places without Internet/WiFi and power.
So what are 4G wireless security cameras? Why should you choose 4G LTE security cameras and how to select a best one? How much data does a 4G IP camera consume per month?
Now let's right cut to the chase.
Content:

Ready. Set. Save!
Big selection, big SAVING. Get your hands on Reolink security cameras & systems before the best prices slip away!
What Are 4G Security Cameras
4G security cameras, also called 4G LTE security cameras, are the mobile monitoring cameras that use 4G LTE network to deliver live viewing and send instant alerts. (Similarly, 2g/3g security cameras refer to the ones with 2g/3g network connectivity.)
As the above definition indicates, 4G cellular-based CCTV cameras require a separate mobile service plan to work. And the cellular data consumption of 4G IP cameras varies, depending on how many times you watch live streaming, receive motion detection alarms, etc.
Though the emerging 4G surveillance camera market now offers you quite limited options, some reputable brands, who saw the great demand and tremendous potential, have launched their 3g/4g security cameras to seize market shares first.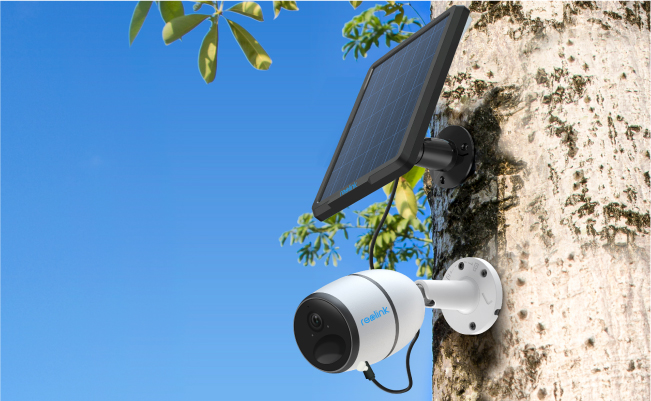 Why Should You Choose 4G Wireless Security Cameras
The 4G security cameras have made it a reality to monitor the areas limited by the scarcity of Internet infrastructure. And there are also more benefits of 4G outdoor & indoor security cameras:
100% wire-free. The battery powered or solar powered 4G security cameras free you from the messy cables, saving you the cost to run wires and maintaining the original décor of your property.
Easy to install and move. The plug and play 4G CCTV camera systems no longer require you to climb through attics or fish wires through ceilings and walls. You are also free to take and reposition the 4G LTE security cameras as you wish.
Versatile. The 4G video cameras can work almost anywhere within the 4G cellular network. And they can function as normal even in case of power outages.
Affordable. As more security camera suppliers enter the 4G camera field and compete for market shares, the price of 4G security cameras has declined than ever before.
Scalable. You are free to expand or update your 4G camera systems by adding more cameras in your desired locations, with no subscription fees or long-term contract.
Sum Up: 4G security cameras are most suitable for the isolated places where there is no Internet or power source available, such as your remote cabins, barns, farms, ranches, boats, marina, ranch, shed, second/vacation home, hotels, Airbnb rental properties, construction sites, new home build site, senior living facility, campsites, warehouses, etc.
Below is an image shared by a user of the 4G wireless security camera Reolink Go, Jens, who installed the camera for his barn in a breeze – no messy wires or drilling holes involved.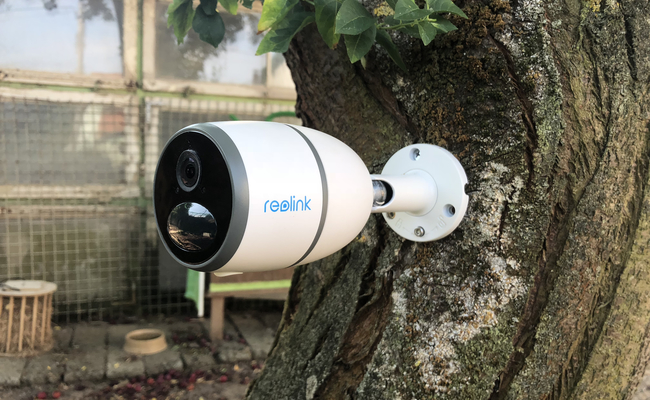 Alternatives: If you need to monitor places without power source but with WiFi connection, the battery powered security cameras (like Reolink Argus 2), instead, would be a better option for you.
What to Consider When Choosing 4G Security Cameras
Even though there are few 4G security cameras for sale now, it also requires you to do enough homework so that you can pick up the best 4G wireless security cameras.
1. Powering Options of 4G Security Cameras & Systems
The 4G camera systems in the market now are mainly powered by rechargeable batteries, while some top rated ones, like Reolink Go, also offer you the option to buy customized solar panel to provide non-stop power.
The 4G battery powered & solar security cameras not only excels as an environmentally friendly solution, but also release you from the worries of batteries dead without your conscious and save you the huge trouble to change batteries frequently. (Learn more benefits of solar cameras here.)
Takeaway: If you want to DIY a 4G solar powered security camera, this expert guide can shed light on the detailed procedures for your reference.
2. Smart Motion Detection & Notifications of 4G Wireless Security Cameras
You certainly want to receive instant notifications to your phone when the 4G security cameras detect any motion events, but make sure the 4G remote cameras feature accurate motion detection so that the alerts are indeed USEFUL.
If your 4G wireless security cameras send too many false alarms and trigger video recordings too frequently, they will eat up your data plan in no time. And even you buy the most expensive cellular data plans, your 4G IP cameras might only offer few hours of video recording in a single month!
The feasible ways to solve this problem include placing the 4G LTE security cameras in low-traffic areas, adjusting the motion detection sensitivity property based on your needs, etc. (Read this post to learn more solutions.)
3. Cellular Reception of 4G CCTV Cameras
4G security cameras need good cellular reception to stream live feed or send instant alerts, just as you need stable network signals in the Internet-coverage areas.
If it takes a long time for your 4G IP camera to load live streaming due to the poor cellular signals, much of your mobile data will be consumed and wasted.
Note that your 4G LTE CCTV cameras might receive relatively weaker signals than your cell phone, as the quality of mobile communication module signals may not surpass that of your phones.
To ensure that your 4G security cameras can have good cellular reception, it is best to choose the reliable carriers in your location, such as T-mobile, and place your 4G LTE surveillance cameras in areas with good cellular signals.
And it is also important to choose the top security camera brands with professional support team, which offer 1-to-1 free technical support when when your 4G CCTV cameras goes wrong.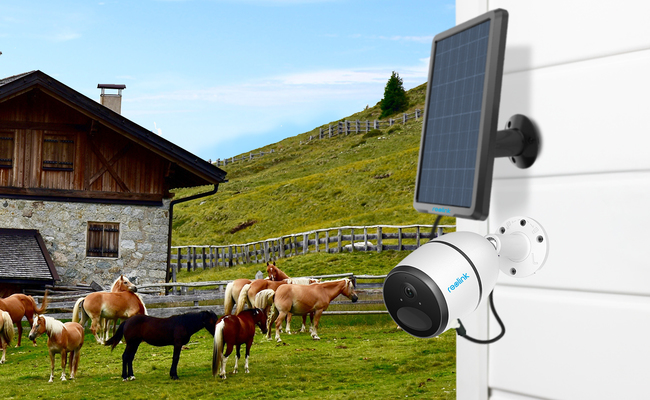 4. Night Vision of 4G Surveillance Cameras
As you may not regularly visit the place where the 4G security cameras are installed, good day and night vision of IP cameras over 3G/4G is a must for you to keep informed of what is happening out there.
Now the majority of 4G wireless security camera systems for sale deliver 720p images and videos, and Reolink Go stands out among 4G cameras in virtue of the 1080p higher resolution videos, which means greater clarity and more details for you.
This 4G wireless IP camera Reolink Go also features starlight night vision and can see up to 33 feet even in total darkness, so you can pinpoint the license plate numbers, human face features or other more details at a distance.
You may watch the video below shared by a real user to check out the image quality of Reolink Go 4G camera in the nighttime.
5. Affordability of 4G IP Cameras
The initial cost the 4G security cameras might be a little high, but it would not be much of an issue considering the expenditures they have saved to set up Internet connection and run wires in your no-network property.
And when you select 4G wireless security cameras, watch out for the contracts you need to submit to. Besides the cellular data plan, some 4G IP camera providers may also require you to pay for their cloud storage service.
If you are on a tight budget, choose those 4G video surveillance cameras with affordable cellular connectivity and no contract.
6. Recording Options of 4G LTE Security Cameras
If you'd like to save the motion videos of 4G security cameras onsite without monthly fees, the 4G surveillance cameras with SD card (slot) would be a cost-effective option for you.
Other than that, some top 4G/3G LTE mobile network security cameras, like Reolink Go, also offer you to option to store videos on the Cloud, so that you can view the camera footage anytime & anywhere.
Q&As About 4G Security Cameras
Here we've collected some frequently asked questions about 4G security cameras to help you gain a better understanding. And if you have other puzzles about 4G cameras, don't hesitate to comment below and we might include yours in this part.
How to Maximize the Data Plan of 4G Wireless Security Cameras?
Some cellular data plans of 4G wireless security cameras offer a fixed number of minutes of videos per month. Maximizing the data plan, in essence, means saving your hard-earned money.
Besides reducing the false alarms and useless motion-triggered recordings, lowering the 4G camera resolution or frames per second (based on your actual needs), and placing 4G IP cameras in good cellular signal areas can also help you take full advantage of the cellular data.
I Have Verizon as My Cell Phone Carrier. Will I Be Able to Access the 4G Camera on My Android with My Current Cell Data Carrier Even If the Camera Is Through T-mobile?
Absolutely YES!
For the 4G IP cameras, it doesn't matter which cell phone carrier you use. You simply need to buy a SIM card from the supported mobile network service providers and that's it.
If Multiple 4G Cameras Are to Be Used at the Same Location, Do You Need a "Data Plan" for Each Camera
Yes, one 3G/4G sim card is assigned to only one 4G camera. But you may consult your local cellular carriers whether they would have a bundle package deal on more than one 4G wireless security camera.
Can the 4G Security Cameras Connect to the Internet Through WiFi
Most 4G LTE security cameras now don't support WiFi connection as they are designed to work in areas without Internet or WiFi in the first place.
If your monitoring place has WiFi available, the 3G/4G security cameras also would not be the best options in terms of their high price compared with other wireless security cameras.
Will the 3G/4G CCTV Cameras with Sim Card Work Regardless of the Country or Location?
Normally the 4G security camera sellers would list the supported mobile service providers in the product page, like T-Mobile, AT & T, etc.
Check whether the cellular data suppliers are available in your local place. As long as your IP cameras with 4G SIM card can receive strong and stable cellular signals in your location, they are able to work perfectly as you wish.
Best 4G Security Cameras Recommended
After digging around for all the 4G security cameras available, here we would like to recommend our best pick – Reolink Go, an innovative product by Reolink following the big success of its rechargeable battery powered & solar powered security camera Reolink Argus 2.
This 4G surveillance camera Reolink Go is a clear winner in every aspect including:
Flexible power options: It comes with an eco-friendly rechargeable battery and allows you to add Reolink solar panel (requires a separate purchase) to get continuous power.
High resolution: With 1080p high resolution and starlight night vision, this 4G wireless security camera boasts better day and night vision than other competitors.
Accurate motion detection: Relying on the smart PIR motion sensor, it triggers almost zero false alarms resulting from a car driving by or the wind blowing.
Good cellular reception: This 4G camera can receive good cellular signals based on the hundreds of test results.
No contracts or monthly fees: Reolink Go comes with an SD card slot to record videos onboard, so you don't need to pay the monthly subscription fees.
Now watch the video below to check out the daytime image of Reolink Go 4G security camera (shared by Jens on his Youtube channel).
Video Transcription
Want to monitor your horses or pregnant cows without WiFi or Internet? Thanks to the 4G LTE security cameras, you can also remotely check on the activities of your livestock (like the rabbits in this video) on your phone without physically being there.
Updated, Nov. 2020: Aside from the 4G camera mentioned above, outdoor lovers can grab a pan-tilt version camera, Reolink Go PT, when they are camping, fishing, or hiking.
So do you also intend to buy a 4G security camera? If yes, where are you going to place the camera? And what other concerns do you have about 4G cameras? Now share your ideas or problems in the box below and we'd reply to you in 24 hours!