Security light with camera, with the help of added lightning and motion tracking function, enables you to see clearly far-away objects, like the plate number 70ft away, in enhanced color night vision and covers your whole backyard, garage or front entrance with expanded field of view.
That's how a security light with built in camera and recorder will work, ideally.
But attention that a flood light with security camera can light up the whole place doesn't mean you can actually see that far on your phone, and a security light camera does not necessarily mean better night vision, either.
Read on to find a best security light with IP camera solution that can truly meet your needs and help you sleep tight at night, and save money – you know, a security light with camera could cost you nearly twice the price of a quality outdoor security camera from the top CCTV camera brand.
To make things easy for you, just get started by following the questions below.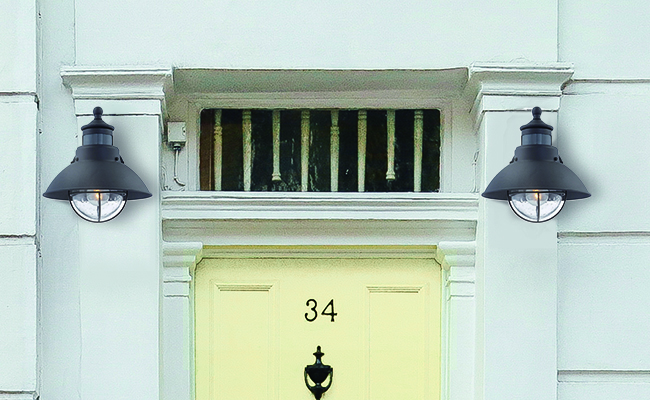 Q1: Does Outdoor Security Light with Camera Have Good Night Vision
Burglars, intruders, car-keyers and thieves would not sleep too tight at night if they find your home easy to break into – that's the reason you consider a security light with camera, right? You want to catch the crime on the act with an identifiable image to hand to the police.
However, LED security light with camera does not guarantee excellent night vision, as I have put it. And that's mainly because the limited resolution of its built-in security camera.
Many brands of home security light with camera only offer 720p burry resolution, including most security light bulb camera, which is far from enough to see any detail like the facial features and plate number.
Nowadays, the 1080p security cameras, including Reolink Argus 2, are rather affordable with starlight IR night vision to help see details sharply at dark even without added lightning.
Alternatives: Security Cameras with Starlight Night Vision
A starlight PIR security camera is the right way to protect your home during the complete dark night, if the excellent night vision is what you want from security light with camera.
Take Reolink Argus 2 for example. With a sophisticated starlight sensor, it emits the invisible infrared light and uses that to produce images which are just as clear as the day! And it will automatically switch B/W and color night vision to guarantee the best identifiable images possible.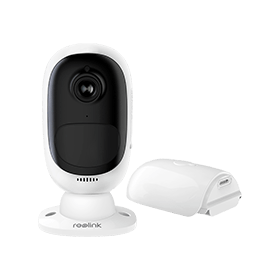 Reolink Argus 2
100% Wire-Free Starlight Camera
Rechargeable Battery & Solar Powered; Outdoor/Indoor Protection; 1080 Full HD; Starlight Night Vision; 2-Way Audio; Live View Anytime Anywhere.
Q2: Does Security Light with Camera Have Wide Field of View
Some outdoor security lights with camera have two floodlights covering up to 270° area with 140° camera field of view, and 70 feet detecting range.
Again, as I said, the motion detection area and the actual field you can view via your phone is 140° rather than 270° – it is decided by the built in camera instead of the light. That's to say, if a burglar enters the light zone, which is 270° in the example, he may not trigger a motion unless he was in the camera's field of view, which is 140°.
Based on that, a motion security light with camera may not be the best option if you want to have a larger effective monitoring area during the night, with lots of wide angle security cameras available at affordable price and long range night vision.
*Most motion activated security light with camera will apply to the above situation. Well, some security lights with PIR or security lights with sensors may use wide-angle exterior PIR motion sensors, reaching up to 270° for example, but mind that you could only have the light on and the camera will not be triggered and record in that case.
Alternatives: PTZ Security Cameras with Long Range Night Vision
With pan and tilt function, PTZ security cameras, like Reolink RLC-423, can rotate 360° horizontally and 90° vertically with 190ft long range night vision, leaving you real no blind spots compared with the motion activated security light with camera.
If you are now considering the security light with camera for home just because of its large viewing field, do check the PTZ security camera before making your final decision.
Q3: Does Security Light with IP Camera Have WDR
What's WDR in CCTV/IP cameras? When part of an image is extremely dark but another part is bright, typically, you can't see any details in the dark area without WDR (wide dynamic range) in the camera.
The WDR is important for the motion sensor security light with camera, especially for that installed outdoors to watch the porch. If your porch is shaded and your walkway is sunny, this might confuse the camera and impact your ability to see detail in both areas.
Unfortunately, most security cameras with lights for outdoors do not have the WDR feature. So in the hot summer, you might have to bear with the blurry images if you choose the motion security light with camera.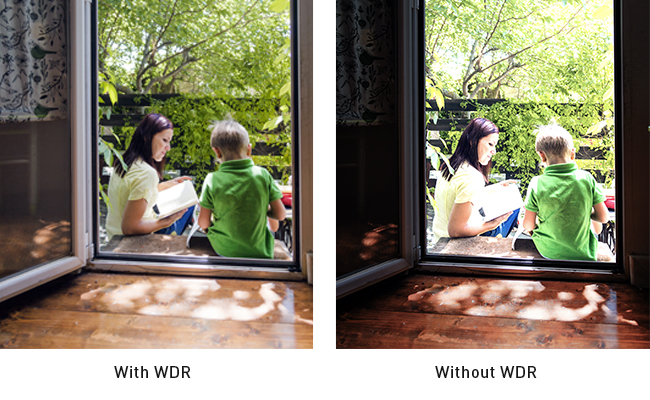 Alternatives: Security Cameras with WDR
By contrast, most professional security cameras, like the above mentioned Reolink Argus 2 and Reolink RLC-423, are WDR enabled to provide clear images in both bright and dark areas.
Q4: Is Security Light with Camera Easy to Install
The outdoor security light with WiFi camera is easy to install, as advertised, only if you have a clear idea about how to connect the ground wires, black and white wires in the junction box. Yes, wireless security light with camera doesn't mean NO wires.
Sometimes the wires of outside security light with camera that should be connected together are in different colors. In that case, you need to consult an electrician to make it right and secure if you don't have concerning technical background knowledge.
Alternatives: Wire-Free Security Cameras
No wires and no cords, you can mount the wire-free security cameras including Reolink Argus 2 on the wall with simple screwing in 5 minutes – no need for the junction box and other complex tools!
Q5: Is External Security Light with Camera Weatherproof
If you are going to put the security light with CCTV camera/system outside your home, don't forget to check its IP rating which signals whether it will be damaged in the harsh weather like the rain, snow, and humidity.
Most security lights with built-in CCTV cameras and recorders provide IP43/IP44 weatherproof rating. The cover can protect sprays of water and solid objects like wires from getting into your security floodlight with wireless camera.
It provides a certain degree of protection for outdoor use, but you need to think it through whether to go for the solar security light with camera if there is expected harsh rain or snow in your area. The security light bulb camera could probably break down for a few months.
Alternatives: IP65/IP66 Security Cameras
Compared with the IP43 and IP44 weatherproof rating that most exterior security light with WiFi camera provides, IP65 or IP66 security cameras are designed for and much more durable in outdoors (Check what IP rating means here).
The Best Home Depot Security Light with Camera Solution
From all the above analysis, it seems that a professional security camera will do better in security and video quality than a security light with camera combo.
If you've done an in-depth research and read the security light with camera reviews, you'll find that there are few motion activated security lights with cameras – Ring, Kuna, Nightwatcher, Guardcam, Halogen, Lightstar, XEPA, Nighthawk, Home Zone, Home Protector and others– could satisfy your need for decent home protection.
Well, admittedly, having the ability to configure the light to turn on when other cameras detect motion would be a good deterrent, and the security light with built in camera is much more inconspicuous.
The Verdict: Security Light with CCTV or Security Camera with Added Light
So if you want to have the basic protection for your home/garden including the loud siren, small SD card storage, notifications and are don't mind the probably blurry images (720p resolution is popular among these products), the LED security lights with built in camera or PIR security light with camera should be enough for you.
But if you want 1080p (and higher) quality images, starlight night vision, easy installation, the IP66 weatherproof feature, larger monitoring areas, and most importantly, less cost, get a professional security camera.
No extra wires, no obtrusive objects and no worries at night. Security cameras can also realize them all, if you choose the right one and use it in the right way.
It could satisfy your needs for security light with remote wireless PIR motion sensor, SD/memory card, timer, remote control, wireless feed to PC/TV, wireless CCTV video recording and wireless chime alarm/buzzer at the same time and more.
Best Security Light with Camera Alternative to Save Your Money
Actually, if you don't have to light up the area and hope that will threat the burglars away immediately, the Reolink Argus 2 will be a much more economical solution to protect your front door, backyard and garage with higher level security.
And it's worth mentioning that the Reolink Argus 2 also support solar power to help you save energy – a perfect alternative to solar security light with camera combo, which is not that popular yet on the market.
| | |
| --- | --- |
| What you may want from exterior security light with camera | What Reolink Argus 2 can bring |
| Excellent night vision | Starlight night vision |
| Wide viewing angle | Diagonal viewing angle: 130° |
| Easy installation | Wire-free set up in 5 minutes |
| High video clarity | 1080p HD resolution |
| Affordable price | $129.99 with free shipping worldwide (US, UK, CA, AU, etc) |
| Wireless flood light security camera | Wireless, literally, with high level security |
| Exterior security light with sound & buzzer | Loud siren and two-way audio enabled |
Of course, you are free to add security lights with motion sensors additionally to work with the Reolink 2 at bucks extra cost.
Want larger field of view and longer range night vision?
Reolink RLC-423 will not disappoint you.
With 360° horizontally and 90° vertically rotating, the RLC-423 enables 190ft super long-distance night vision, and covers a large motion area that the security light with camera motion sensor could never compete with.
And you may place it near an outdoor light for enhanced or color night vision if you want to build security camera with light for outdoors.
If you have more questions about motion tracking security light with camera or need help in the camera selection, leave us a comment and we'll get back to you very soon.