So many indoor security cameras for home too choose from, and it's hard for you to select the top one for your own.
This post guides you on how to choose the best indoor security cameras, with video samples.
Content:
Factors to Consider When Choosing Best Indoor Security Cameras
The key point things or features to consider when you choose a best indoor security camera, are price, wireless vs wired, 1080p or higher resolution, audio, night vision, remote viewing, recording or local storage, etc.
Here are the details:
1. Price
Your budget, to a certain extent, affects the level of indoor home security cameras you would choose from.
If you invest inside security cameras for only, say, $20, big chances are that you would get a fake or low-grade camera, in many cases, with video loss, signal loss, and blurred images.
But don't get that wrong.
Many high-quality and top-branded indoor cameras are affordable (inexpensive) nowadays, just costing more than $50.
Here is the table of the 2019 indoor home security camera price list. You would see the best indoor security cameras under 100.
| | |
| --- | --- |
| Camera Type | Price |
| DVR Security System | $99 – $800 |
| NVR Security System | $120 – $1300 |
| CCTV Camera | $15 – $200 |
| P2P IP Camera | $40 – $300 |
| Battery Security Camera | $40 – $150 |
| Solar Security Camera | $40 – $200 |
| Cellular Security Camera | $130 – $400 |
| Monitored Security Camera | $180 – $300 |
| 4K Security Camera | $130 – $200 |
| Hidden Security Camera | $60 – $150 |
| 360 Degree Security Camera | $35 – $180 |
Source: Security Camera Price: Smart Buyer's Checklist 2020, which details all the price things of security cameras.
2. Wireless vs Wired
Choosing a wireless security camera system for indoors or a wired one determines the placement and installation in your house.
For a wireless one that has no cables, say, Reolink Argus 2, you can put it anywhere indoors, without drilling and wiring, and can even use it as a hidden indoor security camera.
Here is the video guide showing you how to place the wireless WiFi security camera indoors and even outdoors.
Video sample to put Reolink Argus series cams indoors and outdoors:
For a wired indoor security camera, drilling and wiring are skilled tasks, but many of you can handle them.
Here is the video guide showing you how to install Reolink RLC-422, the wired security camera indoor. You may see the post: How to run wires for security cameras, for more tips.
Video sample to install a wired indoor camera:
3. 1080p Full HD or Higher Resolution
Always remember, in most cases, the higher the resolution, the clearer videos.
And 1080p (1920*1080) is the bottom line for the best wireless indoor/outdoor security camera.
And that resolution guarantees you will see details very clearly with the indoor wireless cam, especially when you put it in a badly-lighted room.
You can choose an indoor IP camera in higher resolution, like 5 megapixels or 8 megapixels.
Here are the video samples in 1080p, and in 8 megapixels.
Video by 1080p indoor security camera Reolink Argus 2:
Video by 8-megapixel indoor & outdoor home security system Reolink RLK8-800B4: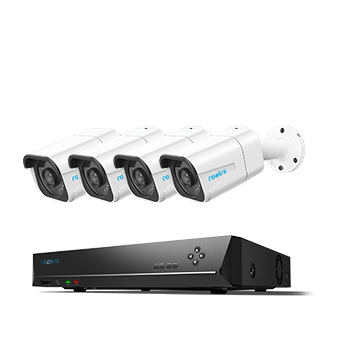 Reolink RLK-800B4
4K 8-Channel PoE Security System
4 pcs 4K Ultral HD Security Cameras; 2TB HDD 8-Channel NVR for 24/7 Recording; Plug & Play; 2 Network Solutions.
4. Audio
There are 2 kinds of audio functioning for an indoor security camera:
2-way audio means you can listen in and talk back in real-time. Like, you can answer the door via your phone that's connected to the camera even when you're not there; and warn the uninvited to leave your property when you're on a trip.
Reolink Argus Series, Argus 2 and Argus Pro, for example, are indoor wireless security cameras with 2-way audio.
Here's the sample video showing how the 2-way audio indoor security camera works:
1-way audio, on the other hand, only with a mic, enables you to listen to what's happening. And if you prefer this kind of indoor IP camera with audio, you may have a look at the best seller RLC-410.
5. Night Vision
Color night vision VS black and white night vision, that's another thing you need to think over when choosing an indoor security camera.
Most indoor security cameras do have the function to switch black/white night vision to color, and vice versa (yet, most of you might not know this tip; in this case, you may see my previous post: Night Vision Security Camera Buying Guide).
The key point is, however, if the indoor video surveillance camera comes with a common image sensor, then the color night vision would be blurred.
That's to say, if you prefer an indoor security camera with color night vision, choose the one that features a starlight image sensor (Reolink Argus 2, for example).
And if you want a black/white one (the indoor security camera with black and white night vision), you don't need to stick to "starlight". And this kind of indoor cameras is cheaper, in most cases.
For example:
| | | |
| --- | --- | --- |
| Product | Night Vision | Price |
| Reolink Argus 2 | Starlight sensor with color night vision | $94.99 |
| Reolink Argus Pro | Common sensor with black and white night vision | $84.99 |
6. Remote Viewing
Remote viewing means the security camera system for indoor uses can connect to your iPhone or your Android phone or your computer so that you can access and see the camera wherever you are.
All P2P cameras can do that.
The most important thing is, you should make sure the indoor camera has its official compatible App, and on that app, you can connect and access the camera within 1 second, and all the connections and data protection are under security levels including SSL encryption, WPA2-AES encryption, and SSL-TLS enabled.
7. Recording or Local Storage
You're not there but you need to see what happened and you need that evidence. Indoor security cameras with recording are designed for all that.
There are 5 options to store the indoor security camera recording:
Record motion events to an SD card
Record all the things to an NVR/DVR
Record the events to a computer
Record the events to an FTP server
Record the events to Cloud
I've covered all the how-to details in the post How to Record Security Cameras. Choose one indoor security camera recorder according to your needs. I do recommend the one with local storage.
Do remember to make sure the indoor security camera that supports at least 3 options above.
2020 Top List of Best Indoor Security Cameras
From the tests I've done with all the indoor security camera systems and from the reviews of the top media, I've summed up the best list:
Best Pick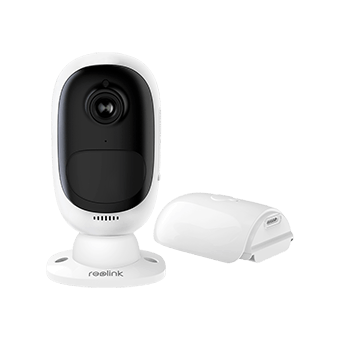 Wireless WiFi Indoor Security Camera
Featured in top media, including TechRadar, PC Magazine, Digital Trends, MakeUseOf, ZDNet, Android Police, etc.
It's a battery-powered wireless indoor security camera, which comes with a rechargeable battery that can be solar-powered, so you don't need to change or recharge the battery yourself.
And if you prefer the indoor security camera with pan and tilt feature:
Best Pick
PTZ Indoor Security Camera
355° pan and 105° tilt allow you to cover every corner indoors. 1440p super HD, 2 way audio, supporting SD card recording, NVR recording, computer recording, FTP server recording, and more.
Here is the video sample of this wireless smart home security camera: