How do wireless security cameras get power? Do WiFi security cameras even need power? How are security cameras powered?
There are various types of security cameras on the market with distinctive ways of power supply, like the most popular wireless security cameras, wire-free CCTV cameras, and PoE cameras. It can be difficult for you to tell how they actually get their power by names.
Don't be cheated:
All security cameras need the power to work. Wireless does NOT mean no wire, and the wired camera does NOT necessarily lead to hard wiring!
Follow this post and gain some professional insights into the power supply for security cameras to avoid some common misunderstandings.
Contents:
How Do Wireless/Wi-Fi Security Cameras Get Their Power
Do wireless security cameras work without power cords?
It depends on the type of wireless security cameras you refer to.
Actually, there are three power sources for wireless security cameras and it divides them into three different types.
Option 1: Wireless Security Cameras That Need to be Plugged in
When we talk about wireless, it generally means that the data transmission is wireless from the camera to a receiver (a DVR/NVR or monitor). That's to say, you still need a cable for power and you have to plug it into an electrical outlet – that's how wireless security cameras get power.
Therefore, if you are going to power a wireless or Wi-Fi security camera outside, you should consider the distance between the wireless security camera and its power source.
(*Read this post to learn how to run power to wireless security cameras for your front door, backyard, bedroom, garage, warehouse, basement/parking lot, farm, entrance, or upstairs quickly and easily.)

Ready. Set. Save!
Big selection, big SAVING. Get your hands on Reolink security cameras & systems before the best prices slip away!
Actually, wireless security cameras are the best choice for places with electric outlets nearby and the stable WiFi network. And Reolink RLC-410W tops the recommendation list of users worldwide, and here is what they care most about.
| | |
| --- | --- |
| Easy installation, less wiring work | Plug and play, literally |
| Constant power supply | Wired solution with non-stop power & monitoring |
| Strong WiFi signal, no off-line | Dual-band WiFi |
| Safe footage storage | Save to local SD card (requires a separate purchase) |
| Weatherproof for outdoor use | IP66 waterproof rating |
| Identify what you want with details | 5MP/4MP high resolution |
Although it is not 100% wire-free, the plug and play solution, Reolink RLC-511W, does save you a lot of trouble.
Option 2: Wireless Security Cameras That Are Battery Powered
The battery-powered wireless security cameras get their power with NO wires at all, which is a truly wire-free security solution.
It needs no cable for both data transmission and power supply. Just as the name suggests, it operates on batteries and hence does not need an additional electrical power source.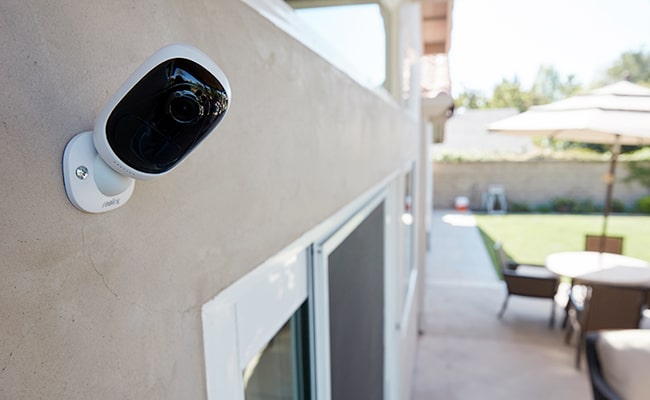 However, the battery life may be the major concern that prevents you from grabbing a camera of this kind. Actually, the battery issue is easy to deal with.
Here is the thing: the battery-powered cameras will only wake up when motion is detected which saves battery life, and there is no need to worry about the security cameras power outage since you will be reminded of how much power the security camera uses via the software.
*There are also several ways to extend camera battery life.
The battery-powered feature makes this kind of camera a helpful indoor and outdoor smart home tool. You can place it anywhere like the table, bookshelf, front door, backyard and driveway. You are also free to replace it whenever you want without worrying about the cable issue.
Not only a wide viewing angle, but also a more flexible choice for monitoring place just with one battery-powered camera!
Best Wireless Security Cameras Without Power Cord – Reolink Argus 2
Looking for the best security camera without a power cord and save money? Here it is – the best-selling and award-winning Reolink Argus 2.
With no wires at all and 180 days long standby battery life, you can secure your home and business without worry a thing about the wires and power outage.
Option 3: Wireless Security IP Cameras That Are Solar Powered
Solar-powered security cameras are another choice for wireless security cameras without an actual power cable.
You only need a solar panel to collect solar power, and a security camera with rechargeable batteries to store solar energy. Generally, they are sold separately, but you can easily get a set from the same manufacturer. And the above mentioned Reolink Argus 2 also supports solar power and ranks among the best in its league.
And some other solar cameras operate on 4G/3G cellular data, which makes video surveillance possible for remote places with weak or even NO WiFi network, like your vacation home, construction sites, farms, etc.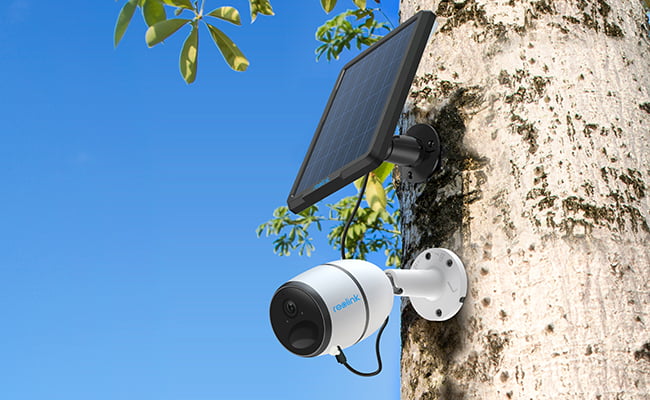 Hold Up: Check out this post and learn how to DIY solar power supply for your security camera.
Best Solar Powered Security Camera Without Power – Reolink Argus 2
If you don't want to run power and wire to security cameras, and don't want to change the security camera batteries all the time, then the solar-powered Reolink Argus 2 is your best option.
Rechargeable battery-powered or solar-powered, the Reolink Argus 2 is also power outage proof. That's to say, even when the electricity is cut off, you are still protected from possible burglary and break-ins.
How Do PoE/Wired Security Cameras Get Power?
Are the wired security cameras truly inferior to the wireless ones in wiring, especially for power?
The answer is NO which may be a surprise to some. Actually, wired doesn't necessarily mean extra cabling work if you choose the right camera: PoE (Power over Ethernet) security cameras.
PoE security cameras get power and transmit data via only one Ethernet cable.
That's to say, all you have to do is wire up the network, and there is no need to find an electrical outlet for power delivery. Powered by the common Cat5 or Cat6 cable, the PoE security cameras are easy to set up even for beginners.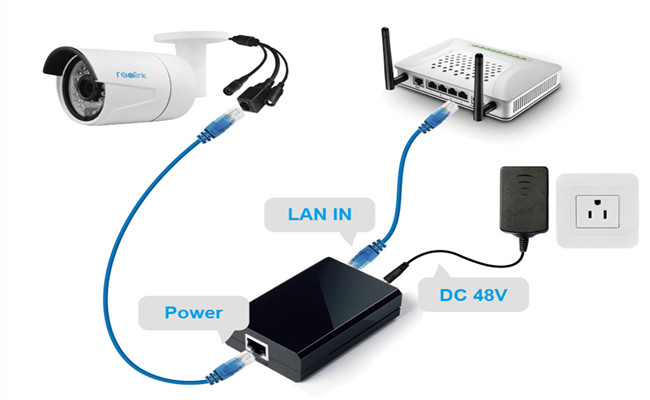 This kind of power supply could save you a lot of trouble since the network cables do not need a qualified electrician to fit them and the camera's placement will not be restricted by the power source, and of course, there will be no overload and underpower issues which are common in the electrical cable.
The PoE camera also gains advantages in the multi-camera power supply. Instead of having to find an electrical power outlet for every camera of your security system, a PoE switch could have no trouble accommodating at least 8 PoE security cameras with a simple cable connection.
Best Home Security Cameras with Power over Ethernet – Reolink RLC-410
In fact, the hard-wired camera solution is still the most solid solution for both business and home monitoring, with stable signal and power supply.
And on top of that, Reolink RLC-410, the most popular PoE security camera, also makes the wiring easy for you with only one cable to cater for, plus extraordinary 4MP videos to keep your home safe from burglary, break-ins, and other possible crimes:
Security Cameras Without Power Cords
Do all security cameras need power? Can security cameras work without power?
The answer is YES and NO. It actually depends on the way you understand security camera power supply.
If you just want to get rid of the cables for electronic power, then the battery-powered security cameras and solar-powered wire-free cameras mentioned above can satisfy your needs. There are many security cameras that don't need power on the market in this context.
Also read this buying guide for security cameras without power supply to learn the key features to look for and the best picks.
However, it is more like a daydream if you want to run your security cameras with no power in any form, at least by now. But there are some tricks you can try to survive when the power is out:
• Use battery-powered or solar-powered security cameras
• DIY solar-powered security cameras
• Use UPS battery backup during the power outage
• Use backup generator when power is out
Quick Answers to All CCTV Camera Power Supply Puzzles
If you are in a rush and need short answers, check out this list of popular questions and quick answers.
#1. Do Security Cameras Work Without Power
Do wireless security cameras need power?
All security cameras need the power to work, either electric power, battery power or solar power, as I emphasized on the very beginning of this post.
#2. How Do You Power a Wireless Camera
Do wireless security cameras need to be plugged in?
Summarized from all the above analysis, there are three power sources for wireless security cameras:
The wire-free security cameras can support battery power or solar power, or both of them. And the other types of wireless security cameras need to be plugged into the electric outlet for power supply.
#3. Do Security Cameras Work When Power Is Out
After reading this far, probably you've already got the right answer on your mind. Yes, again, it depends on what security cameras you are using:
The battery-powered and solar-powered wire-free security cameras can still work when electric power is out, but the wireless and wired security cameras couldn't work without electricity.
If you want to know all ins and outs about it, like what to do with your security camera when power is out, you may continue to read this post.
#4. How to Power Security Cameras Outside (Wireless, PoE and Wire-Free Cameras)
How to power outdoor security cameras?
To go a little further about the power supply things mentioned above, here is what you actually need to do to make your security cameras work:
If you choose wire-free security cameras, all you need to do is put the batteries in. If you get a wireless security camera, plug the power cable into an electric outlet. And for PoE security cameras, just plug the Ethernet cable to a router.
* As for how to hardwire a wireless security camera and PoE camera (including quick ways to manage the power supply for multiple security cameras), you may find step-to-step instructions in this post.
#5. How Much Power Do Security Cameras Use
A security camera only takes up a small portion of household energy consumption. Generally, you can check the security camera power consumption on the camera specification chart.
For a more comprehensive and in-depth view concerning CCTV, IP camera and system power consumption, you may continue to read out our previous post>>.
Conclusion
How you power home security cameras can greatly affect the camera's uses and applications. Having gained the above professional insights into the camera power supply, you will never be cheated by the deceptive names of the various cameras on the market again.