Ethernet security cameras are the plug-and-play wired IP camera type with the minimal wiring hassles. You can install this type of CCTV cameras with just a single Cat 5/6 cable.
The reliable Internet connection makes Ethernet powered security cameras & systems outsmart their counterparts.
Today we will take you to dive deep into the Ethernet web cameras and learn how to make the most out of this type of CCTV cameras with the proper installation.
Table of Contents:
Part 1. Unveil the Mask of Ethernet Security Cameras
Part 2. Best Ethernet Security Cameras & Systems
Part 3. How to Install Ethernet IP CCTV Cameras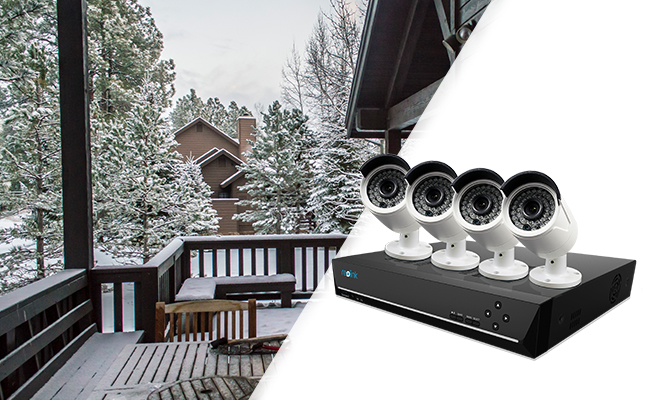 Part 1. Ethernet Security Cameras & Systems: Get Every Detail You Want
You'll learn what exactly Ethernet surveillance cameras are, and their unique advantages compared with traditional hardwired and wireless cameras.
1. What Are Ethernet CCTV Security Cameras & Systems
Security cameras with Ethernet connection are a type of online IP cameras that operate over IEEE 802.3 standard networking.
There are 2 main Ethernet ports: 10/100 Mbps and 10/100/1000 gigabit Ethernet.
10/100 Mbps Ethernet security cameras, also named Fast Ethernet IP cameras, transmits data at 10 and 100 Mbps, which is the most popular type in the market right now.
10/100/1000 Ethernet security cameras, also called gigabit Ethernet surveillance cameras, transmit data at 1 gigabit per second, which would be a new trend in the future. (The gigabit Ethernet security camera price would be much higher than the existing Ethernet type.)
2. What Are PoE (Power over Ethernet) Security Cameras
Modern Ethernet IP cameras, with a special built-in PoE (Power over Ethernet) switch, can pass power supply and data transmission via an Ethernet cabling, while cameras without this switch can only get network connection and no electrical power.
In other words, you can make PoE security cameras work simply by connecting the cameras to the router with an Ethernet cable.
Thanks to the PoE technology used in IP cameras, wired security cameras are not viewed as a nuisance anymore. You can check the hard-to-beat advantages of Ethernet surveillance cameras and systems below.
3. What Are the Advantages of Power over Ethernet CCTV Surveillance Cameras
Using Power over Ethernet outdoor and indoor security cameras provides several advantages, including:
• Strong and reliable Internet connection
• Fast Internet connection for improved performance
• Exceptional image quality and streaming
• Less prone to network interference
• Plug-and-play feature & easy setup
Most Power over Ethernet security cameras can offer 4MP, 5MP and even 4K high definition, while traditional analog CCTV cameras only provide 720p and 1080p resolution.
If you want wired security cameras with clear images, pick PoE type instead of the BNC analog type.
Ethernet powered IP cameras, with these outstanding pros, enable you to get the most reliable home security solution without worrying about messy wires.
You can check the below security cameras and systems powered by Ethernet for reference.
Part 2. Best Power over Ethernet IP Security Cameras & Systems
The below outdoor & indoor Ethernet powered security cameras and systems are all the plug-and-go type. The security cameras we pick here got excellent reviews by editors of top-tier media and customers.
You can adjust the live streaming type and frame rate of the below Ethernet network security cameras based on your Internet speed.
1. RLC-410 Outdoor Ethernet Powered Security Camera
RLC-410 is one of the most versatile and affordable outdoor
Ethernet surveillance cameras with audio recording. When you install this small Ethernet home security camera inside or outside of you home, the camera won't stick out too much, and won't scare away your guests.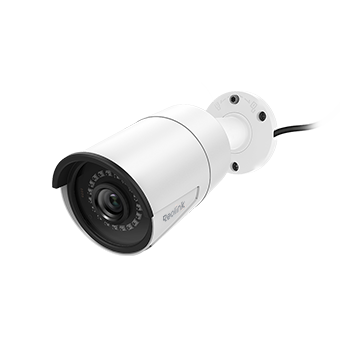 Reolink RLC-410
PoE Bullet IP Security Camera with Audio
5MP/4MP Super HD; Outdoor/Indoor Protection; 100ft Infrared Night Vision; Audio Recording; Mobile Remote Access & Control.
This Power over Ethernet home bullet spy security camera can be accessed via your PC, Mac, iPhone and Android smartphones, so you can access the camera wherever you are as long as the camera and your viewing device are both connected to the Internet.
You can view the below video captured by this Ethernet infrared (IR) night vision security camera to see its clarity.
If you want an Ethernet PTZ and dome security camera, you can check RLC-423 and RLC-422 Ethernet camera modules respectively.
2. RLK8-410B4 Outdoor & Indoor Power over Ethernet Security Camera System
This security camera package includes 4 Ethernet-connected security cameras and 1 NVR with 8 Ethernet ports, so you can add another 4 cameras later.
Reolink RLK8-410B4
8-Channel PoE Security System
4 pcs 5MP/4MP Security Cameras; 2TB HDD 8-Channel NVR for 24/7 Reliable Recording; Plug & Play; 2 Network Solutions.
One of the outstanding features of this Ethernet cable security camera system is that you can still get 24/7 video surveillance even without Internet.
The Power over Ethernet web video cameras can connect to the NVR automatically via their proprietary network after powering the system with the Ethernet cables.
When doing video surveillance, this Ethernet digital camera system will not slow down your network connection.
You can check the below video recorded by this DIY Ethernet-based security camera system for more details.
Now you've got the best Ethernet security cameras and systems, the installation comes next. You'll get a complete step-by-step guide below to wire your Power over Ethernet IP security cameras.
Part 3. Install Ethernet CCTV IP Security Cameras: A Step-by-Step Guide for You
The installation procedure of Installing or wiring PoE security camera system is quite easy. You can end up with a reliable security camera solution with the installation guideline here.
What Items You'll Need to Wire Your Ethernet-Connected Security Camera
• A PoE IP security camera system (with an NVR/DVR)
• Cat 5/6 Ethernet cables
• A power drill
• A fish tape
• Mounting template
• Screws
As you go through the installation process, you might need other tools to make the installation job easier based on your specific situation. The items listed above are the basics you'll need.
Before you get to install the Ethernet DVR or NVR IP security camera system, you should check how everything is connected.
The cameras are connected directly to the NVR, and the NVR is linked to the router. Thus the whole system is connected to the Internet. You can check the below Ethernet-enabled security camera system wiring diagram.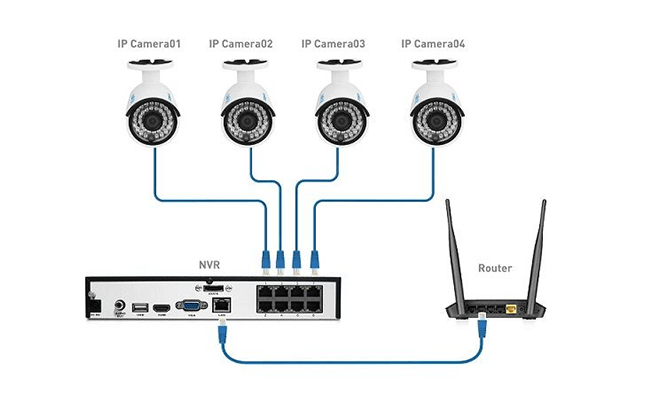 Step 1. Figure out the best places for your NVR and Ethernet-based web security cameras.
A suggested location for the NVR (the central hub) is the place where your router is installed. You should install multiple Ethernet mini hidden security cameras to cover the essential points of your property. Typical locations include:
• Front door/porch
• Back yard
• Your children's room
• Play room
• Other places that you might store valuables
Step 2. Mount the camera to the wall and drill a hole to run the cables from the cameras to the NVR.
You can fish the Ethernet cables of the security cameras through walls, floors and ceilings so the wires can be concealed on their path to the NVR. You can read this helpful guide to check all the details when running security camera wires.
You can also check the step-by-step security camera installation guide here.
Step 3. Connect the IP CCTV cameras to the NVR with the Ethernet cables. After that, also make the NVR linked to your router with a Cat 5/6 Ethernet wire.
A customer posted a video which provides all the details on installing an Ethernet dome security camera. You can get some insights in this video.
After you've made everything settled, take a look at the video streaming and decide if any of the cameras need adjustment.
If you have any questions about Ethernet security cameras, please leave them in the comment. We are always here to help!