What is Reolink IoT? How to use it to build your smart home? Which Reolink products can work with IoT devices?
Many people have the same questions when they find the IoT option in Reolink App for the first time. To put it simply, Reolink IoT mainly consists of Reolink cameras that can detect motion events and other devices that can take action, such sounding an alarm and turn on the light. It is designed to build your own smart home.
This article is a detailed guide that tells you everything about Reolink IoT. Also, the procedure of setting up Reolink IoT devices is included. Keep reading on to know more!
What Is Reolink IoT?
Reolink IoT refers to an automated system where Reolink devices are linked together for better communication. It can be set up via Reolink App, Client, or NVR system.
All the things, or devices, connect to the network and exchange data with each other. These devices are divided into two types: Detection Devices and IoT Devices. Detection devices refer to Reolink security cameras, video doorbells, and other products that are able to detect motion events from human, cars, pets, or other objects.
IoT devices, also called action devices, receive and execute the commands from detection devices. For example, Reolink Floodlight is a newly released IoT device.
You can set conditions and actions for these devices to create an automated home security system, such as making your floodlight shine when your security camera detects a person.
How Does Reolink IoT Work?
The way how Reolink IoT works is quite simple. A detection device and an IoT device are linked based on a Private Protocol, which is safe and secure. This process is simply completed when you set it up on Reolink App, Client, or NVR system.
And then you can set up the rules, which are made of "if" sentences for conditions and "then" sentences for actions. For example, you can set a rule that if the front door camera detects a person or vehicle at night, (then) the floodlight turns on or sounds an alarm.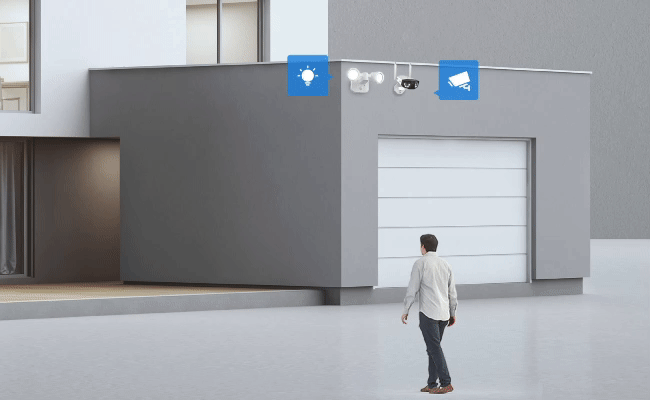 When a set condition occurs, a detection device will send a command with a token automatically to a linked IoT device. The IoT device receives the token and executes the command.
Similarly, all detection devices and action devices in Reolink IoT work together according to different if-then conditional rules you set for them. And that's how Reolink IoT becomes an automated system.
One thing to note is that you are limited to linking all the devices. One IoT device can link up to eight detection devices. If the IoT device is bound by multiple rules, it executes commands in the time order they are received.
One detection device can be linked to different IoT devices, but it's bounded by up to 64 if-then conditional rules in total.
Things you must know before using Reolink IoT
Reolink IoT can bring great convenience to your daily life. Here are a few tips that help you make full use of Reolink IoT quickly and easily.
Before using Reolink IoT on Reolink App, Client, or NVR system, make sure you have updated the software and firmware to the latest version.

Both detection devices and action devices should be added directly to Reolink App, Client, or the same NVR system.

Both the detection device and the action device should be connected to the Internet before you set if-then rules for them; Or, you put all the devices in the same LAN, including your mobile device or computer.
Introducing Reolink Floodlight - the Newly Released Reolink IoT Device
Reolink Floodlight is designed to illuminate your front door, back yard, and anywhere at night with 2,000 lumens. This motion-activated floodlight can work both independently and as an IoT device.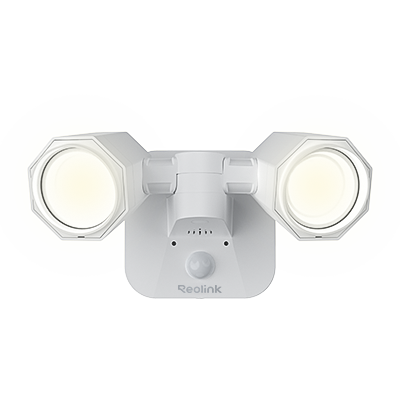 Reolink Floodlight
Bright Motion-Activated Security Floodlight
2000 Lumens Floodlight, Three Lighting Modes, Built-in Siren, PoE/WIFI Versions Available, Works With Reolink Security Cameras.
The floodlight boasts three kinds of lighting modes. By default, the floodlight stays off during the day and turns on when its PIR sensor is activated at night. You can also set the time for the floodlight to turn on/off. Or, you can turn to auto mode. The floodlight will sense light conditions and turn on automatically when it's dark.
There are two Floodlight versions available for you to choose from: PoE version and WiFi version. The PoE version of floodlight transmits data and gets charged via one single Ethernet cable, which is easy and convenient. The WiFi one supports 2.4 GHz WiFi and gets charged through a power cable.
Reolink Floodlight also works as an IoT device. You can link it with Reolink security cameras and enable the floodlight to be triggered when someone is detected by cameras. What's more, you can customize the alarm with your voice and make it work in different scenarios.
How to Set Up Reolink IoT Devices via Reolink App/Client
Setting up Reolink IoT devices is quite easy from Reolink App/Client. Follow the steps below and you'll learn how to automate your smart devices within a few minutes.
Before we get started, make sure your camera is compatible with Reolink IoT devices. Currently, compatible cameras include Reolink Duo 2 PoE/WiFi, Reolink TrackMix PoE/WiFi, and Reolink Video Doorbell PoE/WiFi. More compatible cameras will be added in the future, and you can check updates in this article.
Now, let's start by following the steps.
Step 1: Upgrade Reolink App to the latest version.
Check the App's firmware and update it to the latest version. And add the camera and the IoT device to Reolink App. (Take Reolink Floodlight as an example.)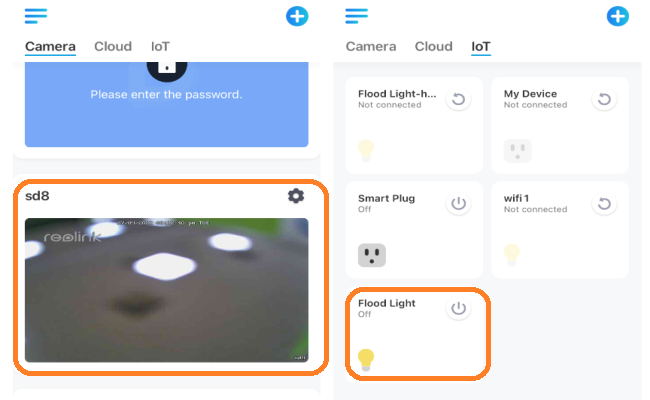 Step 2:  Link the camera to the IoT device.
You can do this on the camera screen or the floodlight screen. If you choose the floodlight side, tap Flood Light -> Link Device(s) -> **"+"**Add Icon.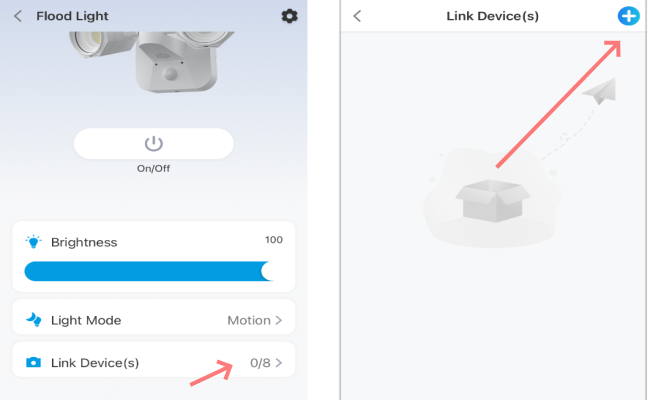 Tap the device you select to link with the floodlight. And then set the detection type (conditions), schedule, and actions.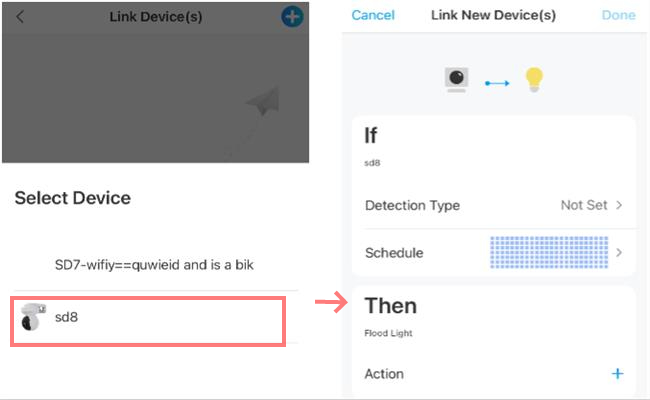 If you choose the camera side, tap its Settings --Linked Device(s). And then tap **Add **to select an IoT device. After that, you can set conditions, schedule, and actions like what's mentioned above.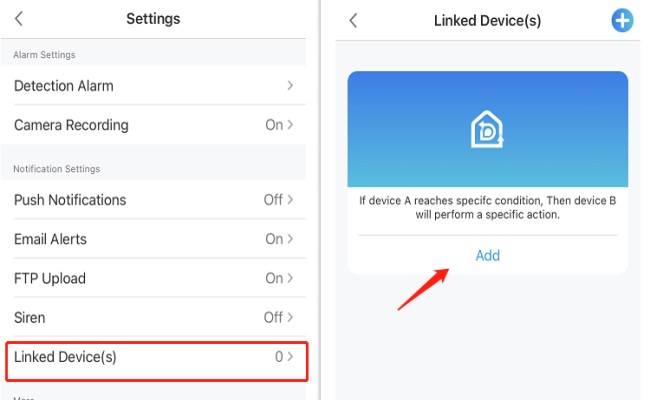 Step 3: Customizing conditions, schedule, and actions.
When you tap Detection Type, you have several conditions to choose from. You can select one or multiple conditions at one time. If you select **Person **and Vehicle, the IoT device will take action when the camera detects a person or vehicle.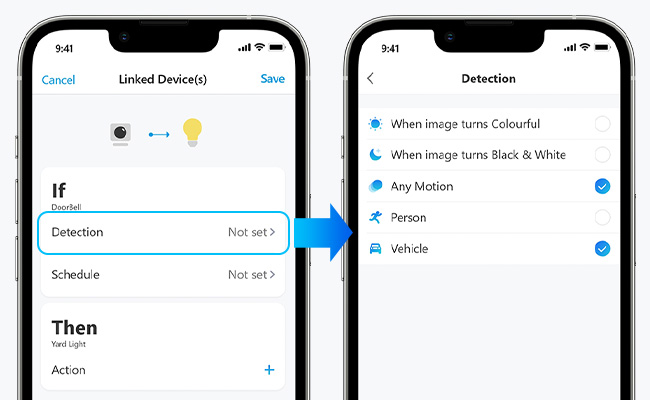 When you tap Schedule, it will show you a timetable. You can enable the time periods when the conditions are valid. If you enable 12:00 AM to 6:00 AM, only events detected during this time period will trigger the action.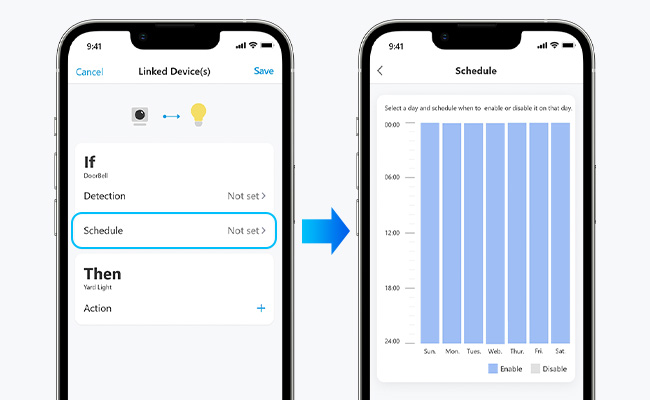 When you tap Action, you can set action for the IoT device. For Reolink Floodlight, you can set light and alarm, including setting lighting duration and audio for the alarm.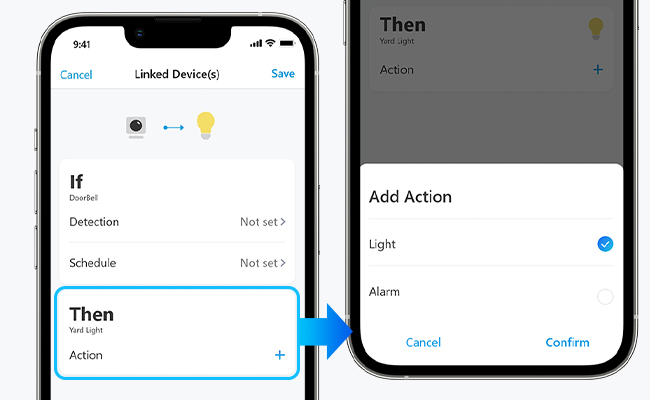 After finishing all the settings, remember to tap Done to save.
How Reolink IoT Benefits Our Life
Many people have invested in a bundle of smart devices to make their modern life safe and easy. Linking all these devices together and keeping them running as an automated system will make our life better.
And that's what Reolink IoT is designed for: to make your devices smarter and more effective.
Your home security will come to a higher level. When a stranger passes by your front door at night, your camera detects a person and makes warnings. After receiving commands from the camera, your floodlight shines a bright light and sounds an alarm. The stranger will be caught in action and have no way to hide at all.
Reolink IoT can also make your life more convenient. When you wake up at 7:00am, your coffee machine connected to a smart plug has already made a pot of coffee. When you come home at 6:30 pm, the floodlight automatically turns on since the front door camera detects your approach.
Just imagine how convenient and fun it would be to make all your smart devices run by themselves. The only thing you need to do is setting rules (conditions and actions), and these devices can take good care of your house and your life.
What to Expect for Reolink IoT Devices
After Reolink IoT has been introduced, many people wonder how they can make full use of it and which devices can be used.
At present, Reolink Floodlight is the only IoT device, which can work with other Reolink cameras and offer you more reliable security.
But you can still expect more IoT devices in the future, such as smart plugs and other gadgets. Our R&D team is working to design more IoT devices that can contribute to your smart home. Meanwhile, you can share with us which IoT device you'd like to have. Leave you ideas in the comment below.
Also, Reolink is taking efforts to make more Reolink cameras compatible with IoT devices. Our prospect is not only building a smart home, but also building a secure and enjoyable life.
Conclusion
As a new feature, Reolink IoT has a long way to go. We value every feedback and try to make it better for all of you. Reolink team has also planned to develop more IoT functions and devices. You can follow us on social media and stay tuned for updates!
If you have any questions or advice about Reolink IoT, just leave your comment below. We're glad to help you and know what you think.