"My neighbor's house was broken into. Now I'm so scared, any advice?"
That's typically what you would react to a neighborhood burglary – relieved as you might be at first, nervousness and fear soon can be overwhelming.
And the only thing wrapping your mind around is how to secure your home after your neighbor's house was broken into.
In this post, you will learn the most effective tips to prevent home invasion after a neighborhood burglary, and even what to do if your house is broken into in the unfortunate case.
Watch Out! Burglars Do Come Back to the Same Neighborhood
That your neighbor got burglarized doesn't mean you're in the clear.
On the contrary, if you do nothing to secure your home from burglars after a neighborhood burglary, you may end up being the next target.
Why? You may ask.
Once burglars succeed in breaking into a house, they are very likely to hit up a home nearby that tends to have a similar layout they are familiar with and the common physical vulnerabilities. (Read the article about repeat burglary facts.)
So if your neighbor becomes the victim of a break-in, chances are good you might be the next.
And that's why you should seek for the best ways to secure your home after your neighbor's house is broken into (continue your reading to learn the effective tips).
Editor's Note: Wondering what the chances of your house being robbed are after a neighborhood burglary? Check these signs that your house is waiting to be robbed.
Best Ways to Secure Your Home After a Neighborhood Burglary
Even if the burglars do return to your neighborhood, there are some useful ways to secure your home from break-ins.
Here we've collected these house safety tips to increase your home security after a burglary in neighborhood, after consulting several experienced home safety experts.
1. Install/Upgrade Home Security Devices
Installing burglary preventions devices is also an effective way to secure your house after your neighbor's home is broken into.
And the statistics show that, homes with security systems are up to 300% less likely to get broken into. 60% of burglars would choose another target when they notice the existence of home security cameras.
Once the prowlers enter the monitoring zone of your surveillance cameras, you will receive instant alerts to your phone. The motion triggered footage can also serve as a useful proof to help identify the thieves.
This video below shows that a lazy mailman throwing garbage from a distance is captured by a home security camera, Reolink RLC-410.
Reolink RLC-410
PoE Bullet IP Security Camera with Audio
5MP/4MP Super HD; Outdoor/Indoor Protection; 100ft Infrared Night Vision; Audio Recording; Mobile Remote Access & Control.
On top of that, the home security alarms, timers and motion activated lighting are also useful home security deterrents secure your home after a neighborhood burglary or break-in.
Pro Tip: Don't try to fool the smart burglars with a fake security camera. After all, it is worthwhile to invest in home security cameras in exchange for a better quality of life and peace of mind.
2. Learn Home Burglary Facts and Your Neighborhood's Crime Status
The more you know about the home burglary facts and your community's crime status, the better you can protect your home from intruders after your neighbor's house is broken into.
Firstly, let's start off with the general home burglary facts and statistics to see how burglars break into homes.
65% home burglaries happen between 6am and 6pm – while you are at work.
34% burglars enter through the front door.
The master bedroom is the first room targeted.
Cash, electronics, gold, guns, jewelry and silver are the most commonly stolen items.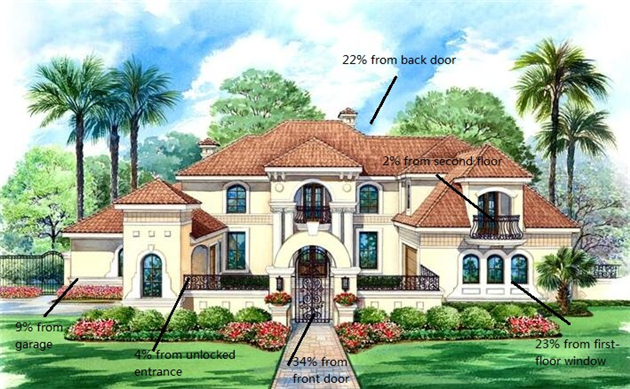 Also, you can keep up with your neighborhood's crime status by using community sites, such as SpotCrime so that you know what extra security measures to take for home after a neighbor's house got robbed. For example:
Are there any recent surges in drug use?
How many violent crimes have been committed in your area?
Have robberies gone up recently?
3. Be Observant and Wary of Abnormal Signs
Burglars would often case a house before an attempted break-in. One of the best ways to make your house safe from burglars after a neighborhood burglary is being observant and wary of any abnormal signs.
The subtle signs indicating that burglars are targeting your house include:
Strange vehicle on the street
Stranger walking in the street
Random strangers knocking on the door
Uncertified workmen
Stickers or flyers
Tip: Learn more about how to tell if your house is being watched.
4. Talk to Your Neighbors Suffering Burglary
An unexpected burglary may leave your neighbors frightened and upset. Lend a hand to your neighbors and offer to help them clean up and repair any damages.
You may also ask your neighbors how the burglars broke in, from the front door, window or backdoor?
Since burglars have a good chance to break into your home in the same way, you can improve the entrance security after talking with your neighbors. And this is a quite feasible tip for home security after a neighborhood burglary.
5. Make Full Use of a Neighborhood Watch
The FBI reports that areas with an active neighborhood watch program are 43% less likely to become a target of criminal activity.
To protect your home from a burglary after a neighbor's house was robbed, here are some handy tips for you to make full use of a neighborhood watch:
Know your neighbors.
Arrange a neighborhood meeting regularly and talk about your concerns.
Set up a neighborhood email distribution list.
Use the neighborhood watch apps such as Nextdoor that allows your neighbors to connect and organize with minimal effort.
Organize residents to patrol your neighborhood during the daytime.
6. Establish Good Relations with Local Police
Another good way to prevent burglary after your neighbor's house got robbed is to establish good relations with the police that patrol your neighborhood.
You can even invite the police or caption over to join the neighborhood meeting. Be friendly and ask them for advice. They would be more than willing to offer home burglary prevention tips and inform you what crimes have been occurring in the area.
7. Hold a Family-Meeting
If you have kids, they may feel scared and fear your home may be burglarized after a neighborhood burglary.
Have an open conversation with them and let them speak out their concerns. Also, take advantage of this good opportunity to remind them of some home security tips.
For example, don't open doors for strangers. Always remember to lock the doors and windows and keep the curtains closed before going out (See more safety tips for kids home alone ).
When your family members know there are indeed effective ways to deter burglars after house burglaries in your neighborhood, their fear will soon vanish.
More Home Security Tips After a Neighborhood Burglary
Besides the above home security solutions, there are more simple DIY home security tips you can use to secure your home after a neighborhood burglary.
Be careful of whom you hang out with. A lot of robberies are done by acquaintances, or friends of friends.
Regularly trim your landscape to leave nowhere for would-be burglars to hide.
Place security device sign around your property.
Always lock your doors and windows when you leave your home.
Keep an inventory list of your valuables in case you need to lodge claims later.
Use good quality locks and make sure they get changed when you first move in.
Get a well-trained and barking dog.
What to Do If Your House Gets Broken Into
In the unfortunate case that your home is broken into, you may adopt these following methods to give prompt response.
Step 1: Call the police and stay out of your house
The first thing to do after your house gets broken into is staying calm and calling the police.
Never enter your home alone as the burglars might still be in your house. After all, your safety always comes first.
Step 2: Look for the entry points of burglars
After the police arrive at your home, provide all the required information as accurately as possible.
Walk around your house to see if there are any forced entry signs (remember not to touch anything unless the police permits), and think about the possible hiding places for burglars.
Step 3: Create a list of stolen items
Check what valuables you have lost in your home and make an inventory of the items as well as their values.
And that's why you should keep a record of your valuables in advance. Serial numbers and pictures are even more helpful to provide detailed information.
Step 4: Review what you can do to prevent home burglaries
That your house was burglarized at lease shows your home is a softer target in the eyes of prowlers.
And there is much you can do to change it! The recommended home security tips above can be employed to defeat the potential thieves and improve your home security to a next-level.
Do you have other good home security ideas to secure your house after a neighborhood burglary? We'd love to hear practical and creative thoughts from you!