Imagine that you could live stream video from your IP camera on your media player or VLC player even thousand miles away.
How come? Well, technically, it's all because of RTSP embedded in your RTSP IP cameras.
What's an RTSP IP Camera
Today, we shed light on RTSP and help you understand what RTSP is and its applications on surveillance.
RTSP stands for Real Time Streaming Protocol, a network protocol for streaming the videos in real-time.
Figuratively, RTSP acts as a rail track for transporting videos data from point A (camera) to point B (VLC Player/RTSP viewers/RTSP Client or software).
In such sense, an RTSP IP camera is capable of streaming live videos on RTSP-compatible media players such as VLC media player, QuickTime.
When IP cameras support RTSP streaming protocol and ONVIF, users could use RTSP camera viewers/software such as IP Cam Viewer, iSpy or web browsers to view live video stream easily without using its companion mobile apps or desktop software.
Meanwhile, users can use Apple TV or Chromecast to view RTSP IP video stream on TV thanks to RTSP streaming protocol. (Learn more about how to stream IP video on TV).
How to Stream IP Camera Videos on RTSP-Compatible Players like VLC Player
The VLC player can virtually decode any video format (encoding schemes) such as MJPEG, MPEG1, MPEG2, MPEG4 (Type 2) and H.264.
In order to view live video feeds on an RTSP-enabled media player, like VLC Player, users need to establish the link by getting your IP cameras RTSP stream URL first and configuring the media player a bit.
The IP camera's RTSP URL usually contains some basic elements, such as username, password, IP camera's IP address, port number (the default RTSP port number is 554), or stream type (for example H.264, MPEG-4, MPEG4).
Different IP cameras come with different RTSP URL and many IP camera RTSP URL addresses are provided by manufacturers or can be found online, while some shares similar RTSP URLs.
How to Find IP Camera RTSP URL
Because IP cameras RTSP URL is not standardized. Different manufacturers might provide different RTSP URL for their IP security cameras.
Some IP security camera manufacturers provide their IP camera RTSP URL addresses on their user manual, while others don't.
One effective and time-efficient solution to find out your IP camera RTSP stream URL is to consult the manufacturer or the Tech Support.
For example, Reolink IP camera users can always head straight to Reolink Tech Support for your Reolink IP camera's RTSP URL.
Another possible solution is to use tools or RTSP URL Finder to identify your IP camera RTSP URL, such as Wireshark. To get the IP camera's RTSP URL with Wireshark, run the software on your computer and apply the filter "rtsp" to locate the URL.
Here is one video showing how to use Wireshark to find IP cameras' RSTP URL.
Potential Pitfalls
RTSP IP cameras enable users to stream live video feeds on an RTSP compatible players, Windows RTSP player, Chrome, IE web browser, RTSP software, or RTSP Client.
However, the convenience of RTSP can lead to serious problems if being used improperly.
For example, some IP cameras were hacked and live footage from homes is being streamed or watched by strangers because some IP cameras shares similar RTSP stream URL and some users are forgetful or indiscreet about their username and password. (Check out unsecured IP camera list)
To prevent your IP cameras from being hacked and footage being watched, users need to take some safeguards.
For example, changing your IP camera account name and creating a strong account password during setup.
Besides, if your IP camera is connected to your home router, one way to fend off any potential attack or hacking is to enable WPA2-based encryption.
Besides, updating IP camera/NVR firmware on a regular basis helps as well.
Best RTSP IP Cameras Reviews & Recommendations
There are tons of security cameras or systems out there.
Choosing the right and secure RTSP IP cameras is overwhelming. Today, we list out some best-reviewed and well-received indoor & outdoor IP cameras support RTSP.
Decent & Cheap Outdoor RTSP PoE IP Camera – RLC-410 (5MP Version)
RLC-410 camera, a 1920p HD PoE security camera, is one of the best-selling IP RTSP cameras with IR night vision on the Reolink website.
With a motion sensor and IR night vision, Reolink RLC-410 detects movement and trigger notification to mobile devices in real-time. RLC-410 (5MP version) supports RTSP and stream H.264 format HD videos.
With Reolink apps and desktop software, you can stream live videos effortlessly. Or you can stream live videos from RLC-410 on RTSP-enabled devices, such as Blue Iris, VLC player.
Better yet, it's only priced at $49.99, a best-valued quality RTSP IP camera for home and business (check RLC-410 hands-on review).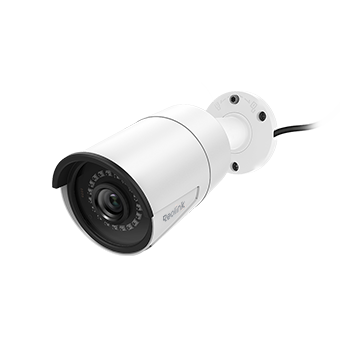 Reolink RLC-410
PoE Bullet IP Security Camera with Audio
5MP/4MP Super HD; Outdoor/Indoor Protection; 100ft Infrared Night Vision; Audio Recording; Mobile Remote Access & Control.
Budget Outdoor RTSP Outdoor WiFi Camera – RLC-511W
RLC-511W is one of best-rated outdoor WiFi security cameras, 5MP super HD camera packed with IR night vision and the waterproof housing body.
Affordable and decent, priced at $99.99, RLC-511W WiFi security camera offers SD card option for motion-triggered recordings and supports 2.4/5G WiFi. It supports RTSP and streams 5MP HD videos in real-time on Reolink apps or Client, as well as on RTSP-supported devices.
Best Outdoor RTSP Home Security Camera System – RLK8-410B4
It's a do-it-yourself (DIY) home security system and plug-and-play home security system; homeowners can install all the security cameras and the NVR all by yourself, even though you are a beginner.
Reolink RLK8-410B4 security camera system is the best bang for the buck IP 4 camera system, priced at $349.99 (4MP version)/$399.99 (5MP version). Its exceptional video quality and solid-built cameras and NVR make your investment worthwhile (see hands-on review).
Here is a hands-on review of this IP camera system.
Notes
All Reolink IP cameras except battery-powered security cameras support RTSP streaming.
And Reolink IP cameras (apart from battery-operated security cameras) and NVRs are officially compliant with ONVIF protocol and can be viewed from third-party ONVIF support software like Blue Iris, Milestone, iSpy, Digital WatchDog, Sighthound Video, SecuritySpy, Synology, QNAP, IP Cam Viewer, TinyCam, Evocam, etc.
And there are multiple security measures and safeguards to secure Reolink IP cameras and NVRs, such as SSL encryption, WPA2-AES encryption, and SSL-TLS enabled.