Hunting for an outdoor motion activated camera? You have come to the right place! This post will help you find out the answers to the following questions:
What is the best outdoor motion activated spy camera on the market? How to choose between various outdoor motion sensor security cameras? What features to consider to get the best motion activated mini spy camera? What's the best value/budget motion sensor spy camera solution for home? Where to buy a reliable outdoor motion sensitive camera? Where to place outdoor motion activated cameras to reduce false alarms and hide outdoors?
Some of you may want to get a camera motion sensor light for outdoors, or the wireless motion nature outside camera to catch animal movements. Here we also cover that in the second part along with other great outdoor motion sensor camera solutions to protect your home.
Jump to
If you have more about motion sensor CCTV interested to know, leave us a comment and I'll get back to you soon.
Introduce Two Types of Outdoor Motion Sensor Cameras
A motion activated camera refers to the one that could detect and record movements within its viewing field. Technically, you can find two types of outdoor motion sensor cameras on the market. The difference lies in the way they detect moving objects:
Software-based motion sensor cameras: This kind of motion activated spy cameras detects motion by comparing images and counting the number of different pixels. When there are pixel changes between successive frames, the software inside will count it as a motion event and trigger the motion alarms.
PIR sensor-based motion sensor cameras: This kind of motion activated hidden camera uses PIR movement sensor, also called PIR sensor, to detect motion events by comparing the previous temperature with the new state, which will emit different levels of infrared light. When a warm body like a burglar or intruder passes by, the change pulses can be detected and trigger motion alert.
So you may ask: What's the farthest PIR distance of the security camera?
It varies between PIR motion activated CCTV models. Some quality ones like Reolink Argus® 2 can hit up to 30 feet long range even in NO light conditions, so that you can place it outdoors to watch your home front door, back door patio area, driveway, garage, or any entrances. Just find a right angle for it.
| | | |
| --- | --- | --- |
| Motion activated cameras | How does it work | Motion activated CCTV Types* |
| Software motion sensor cameras | Comparing images | PoE cameras, wireless cameras |
| PIR motion sensor cameras | Comparing temperatures | Battery operated wire-free cameras |
PIR motion sensor hidden cameras are basically battery powered on the market. They will wake up and record once there is motion event, so that you could know what's happening or what's has happened even when you're not there. And Reolink Argus® 2 is the one with industry leading motion detection performance.
Well, the software-based motion sensor cameras are mostly traditional IP cameras that you could normally see in the neighborhoods or market. With the software motion activated cameras, you can keep an eye on your property 24/7 via the motion sensor camera app and receive motion alerts almost in milliseconds.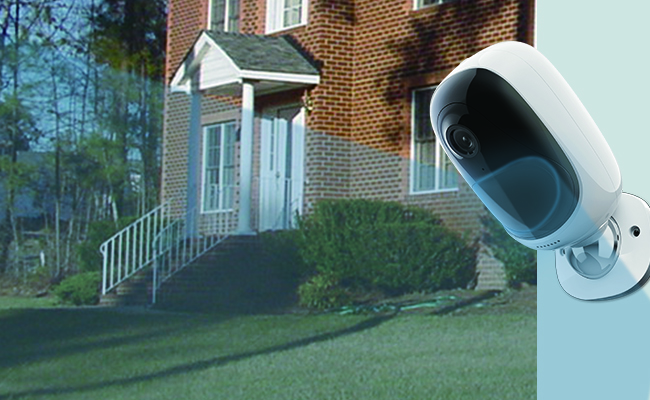 Top Options for Outdoor Motion Activated Spy Cameras
There are several outdoor motion cameras for home security, like the motion activated spy cameras, outdoor motion sensor light with cameras, wireless motion sensor spy cameras with sound, motion sensor hidden cameras with SD card, etc.
#1. Outdoor Motion Activated Spy Cameras
The outdoor motion activated spy cameras are effectively used in catching thieves, keeping an eye on your car, and providing evidence to confirm your suspicions, like whether your neighbors have dumped on your land.
While there are motion activated spy cameras of various types, the best solution to achieve your goals is definitely not the one that lowers your security levels. That's to say, you should give no thought to the outdoor motion sensor light camera with 720p resolution, which is still popular in the market. They are practically useless when you need to identify detailed information, according to the PPF calculation.
And the best choice will be a professional outdoor motion sensor spy camera with accurate PIR motion detection and camouflage skin to fit in any outdoor environments, or a dark colored mini camera so that you can hide it very easily, both indoors and outdoors.

For more creative ideas to hide the outdoor motion sensor security cameras, check this post.
#2. Outdoor Motion Sensor Light with Camera
The outdoor motion sensor light with camera could be automatically lit up once the motion is detected, which could work as a deterrence to trespassers. And it seems to well satisfy your needs for monitoring outdoors without raising any attention.
However, there is some inconvenience with the outdoor motion sensor light camera you should know:
You will need to replace the fixture and retrofit the motion sensor light if you're going to use a z-wave micro controller, which will be a huge task ahead. And the outdoor motion sensor light with camera is usually twice the price of a professional motion activated camera which can do much more than controlling the lights.
So why not try it in this way: set up a motion activated spy camera with outdoor motion sensor alarm. Take Reolink Argus® 2 as an example.This professional security camera can detect motion event accurately, record day and night, ring a siren alarm to threaten the intruders away, and send you notifications instantly with high quality images. And most importantly, it is easy to setup (in minutes) with an attractive price!
With proper installation and camouflage skins, you may also hide it to avoid the burglars' attention.
#3. Wireless Outdoor Motion Sensor Cameras
Wires are a dead giveaway to your outdoor motion activated spy camera, and the easiest fix would be a wireless motion sensor camera. Plus, it is super easy to install and configure. But remember that the wireless motion activated camera is not 100% wire free, and you still need one cable for power.
If you are going for the wireless outdoor motion sensor camera, here are some additional tips for you:
1. Make sure the WiFi is available in your installation place. (Check it with your smartphone.)
2. Choose the dual-band Wi-Fi security cameras, if possible, to avoid signal loss and interference.
3. Remember to change the initial password to reduce the risk of being hacked.
#4. Battery Operated Outdoor Motion Activated Cameras
Want to get rid of all the annoying wires, and hide the motion sensor camera wherever you want indoors and outdoors? The motion activated spy camera that runs on battery power is what you need.
Just put in the batteries, it will start working. Without wires restriction, you can place the motion activated camera at any place and move it to spy on another spot freely if you want. You can thereby save a lot of time and energy thanks to its super simple installation.
Bump: As I put it before, most battery powered outdoor motion sensor cameras, including the Reolink Argus® 2, feature the accurate PIR motion detection. Actually, this kind of camera is born for motion detection – they will wake up and record once the motion event is detected to save battery life (Also check these bonus energy-saving tips to help you prolong battery life).
#5. Outdoor Motion Activated Security Cameras with SD Card
Worried about the privacy issues of cloud storage? Or you simply don't want to pay the monthly fee for it? Either way, the outdoor motion activated spy camera with SD card would well settle your needs. Plus, it's very handy and convenient.
However, the storage space might come as a blurry concept in your mind. Say, how long could a 16GB or 32GB SD card of the motion sensor camera record exactly?
Actually, it totally depends on your monitoring environment. Technically, a 16GB SD card can save up to 400 motion events for weeks even months recording before it got rewritten. Furthermore, you can figure out the exact recording hours through this simple calculation.
Note: Sometimes, a micro SD card is included with your motion sensor camera; other times, the camera only provide an SD card slot and you need to buy your own. Remember to check this when you are shopping for an outdoor motion activated camera with SD card.
If you want to spy on things continuously or without Internet, choose an NVR as motion detection recorder which can offer you up to 3TB (or more) storage space.
#6. Outdoor Motion Sensor Cameras with Night Vision
Break-ins and stealing usually happen at night when people fall into deep sleep and even the watchdog doesn't work. Just think about the burglars, intruders, thieves and drunken man hanging around the street.
It's thereby important to get an outdoor motion sensor security camera with night vision.
With the night vision enabled motion activated spy camera, you will be alerted by the siren instantly when dangers occur, get clear video evidence to hand to the police, or even warn the intruders verbally with the 2 way audio enabled outdoor motion sensor camera.
How to judge whether a motion sensor camera has real & good night vision? A good and long range night vision camera with motion detector should record in high quality images just as clear as daytime, with at least 1080p resolution to provide enough details.
#7. Outdoor Motion Activated Cameras for Wildlife
So you are keen to wildlife, and want to get a motion activated camera in hunting to catch the movement of the hummingbirds? Or just want to figure out who secretly visited your house and left their footprint around?
In either case, an animal motion detector camera definitely tops your list. A quality one will start to record within a second if an animal comes into its view after you fix it on flat platform with a security mount or on the tree with a strap. With the outdoor motion sensor camera connected to your phone, you could just sit in your room and check animal clips anytime even do a video live for the animal.
No Internet available? Try the battery powered cellular motion activated camera. This type of wireless motion nature outside camera can work with NO WiFi network and No wires. Some of these motion activated CCTV, like Reolink Go, also offer an add-on solar panel to save your trouble of recharging the cameras.
There is even a Reolink user doing Raccoon live on Twitter (@DenCamLive) with his outdoor motion sensor video camera Reolink Argus®. Let's check it out:
#8. Waterproof Motion Detection Cameras for Outdoors
For outdoor motion activated cameras, weatherproof is an important feature to consider if there is expected rain, snow or strong wind in your desired installation place.
A simple way to get rid of all your worries concerning the terrible weather is to get the motion activated cameras with IP65 or IP66 (What is IP66?) and above weatherproof rating.
Best Outdoor Motion Activated Cameras (Reviews & Videos Included)
What is the best CCTV camera that moves on activation? If you want a quick decision, choose from these best value/budget motion sensor CCTV cameras to keep your home safe:
100% Wireless Outdoor & Indoor Motion Activated Camera: Reolink Argus

®

2
With smart PIR motion sensor, the outdoor motion activated spy camera can wake up within a second, detect motion up to 30 feet away, and record both video and sound. The microphone is built-in, so you don't need to get a sound exterior for the motion detection security camera.
With camouflage skins available, this mini spy motion activated camera could easily hide both indoors and outdoors, with more advanced security settings than the outdoor motion sensor light camera at much more affordable price;
With a built-in microphone, you can not only get the streaming video through the motion sensor camera app, but also warn the intruders verbally if they are caught sneaking around in the act.
* The outdoor motion activated camera Reolink Argus® review from CNET: "Cute security cam braves the outdoors at a fair price." (Click here to read the whole review.)
1440p PoE Mini Motion Activated Spy Camera: Reolink C1 Pro
This black colored motion activated spy camera could be easily blend in with your home decorations with pan and tilt function for wider coverage. With the bracket in the box, you can mount it both indoors and outdoors at your convenience.
*The mini spy motion activated camera got 8.4 points out of 10 in the review from Vueville: "It is ideal for discreet uses." (Check the whole review here.)
Wireless Outdoor Motion Activated Camera System: RLK4-210WB4
The RLK4-210WB4 provides you with 4 wireless motion sensor cameras with an NVR for 24/7 recording. The system detects moving objects automatically, with or without Internet, to protect your home and business effectively from burglars, intruders, and break-ins.
Check the video footage below from this wireless outdoor motion sensor camera system user' feedback.
Of course, you can also purchase a standalone wireless motion detection camera.
PoE Outdoor Motion Sensor Camera System: RLK8-410B4
RLK8-410B4 PoE camera security system detects moving objects and triggers alerts when dangers occur. You will be informed through email and Reolink App, receive the sound warning through the buzzer in NVR, and save captured images & videos to an FTP server.
Check the video below from RLC-410, the one that RLK8-410B4 carries, to get a full view of this motion activated camera system.
And if you want to purchase a standalone motion and sound activated camera, here it is. Also check the comprehensive PoE camera motion detection review here.
How to Reduce False Alarms of Outdoor Motion Sensor Cameras
Whatever outdoor motion activated cameras you are looking for, the last thing you want to get is false alarms caused by trees, shade, etc. Here are some tips for you to get the most accurate motion alerts:
#1. For PIR outdoor motion activated cameras, the installation makes a huge difference. The motion detection will be more accurate if you put the motion sensor in the direction crossing the possible intruder instead of facing it, as the picture below shows.
#2. For software-based outdoor motion activated cameras, you may schedule your own motion detection mode. For example, you can define different motion sensitivity values for different periods of the day to best match the light conditions. Also, you are free to choose the specific motion detection area to make alarms more accurate.
Where to Buy Outdoor Motion Sensor Security Cameras
You can buy the best outdoor motion detection cameras on Amazon, Ebay, or Reolink official website directly. With free shipping and online technical support, you will have no trouble getting the cameras and service in different regions of the world, including the US, UK, Australia, Canada, etc.
Where to Place Outdoor Motion Activated Spy Cameras
The outdoor motion activated cameras could be placed in plain sight to act as deterrence, like in the front door, the backyard and near the off-street windows. According to a report conducted by the University of North Carolina, about 60% of convicted burglars stated the presence of a security system influenced their decision.
Bonus: Check the top 3 places to place IP camera motion detection to secure your home here.
However, if you are looking for the outdoor motion activated spy cameras, and want to hide them without anyone's suspicions, the above mentioned cameras could also easily meet your needs with camouflage skins and some secret installation places, like under the ceiling and eaves (with DIY housing would be better), in the bushes, etc.
Bonus: Check the top 4 tips for hiding your motion detection security cameras outdoors and indoors here.