"Do IP cameras affect internet speed?"
"How much data is consumed from an IP security camera?"
If the network is slowed down, your access could be seriously affected, which could impact various aspects of your day-to-day life, including searching the Web, using your smartphone, and using any other device that may be connected to your network.
If you are considering the IP camera bandwidth consumption, and wondering whether IP cameras slow down your network, you can spend a few minutes checking out this article.
Content: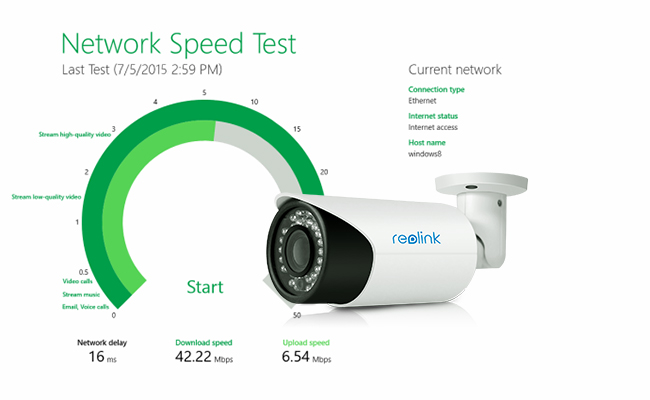 Do IP Cameras Slow Down Internet Speed?
I was thinking about IP traffic on my home network and wondering if I'd overwhelm it with traffic from my cameras.
IP camera internet usage is one thing that you will certainly consider before installing a security camera. Do WiFi cameras slow down Internet?
While yes, the IP cameras, including wireless security cameras and the wired ones, may slow down your network a bit, but the impact is not as much as you may think.
In fact, the wireless security camera will NOT slow down the Internet if you are not remotely accessing the cameras via phone, PC or other devices – the impact is so small that could be ignored.
And the technology is always advancing, which means that IP cameras are becoming more adaptable to networks, and thus having less of an impact on them.
For example, the H.265 and H.264 cameras compress the recording files to smaller size, and the battery powered cameras which use bandwidth only when motion is detected.

Ready. Set. Save!
Big selection, big SAVING. Get your hands on Reolink security cameras & systems before the best prices slip away!
Security Camera Bandwidth Consumption: Factors to Consider
"Will 2 to 3 security IP cameras affect internet bandwidth?"
Generally, the IP camera Internet usage, namely the upload bandwidth and download bandwidth your security camera uses, varies due to several factors:
Compression. It's a major cause of your WiFi security camera data usage. MJPEG/MJPEG-4 and H.264 are the two most popular compression standard in the video surveillance and security industry.
Camera resolution. A camera that offers higher resolution will require more bandwidth, which requires more storage, and will thus slow down your network. Say, a 5MP camera will definitely need more bandwidth than a 2MP or even 4MP IP security camera does.
FPS (Frame Rate per Second). The frame rate determines the quality your CCTV surveillance footage. The more FPS, the better videos. FPS also has influence on the data of your CCTV streaming uses.
Number of IP cameras. The more cameras installed in your home, the more data your security system will use.
CCTV Internet Usage Calculation
How much data does a WiFi security camera use exactly?
If you know the 4 variables mentioned above, namely the camera resolution, compression, FPS and camera numbers, you can easily calculate how much bandwidth the security camera uses via the formula below:
Bandwidth (Mbits) = Frame Size (Kb) * 1024 * 8 * FPS * the Number of Cameras / 1000000
If you are having trouble finding all the necessary information required, you may check this post for detailed instructions about IP camera bandwidth calculation.
Also, you can use online tools, such as the IP camera bandwidth calculator, to see the internet speed requirement for your IP cameras to work, and get normal video streaming.
Tips to Reduce Your IP Camera Bandwidth Consumption
If you are concerned that an IP camera will load down your home network, here's a look at some things that you can do to reduce the amount of bandwidth it will use.
Select the Proper Compression Format
Right off the bat, you should familiarize yourself with the settings of your IP camera and opt for a compression format that will best suit your specific needs.
For example, if you want to increase your storage, an H.264 format may be a good option for you, as this will reduce the amount of storage space your IP camera requires, and will thus save the IP camera Internet usage.
Use the Right Resolution
Another way that you can avoid having an IP camera slow down your network is by choosing a camera that provides the least amount of resolution that you need in order to get the job done. (Click here and follow our senior security expert, Elvia, to see what pixels you'll need if you want to identify license plate and people.)
Of course, you don't want to compromise security when choosing a camera. Before opting for a lower resolution camera, make sure that you take into consideration the area that you are monitoring.
For example, if you are monitoring a larger area, such as a parking lot, higher resolution may be necessary; however, if you are only using the camera to monitor a small space, such as a door or a hallway, opting for a camera that will capture the detail you need at a lower resolution is a wise idea to avoid unnecessary strain on your network bandwidth.
Lower the Frames Per Second
Lowering the frames the IP camera catches per second can also help to avoid unnecessary strain on your network, which will help to avoid slowing it down.
While it may be nice to capture a high amount of frames per second, doing so will have a major impact on the speed of your network; generally, capturing 15 frames per second is more than enough to effectively monitor your home and will show you everything you need in order to capture evidence of criminal activity.
Choose Motion Detection Cameras
Does an IP camera use bandwidth all the time?
Some security cameras, usually the battery powered ones, only wake up when motion is detected, and thus they will not use the network all the time, saving your home bandwidth.
Having the camera stream live video when nothing is occurring is unnecessary and will slow down your network. If you opt for motion based recording, the camera will only kick on when it detects motion, which will reduce the amount of data and storage is uses, so it won't lag your connection to the Internet.
However setting your camera to motion detection mode could be a little different. The cameras will still stream videos and use bandwidth all the time, and that's why they can do pre-recording.
Isolate All Cameras on Separate Network
If the above methods fail to deal with the laggy IP camera network, perhaps the most reassuring way is to separate IP camera system from the network.
You can use a two router system to take all of the traffic from the wireless IP cams off the main router and isolate them to the secondary router. Then have the server, PC for example, be connected to the secondary router for recording and remote access. And keep all of the gaming and network systems connected to the main router.
Or you may purchase an unmanaged gigabit switch which will provide very good separation between the camera traffic to the recording PC and the rest of the network.
Set up Security Camera Systems
A security camera system will not slow down your network – actually it will have zero impact on your home network – as long as you don't need remote viewing.
That's because the Internet cameras and NVR recorder will automatically set up its own proprietary network and start to communicate with each other without connecting to your router and slowing down the network.
Want remote viewing and push notifications to your phone but afraid of the possible network stress? You can perfectly handle that with a 4G camera.
Low Bandwidth Security Cameras
Take a look at these low bandwidth security cameras, and you will be less troubled by the IP camera bandwidth consumption issue.
#1. Reolink Argus 2
This rechargeable battery powered wireless security camera only uses your home network when motion is detected and when you remotely access the camera, so you don't need to worry that the camera will stress your network bandwidth.
Best Pick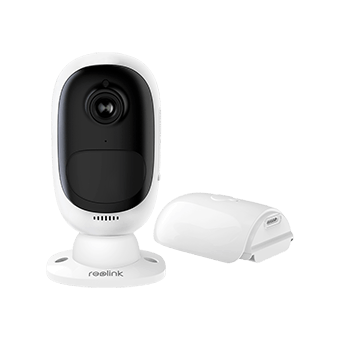 Low Bandwidth IP Camera
Featured in top media, including TechRadar, PC Magazine, Digital Trends, MakeUseOf, ZDNet, Android Police, etc.
Key features:
1080p resolution, highly efficient to identify plate number and human faces
H.264 compression (advanced video coding) saves your storage space and network
No wires and no electrical outlets needed, easy to install
Solar powered optionally, eco-friendly and money saving
#2. Reolink Go
If you worry that the WiFi security camera will slow down the network anyway and want the wireless design, then the 4G LTE camera Reolink Go would be no mistake.
Running on its own 3G/4G cellular data, the camera will have NO impact on your home network.
Best Pick 2
4G LTE Camera (No WiFi Needed)
Featured in top media, including Digital Trends, TechRadar, Stuff, PCWorld, Engadget, SmartDroid, etc. for its convenience.
Key features:
No WiFi needed and No lag on Internet connection
No wire needed, highly portable, easy to use and install
1080p high resolution to capture clear images day and night
Works with Reolink Cloud, no worry to miss anything important