If you are looking for a cold weather security camera & system for winter, you can get what you need in this complete buying guide. You'll get top 3 points to consider when you buy best security cameras for cold weather or high temperature, so that you can get the most suitable one within minutes (with stunning videos). Also, we've included 3 extreme cold weather CCTV cameras & system top picks that got high praise from editors of top-tier media and customers.
Want to choose suitable cold weather security cameras, you need to know the information below:
| | |
| --- | --- |
| Camera Type | Cold weather IP cameras |
| Considerations | Local temperature/camera operating temperature |
| Top Picks | Reolink security cameras/systems |
| FAQs | 3 |
1. Best Winter Cold Weather Home IP Security Cameras — Top 3 Points to Focus
Your security cameras used in winter, especially operated in the outdoor environments, should withstand the inclement weather, including snow, wind, dust, rain, extreme heat or old.
You can try the 3-point checklist to buy the best extreme cold weather outdoor surveillance cameras.
1. The Local Temperature of Your Area
2. Security Camera Operating Temperature
1. Check Your Local Temperature Before Buying Cold Weather Wireless & Wired Security Cameras & Systems
Before dive into buying the fanciest cold weather outdoor security cameras, you should check the local temperature in winter.
Security cameras that can withstand higher or lower temperature will cost you more.
A good rule of thumb is to get a security camera that can handle the winter of your local place, instead of just upgrading the CCTV cameras to the ones that can withstand highest or lowest temperature simply because they are available.
You don't necessarily buy a security camera that can stand up a winter with -60°C to -80°C, while your local temperature is only -5°C.
You can check your local temperature on weather.com.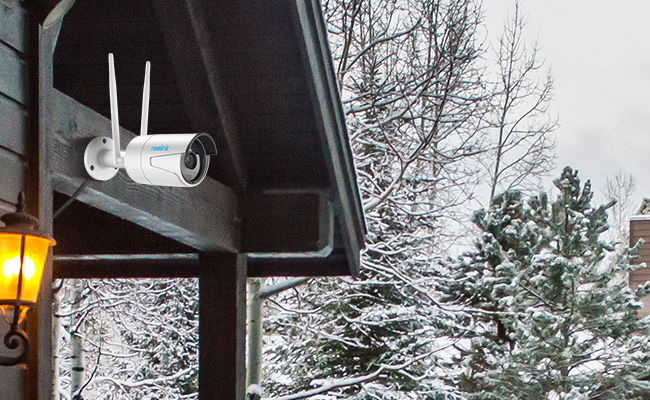 2. Mark Cold Weather Security Camera Operating Temperature
The operating temperature in cold weather video surveillance cameras (typically can been seen in the specifics part in the product page), means the recommended operating temperature.
The operating temperature of winter IP security cameras varies. Some security cameras (systems) can perform well under the temperature range of -10°C ~ +55°C (14°F~131°F). Some even can handle/withstand the cold weather that is about -30°C or -40°C.
In fact, some extreme weather security cameras & systems can operate in much higher and lower temperatures than the stated temperatures.
Security cameras when in operating condition would be much more heated than that of its non-working state. So the cold weather IP security camera function even in a much colder environment.
Take RLC-823A PoE all-weather outdoor security camera as a typical example. The recommended working temperature of this camera is -10°C~+55°C (14°F~131°F). However, this camera can work well even in -45°C by a customer's test.
This customer who bought this cold weather IP security camera left a review, stating that:
" RLC-823A I tried it on very low outdoor temperature (around -45 c) it works fine no issues. very good picture!"
But if you expose a high temperature CCTV security camera or system close to a furnace, it would do harm to your camera, which would make it stop working. In some extreme conditions, it would burn your cameras down.
3. Get Suitable Cold Weather CCTV IP Security Cameras & Systems Depending on Outdoor or Indoor Use
If you want to install your cold weather wired or wireless security cameras outdoors, always buy a CCTV camera with weatherproof rating.
For example, if you want to put up an outdoor security camera for cold weather in your parked camper, detached garage, soffit, covered porch, etc. get a CCTV camera at least with IP65 weatherproof rating.
Under such an IP rating, this winter security camera can brave the cold, rain, dust, etc. You can take a look at the below video to see how an IP65 weatherproof security camera braves the cold weather.
If you want to buy cold weather wireless or wired security cameras for indoor use, you don't need to worry about the working temperature of your security cameras.
Usually, you would turn the heater on during cold winters. Thus the temperature inside your property would enable your all-weather CCTV security cameras or systems to work seamlessly.
2. Best Outdoor Cold Weather Wireless & Wired IP Security Cameras & Systems
The below top all-weather wireless and wired security camera recommendations can withstand harsh weather, and offer you real-time live streaming when connected to the Internet.
Most importantly, you can enjoy FREE shipping!
Top Pick 1. RLC-410W — One of the Best WiFi Cold Weather IP Security Cameras
RLC-410W dual band WiFi home and business security camera can resist the cold weather even in -10°C (14°F). It's a nice and affordable option when you need to install this camera in places (such as Southern Alberta) with average temperature -5°C to -10°C.
Reolink RLC-410W
Dual-Band Wireless Security Camera with Audio
5MP/4MP Super HD, Outdoor/Indoor Protection, Dual-Band WiFi 2.4 GHz and 5 GHz, Audio Recording, and SD Card Storage.
You can watch the below bomb cyclone captured by this weather-resistant security camera.
Top Pick 2. Reolink Argus 3 Pro — Wire-Free Outdoor Security IP Camera
Reolink Argus 3 Pro battery powered security camera features its 100% wire-free design. You don't need to run Internet wires or power cables for this battery operated security camera. It would be the best option if you want a mini outdoor cold weather security camera.
This cold weather home HD security camera can function well even in -10℃.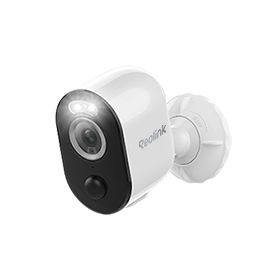 Reolink Argus 3 Pro
2K 100% Wire-Free Spotlight Camera
2K 4MP Super HD, Battery/Solar Powered, Person/Vehicle Detection, 5/2.4 GHz Dual-Band WiFi, Color Night Vision, Two-Way Audio.
If you want to find the best cold weather game/trail camera to monitor your off-site properties, like monitoring livestock at night during lambing and calving seasons, or checking your paddock, farm, barn, rural home and other remote areas, you can try a cellular 4G security camera.
You can still get live view when your property has no Internet and power supply.
Top Pick 3. RLK8-810B4-A — The Easiest DIY Cold Weather PoE IP Security Camera System
This all-weather PoE IP security camera system can help you monitor and protect your home and business even in cold winters.
This security camera system can perform pretty well in the temperature range of -10°C ~ +45°C (14°F~113°F).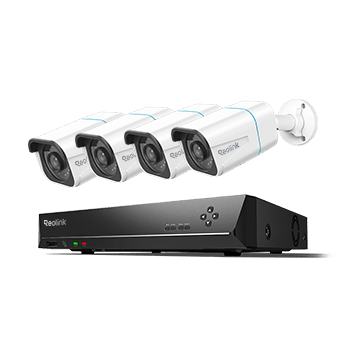 Reolink RLK8-810B4-A
Smart 4K 8-Channel PoE Security System
4 pcs 4K Ultral HD Security Cameras with Person/Vehicle Detection; 2TB HDD 8-Channel NVR for 24/7 Recording; Plug & Play.
If you want the security camera system much more weather-resistant, you can add a weather shield to it.
Normally, the above winter security cameras (systems) can meet your requirements for cold weather.
If you are looking for outdoor cameras that are able to stand up the harsh Alaskan winters (about -60°C to -80°C on a cold night), it's a little bit hard to find a suitable one since there are few outdoor winter security cameras that can handle such cold weather.
3. "Cold Weather Security Cameras & Systems" Frequently Asked Questions
You can express your own insights in this Q&A part about high or low temperature CCTV video cameras! And as usual, your excellent ideas will be featured in this part.
Q 1. What exactly does the cold weather security camera operating temperature mean?
A 1: All security cameras have recommended working temperature. You can find the operating temperature of the camera in the product page.
The working temperature is determined by the camera manufacturers during the product testing stage.
The cold weather security cameras may be hampered if used outside this temperature range. But wait. As we mentioned enough, some security cameras can even function well in much higher or lower temperature.
Flora, a senior tech editor of Reolink, provides a trick to use a security camera in cold weather.
Here is the trick:
Start the wireless/PoE (or whatever types) security camera indoor first and move the heated camera outside.
You can check Flora's post to get more details on how she handles the Candia Canadian extreme cold with the cameras.
Q 2. Does cold weather affect digital security cameras?
Will cold weather effect the IR or night vision ability?
A 2: Cold weather would enable the cameras to stop working if the temperature is extremely lower than the operating temperature, and it might be harmful to your CCTV surveillance cameras' lens.
You should clean your cold weather security camera lens before the winter approaches, and keep cleaning it with a soft cloth during winter season, like once per month.
In most cases, the cold weather won't affect the IR night vision of the cameras.
3. How do I keep my battery or solar powered security cameras charged in cold weather?
How do I keep my Arlo batteries charge in cold weather?
A 3: If you want to keep your battery powered security cameras charged during the winter, you can try the below effective tips to keep charging surveillance cameras.
Tip 1. If your security camera stops charging because the battery is too cold, you can bring your cold weather battery powered security camera to another location where the temperature is above freezing and charge it.
Tip 2. If your battery operated security cameras cannot be charged due to the outside cold weather, you may take your camera inside your home to charge it.
Tip 3. If you use a solar panel to charge the camera, the solar panel may not provide enough energy for your camera due to many factors, including shade, cold weather, dust or debris on the surface, etc.
If you have any questions on cold weather IP security cameras, leave your comment below!