PoE PTZ cameras enable you to monitor wide-range areas via just a single camera without using separate power cables. Only one wire (network cable) is all it takes to realize both power and data transmission.
You'll get all the details about outdoor & indoor PoE PTZ IP cameras, including the outstanding features, the cost and the comparison details when compared with other types of cameras.
In order to save your time on searching the best PoE PTZ dome cameras, we also recommend the best budget top pick for you. You may skip to Part 2 to check it.
You can also check the detailed answers to frequently asked questions about PoE PTZ security cameras & systems, including the step-by-step setup guide, how to add your cameras to the third-party software, etc.
If you have any questions or ideas about PoE PTZ security cameras, please leave them in the comment below!
Content:
#1. PoE PTZ Cameras: Meaning, Cost & Comparison Details
#2. PoE PTZ CCTV Camera Top Pick (with a Stunning Video)
#3. PoE PTZ Surveillance Camera Frequently Asked Questions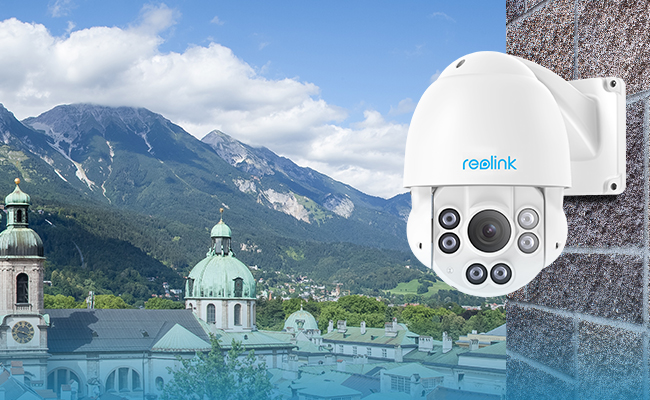 #1. PoE PTZ Security Cameras & Systems: Meaning, Features, Comparison Details & Costs
Some security camera companies claim that they offer you the easy-to-install PoE security cameras with automatic pan tilt and TRUE zoom function, but in fact, they are not.
So you are gonna need to check the below deep insights on PoE PTZ CCTV cameras to make a smart purchase.
1. What Are Truly PoE PTZ Security Cameras
2. PTZ PoE HD Camera Unique Features
3. PTZ PoE Camera Comparison Details
4. PTZ PoE Security Camera Costs
1. Play-and-Go PoE PTZ Surveillance Camera Deep Insights
PoE stands for Power over Ethernet, which enables you to get both power and data transmission with a single Cat 5/6 Ethernet cable connecting to your router.
If your router doesn't support PoE, you just need to add a PoE injector between your router and your webcam security camera.
Analog PTZ security cameras, on the other hand, rely on 2 cables to function — one is used to connect to the central hub (the DVR) to get video coding and compression, the other one is for power supply.
So PTZ PoE HD cameras offer you the easiest wiring, while keeping robust on data transmission.
PTZ is the abbreviation of pan, tilt and zoom, which reflects the rotation and movement of the security camera.
Pan/tilt functions in your PoE PTZ security cameras enable you to rotate the cameras to look left/right (up to 360°), and tilt up/down (up to 180°) to monitor every angle of your property.
For example, you can install a PTZ security camera in your shop, so you can get an overview of your shop just by taking a glance at your mobile phone or computer.
You can take a look at the below video to see the "pan tilt in action" of a PoE PTZ camera.
Always pick one with remote pan tilt function so that you can rotate your security camera via the client or app installed on your computer or mobile phone.
If you opt to those manual pan tilt security cameras, you may need to climb high to reach the camera to adjust the viewing angle of the camera.
In terms of the zoom function in a PTZ PoE IP security camera, pick one with optical zoom.
Optical zoom function offers you "true" zoom, which enables you to zoom in or out to get more image details or larger viewing angle without compromising the image quality.
Digital zoom would simply enlarge the pixels of the image, which often results in blurry images/videos.
You can check the comparison details of the 2 zoom security camera types here.
2. PoE PTZ CCTV Camera Outstanding Features
There are top 4 exceptional features in PoE PTZ surveillance cameras, enabling them to outsmart other types of cameras.
1). Preset & patrol functions — you can set up the preset positions for key monitoring areas, and arrange these presets in a specific order and interval of time.
Patrol function, combing preset, enables you to do tours or patrol the predefined areas on autopilot.
2). Adjustable pan and tilt speed — When you set up the cruise path with your outdoor or indoor PoE PTZ security cameras, you can determine the rotating speed based on your specific needs.
Some PTZ security cameras can offer you 2.5° – 180°/s pan speed and 1.5° – 90°/s. Some high speed PTZ domes security cameras can provide 240°/s pan speed and 200°/s tilt speed!
3). Auto motion tracking — some industrial PoE IP cameras with pan tilt zoom are equipped with the exceptional auto motion tracking function.
Auto motion tracking means that the camera can automatically detect, follow and record the moving objects in the viewing angle.
This feature has never been widely used for home or business security, mainly because of the below drawbacks:
Auto motion tracking PTZ security cameras could track some irrelevant objects, like flags, moving branches.
The camera will only track the bigger object when there are 2 moving objects coming in sight.
If the camera is following a moving object, and the object stops for a while, the camera will go back to its preset settings, leaving the object unnoticed.
That's why many security camera manufacturers would not add this feature in their outdoor & indoor PTZ security cameras.
4). Long night vision — Speed outdoor PoE PTZ IR camera can offer longer night vision distance compared with the fixed type.
Take RLC-423 PoE PTZ security camera as an example. This camera can offer you up to 190ft infrared night vision, which enables you to identify license plates and human faces from a long distance.
You can watch the night vision video captured by this camera (shared by a customer).
3. PoE PTZ Security Camera Comparison Details
The design of PoE PTZ security cameras offers you a cost-saving way to monitor your wide-range areas with just a single camera.
You can check the outstanding advantages of PoE PTZ security cameras, compared with other types of CCTV surveillance cameras below.
• PTZ VS fixed security cameras: PTZ security cameras provide larger viewing angle, and longer night vision distance.
• PTZ VS PT CCTV cameras: Some security cameras can only pan and tilt but not zoom. With the optical zoom, you can get clearer pictures when zooming in/out the objects, and identify the details you want, such as license plates, when you install this camera for your garage, or mount it on the stucco wall.
4. Outdoor & Indoor PoE PTZ Security Camera Costs
The PoE PTZ security camera prices would vary among brands, definition, features, etc. We've made a price list based on our team's research on the market.
• 720p outdoor analog and IP PoE PTZ security camera price would be $70-$200.
• 1080p PoE PTZ IP camera price is typically $130-$400.
• 4MP (1440p) & 5MP outdoor PoE PTZ IP camera price is $200-$600.
• The 4K Ultra HD outdoor PTZ security camera price range is $1000-$3000.
• The price of outdoor PoE PTZ dome cameras with auto motion tracking is $300-$700.
You can consider the below PoE PTZ security camera. This camera is rated by ASECURELIFE and Securitybros as one of the "Best PTZ Security Cameras for Indoors and Outdoors" and "Best Budget Outdoor PTZ IP Cameras of 2018".
#2. RLC-423 PoE PTZ Security Camera: Got High Praise from Editors & Customers
This outdoor PoE PTZ security camera comes with 360° endless pan and 90° tilt, so you can use your iPhone or Android smartphone or computer to scan any specific points you want.

Reolink RLC-423
PoE Waterproof PTZ Security Camera
5-Megapixel Super HD; 360° Pan & 90° Tilt ; 4X Optical Zoom; 190ft Infrared Night Vision; Smart Motion Detection; Remote Live View & Control.
For example, you can mount it on the ceiling of your front door/porch or rear door, so that you can confirm your package has been delivered to your home.
The exceptional 190ft infrared night vision and 5MP Super HD enable you to view details even from a super long distance.
You can check this PoE PTZ camera review to see how the professional tech reviewer rated this CCTV camera.
You can watch the below stunning video captured by this PoE PTZ camera (shared by a voyager).
If you want to get 24/7 recording with this PoE PTZ HD camera, you can add a PoE NVR to this camera. So you can still get continuous video recording even when Internet is unavailable.
For example, you can place this PoE PTZ security camera system to your farm or barn to watch livestock. You can play back the recorded videos without missing anything important.
#3. PoE PTZ Security Camera Hottest Questions
You can check the detailed answers to PoE pan tilt zoom security camera hottest questions asked by forum Ops, or our readers.
If you have any questions, please leave them in the comment below, we will feature your ideas here.
Q 1. How to Install & Set up PoE PTZ Security Camera?
A 1: Here we take the RLC-423 PoE PTZ camera as an example to show you the step-by-step installation guide.
Step 1. Mount the camera to the place you want with the provided screws and the mounting template.
Step 2. Drill a hole to run the PoE cable from the camera to your router. You can read this helpful guide to check all the details when running security camera wires.
If you want to place the PoE PTZ camera 100-400 meters away from your home, you can buy a PoE switch for your PTZ camera to extend the distance of data and power transmission.
You can also check the step-by-step security camera installation guide here.
Step 3. Install and launch the Reolink App or Client on your smartphone or Mac/computer to configure the camera, such as motion detection, position presets, patrol, etc.
Q 2. How to Add PTZ Cameras to Milestone XProtect?
A 2: You can follow the below setup guide to add a PTZ camera to Milestone XProtect, taking RLC-423 as the typical example.
Step 1. Download and install Milestone XProtect on your Mac or Windows computer.
Step 2. Click "Add hardware" -> "Manually specify the hardware to add" to add the camera.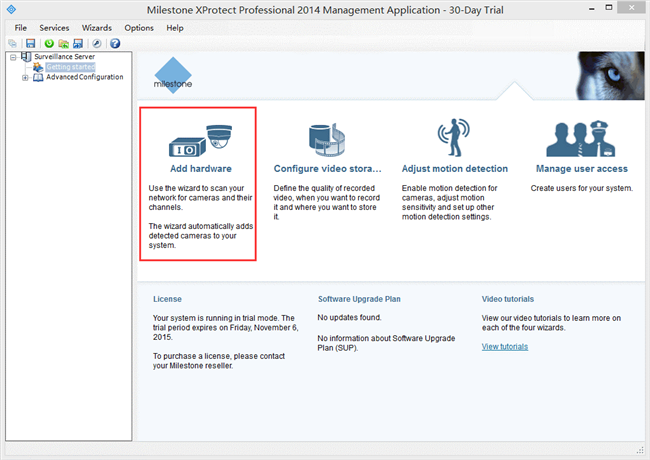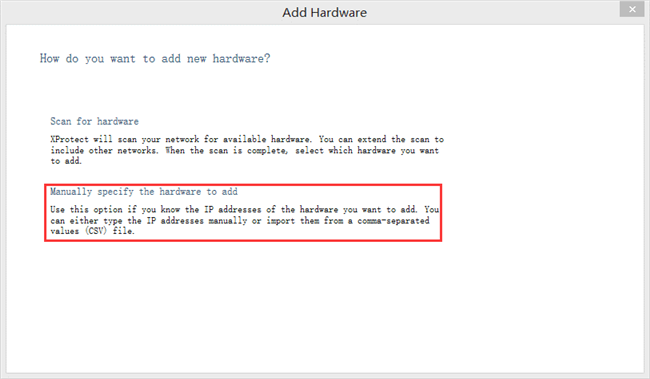 Step 3. Find your IP camera address via Reolink Client.
1). Launch Reolink Client on your Mac or Windows computer.
2). Click "Device Settings", and you'll find the security camera IP address on the "Network Status" tab. Assume the IP address is: 192.168.0.112.
There is also a tutorial video to help you find the security camera IP address on Reolink Client.
Step 4. Go back to the Milestone XProtect interface.
Input the IP address (192.168.0.112), Port number (8000), User Name (Admin), Password (input the password that you've previously created on Reolink software. The default password is blank) and Driver, and then click "Next".
Step 5. Find the camera by clicking "Advanced Configuration" -> "Hardware Devices" -> "Camera" (the camera name can be modified on the right) -> "Open".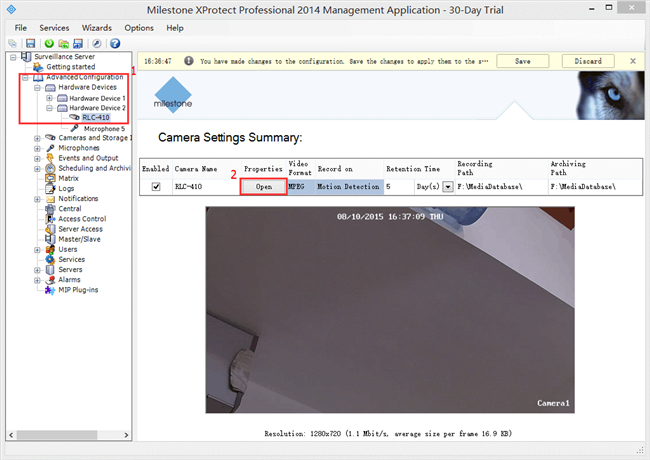 Now you can get live streaming of your PTZ security camera via Milestone XProtect.
If you have other questions, leave them in the comment below ↓