Deciding among different types of license plate security cameras can be a daunting task. So, to save you the headache and time, we've done the research and summarize top 4 important points to consider when choosing best license plate security cameras.
Editor's Note: The license plate security cameras here are NOT those professional LPR cameras that are specifically used to read and collect the license plates of vehicles.
The CCTV cameras in this post are home security cameras to help you recognize the license plates in a certain distance.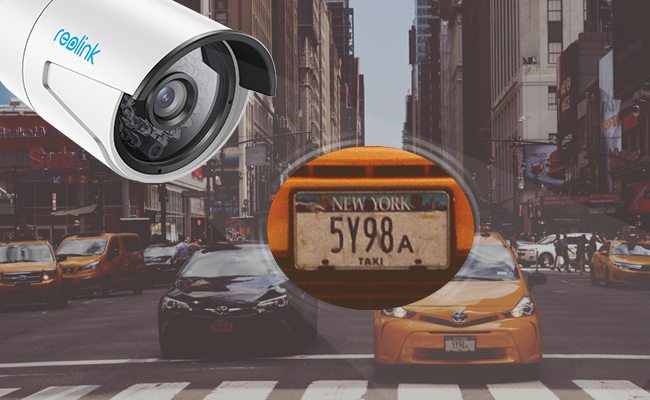 What to Look for in Vehicle License Plate Recognition Security Cameras
What is the minimum specification of a CCTV camera to be able to reliably read vehicle number plates at day/night?
Check the necessary license plate IP cameras specifications below.
#1. High Definition
#2. Night Vision
#3. Waterproof
#4. Optical Zoom
#1. Buy License Plate Reading Security Cameras with High Definition
The first determining specification in license plate security cameras (systems) is undoubtedly high definition.
HD IP security cameras can capture clear license plate numbers.
2MP (1080p), 4MP (1440p), and even 5MP security cameras (a great development in HD security camera industry) can help you identify license plate numbers from a long distance.
Get Details: Can 1080pSecurity Cameras Be Enough for Identification of License Plate and People?
According to the tests of our R&D team, 1080p security cameras (fixed camera lens: f=4.0 mm, F=2.0) can recognize license plates within 13ft.
Please note that the result is based on the ideal environment. In practice, the 1080p security camera might not recognize the license plate due to moving-fast vehicles, long distance, etc.
For capturing much clearer license plate numbers, you can try 4MP and 5MP license plate security cameras. Higher resolution means more pixels, which enables you to get much clearer and better images.
#2. Get License Plate Security Cameras with Long Range Night Vision
Long range night vision license plate IP cameras can help you identify license plate numbers clearly at night.
Though most home break-ins or package thefts happen at day time, your property security at night cannot be overlooked.
For Your Reference: How to Prevent Daytime Burglary >>
When you look for night vision security cameras, don't forget to buy infrared license plate security cameras. Infrared security cameras are not the same as common "night vision" security cameras. The infrared security cameras can work well even under utter dark environments, while traditional night vision security cameras fail to do so.
For example, RLC-423 PTZ long night vision security camera would be a nice option for reading license plates at low light conditions. Its 190ft long night vision distance is really outstanding among home security products.
Reolink RLC-423
PoE Waterproof PTZ Security Camera
5-Megapixel Super HD; 360° Pan & 90° Tilt ; 4X Optical Zoom; 190ft Infrared Night Vision; Smart Motion Detection; Remote Live View & Control.
#3. Purchase License Plate Reader Security Cameras with Waterproof Design
When you need to capture license plate numbers passing by your property outside, make sure that your license plate recognition surveillance cameras are able to withstand powerful water jets and dust.
Try IP66 outdoor security cameras. This type of outdoor license plate security cameras can capture clear images even at rainy days.
For example, when you install a license plate security camera at the entrance of your driveway or your subdivision, the security camera can record or capture the vehicle plate numbers. Without waterproof design, the security camera would not work outdoors.
Help Me Choose Driveway Security Cameras
For not missing any license plates or any other important event, you can install a wireless/PoE IP camera system for reading license plates, or grabbing faces. It offers you 24/7 recording so you won't miss anything.
#4. Choose License Plate Security Cameras with Optical Zoom
Thanks for the optical zoom function of security cameras, you can zoom in to view the details of license plates without degrading image quality.
For example, if your security camera captures the package thieves' license plate, you can download the images or videos to zoom in to recognize the license number.
There was a case that a gang of package thieves' car license plate got caught by a security camera. The license plate was very clear, and it was really helpful for the crime investigation.
We tested Reolink RLC-423 PTZ optical zoom security camera's license plate visual distance, below is the conclusion.
Reolink RLC-423 autofocus lens: f=2.8 mm – 12 mm, F=1.2
2.8 mm: The viewing angle is 100 degrees. You can recognize a license plate within 10 ft.
12 mm: The viewing angle is 36 degrees. You are able to read a license plate within 40 ft.
You can zoom in or out to read license plates based on your own specific needs.
Below are some of the best security cameras for license plates recognition.
Hot Picks of License Plate Security Cameras & Systems
Check the top picks of LPR security cameras below, and you will get the best license plate security cameras suit you best.
Combining 4MP Super HD, 190ft night vision, IP66 waterproof and 4X optical zoom in a standalone security camera, RLC-423 is undoubtedly one of the best LPR IP security cameras.
The bonus point of this PoE license plate security camera is its 360-degree endless pan and 90-degree tilt. You can scan everywhere of your property. This camera is good enough to capture number plates during day and night.
Read RLC-423 license plate capture security camera review for full details.
Featuring 4K/8MP ultra high resolution, security system RLK8-800B4 can record cars near your property clearly with vivid details, day and night. Here is a video sample captured by this system that shows a police car chasing in a neighborhood.