Are you considering purchasing barn security cameras to monitor your animals? Or you want to watch in real time of your barn from your home via long range wireless barn cameras on your phone?
Whether you need a barn camera for a rural farm or barn without mains power and WiFi connection, or you cannot run wires all over the place, you will find the perfect solutions here with the best barn camera systems.
If you still have any questions about wireless barn camera selection after reading through this post, please don't hesitate to comment below and we'll offer the best assistance.
Contents:
How to Choose Best Barn Security Cameras
The barn cameras are increasingly important for barn ranch owners to fight against animal thefts these days. Statistics show an estimated 40,000 horses a year are taken from their lawful owners and the number is continuing to rise.
Besides ensuring the livestock safety, barn camera systems and farm security cameras can also be utilized to check on your animals anytime and anywhere on your smart phones, laptops and computers in case they are sick or are about to give birth.
Here is a look at the required features of best barn security cameras and systems, which intends to help you select the livestock cameras that serve you fine.
1. Barn Cameras with Remote Viewing on Your Phone/Computer
"Looking for night barn cameras with recording and the possibility of viewing on a computer or smartphone. Any suggestions and what do some of you use?"
One of the main reasons why you purchase barn monitoring systems, perhaps is to grasp the barn's up-to-date situation while you are away, saving the trouble to physically visit your barns, especially at night.
So the barn security cameras should enable you to keep tabs on your barn, farm and livestock anytime and anywhere via your phone and computer. (Learn how to set up the barn camera remote viewing here.)
For instance, the horse stall cameras should enable you to do chores at home while watching the horses foaling on your phone or computer.
Or you can even upload the video recorded by the farm and barn cameras for calving, lambing or foaling on Facebook or Twitter to share your excitement with others.
Watch the video below recorded by the wireless barn camera Reolink RLC-511W.
2. Barn Security Cameras with Clear Night Vision
It is essential that the barn security cameras you select can provide clear and sharp night vision so as to record the images in true color.
If any invasion occurs, the wireless barn cameras can send you instant alerts and you'll know what is exactly happening in your barn or farm via live view. The footage can also serve as a piece of helpful evidence to identify the criminals and lodge claims later.
In addition, the livestock cameras for barns and farms with clear night vision are conductive to your night check in case of any veterinary needs, like horse colic, lameness, general security and so on.
The calving barn cameras can also keep an eye on your pregnant goats. If the animals happen to give births at night, you may observe the whole process via the wireless barn camera systems.
Watch the color night vision image captured by the wireless barn camera Reolink Argus 2.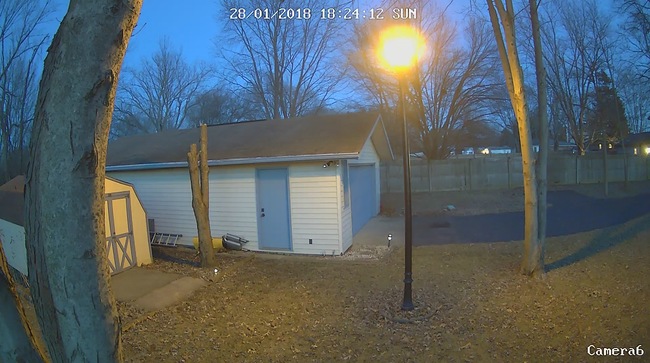 3. Barn Camera Systems with Weather-Resistant Design
Besides installing barn security cameras inside your barn, like indoor calving barn cameras, you may also need to install barn/farm security cameras outdoors to monitor who is coming by and leaving your barns.
The outdoor barn camera systems should be at least weather-resistant to brave the severe weather conditions, especially if the winter temperature in your place can reach -30 degrees or even lower. (See best picks that survive cold weather.) Therefore the working capability of barn cameras won't be impacted by harsh weather conditions.
Watch the video below to see how the barn camera Reolink Argus 2 braves the heavy snow.
4. Wireless Barn Camera Systems for Flexible Placement
Compared with wired farm and barn cameras, the long range wireless barn cameras can be a better choice for you when it comes to the flexibility and versatility.
You may change the long range wireless barn camera locations (within the WiFi range) based on your needs without having to run new cables or drilling holes.
For example, you can move the horse barn security cameras and focus on the sick horses or reposition the calving barn camera systems towards the pregnant cows.
If you want a TRULY wireless barn camera system that requires no wires at all, the battery powered security cameras (or solar powered ones) for barn would top your options.
Taking Reolink Argus 2 for example, this rechargeable battery operated wireless barn camera can be placed and repositioned anywhere you can dream of.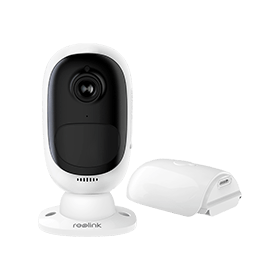 Reolink Argus 2
100% Wire-Free Starlight Camera
Rechargeable Battery & Solar Powered; Outdoor/Indoor Protection; 1080 Full HD; Starlight Night Vision; 2-Way Audio; Live View Anytime Anywhere.
Editor's Note: For recommendations of some best long range wireless barn security camera systems, please jump to the last part of the post.
5. Calving Barn Cameras with Local Recording Ability
In case you need a calving barn camera to record onsite, the security cameras with SD card (slot) can be your best options.
If there is WiFi network in your barn or farm, you can remotely access and play back the videos stored in the SD card. And the older videos will be automatically overwritten when the SD card storage is full.
For barn cameras without Internet, they can also record motion detection videos locally without WiFi connection. And you may take out the SD card, say, once a month, to replay the videos on your computer.
6. Barn Camera Kits with Easy Installation
The plug and play barn camera systems will release you from many unnecessary efforts as you can finish the setup and installation within minutes on your own.
What's more, the barn camera kits with easy installation also save you the money to hire installers, which can be both timesaving and economical.
Bonus: If you are a farm owner, learn how to choose the best farm security cameras.
No Internet Connection in Your Barn? Never Mind
"If my barn has no WiFi or Internet, does that mean I can't use barn security cameras (systems)?"
Well, the answer is definitely "No".
Even if your barn or farm has no Internet access or the distance from your barn to your home has exceeded the scope long-range wireless barn cameras can reach, there are still options available for you.
Option 1: Purchase a Cellular Wireless Barn Camera
The 4G wireless cameras for barn are exactly designed to work without WiFi and Internet. They operate on a 3G/4G mobile network and allow for live viewing from anywhere and anytime on your phones.
Option 2: Install a Barn Camera Kit
The barn camera systems will connect to each other and work on their own proprietary network once they are powered on.
So you can choose to do 24/7 recording, motion detection recording or scheduled recording via the barn camera kit without WiFi or Internet.
Option 3: Buy a Barn Surveillance Camera with SD Card (Slot)
The barn cameras without WiFi/Internet can still record motion detection events onboard for those with SD card (slot). Then you can play back the videos to figure out what's happening out there.
Note: Internet connection is required if you need to receive real-time alerts from the mental barn cameras or stream live videos.
If you barn has Internet access, you absolutely have more choices. You can compare the differences between wireless barn cameras and wires ones to select the best barn camera systems.
Worry not if your barn has no Internet and power outlet!
The Reolink Go 4G/3G mobile battery-powered barn security cameras can be placed anywhere in your barn, farm, shed or stable and allow you to watch live feed anytime and anywhere on your smartphones.
Below is an image of the barn camera Reolink Go, shared by a real user Jens.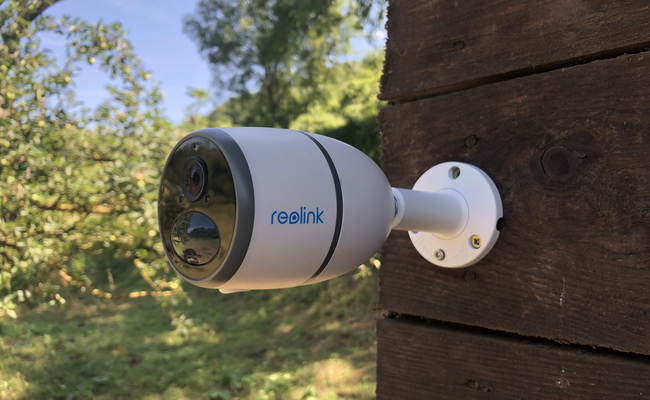 Barn Camera Reviews
Barn camera reviews might be the resources you want to refer to before you decide to purchase the wireless barn camera systems.
The fact is that after long-time searching online, you may find almost no professional barn camera reviews.
While most traditional wireless barn cameras cannot transmit much farther than 100ft, now the long range wireless barn cameras are capable to transmit over long distance and remain inference free with digital technologies.
As mentioned above, barn security systems also enable you to view the cameras on your phone or computer using a WiFi connection.
Below are the reviews of a security camera that can serve as a farm and barn camera for your reference.
"With no wires to consider and IP65 weatherproofing, this is a particularly versatile IP camera. You can get your indoor/outdoor security system up and running in minutes."
Note that installing barn camera systems might also help you land a lower insurance quote. According to the insurance agents, your premiums can be reduced by about 5% if you install something as simple as a deadbolt, and up to 20% for a barn monitoring system.
Black Friday Deals: All of these barn cameras and systems recommended below are on BIG sale of this Black Friday and Cyber Monday (from Nov.22 to 27 PST). And you can save up to 15% to get the most suitable ones based on your needs.
Best Wireless Barn Security Cameras & Systems
Although there are various barn security cameras and systems for sale, not all of them are of good quality to serve your purpose. Here we have rounded up some best farm/barn cameras and systems with video samples included for your reference.
1. Reolink Argus 2 – Best Wire Free Rechargeable Battery Powered Farm & Barn Camera
"My barn is 30 meters from my house and I cannot have a wire between them. I have no Internet and electricity in my barn. Is that possible to install a barn camera?"
Reolink Argus 2 rechargeable battery powered barn security camera would be your perfect option in this case. And you can also add an optional Reolink solar panel to provide non-stop power for the camera.
In virtue of the 1080p Full HD and starlight night vision, you can observe the sick or pregnant animals from the calving barn cameras at night on your phone, eliminating the trouble to go to the barn or farm on your own.
It also comes with a micro SD card slot, so you can insert a memory card to save motion detection events onboard even without WiFi network. Then you may regularly review the footage to check what happened during a certain time period.
Better yet, the two-way audio function of this wireless barn camera allows you to hear the goats or scare away potential thieves with your sound.
Video Transcription
Say hi to the squirrel in the video captured by Reolink Argus 2. And you'll observe the cute squirrel jumping up and down the solar panel.
2. Reolink Go – Best Wire Free 4G/3G Battery Powered Wireless Barn Camera
If you need a barn camera without WiFi to watch live viewing remotely, the best option is the cellular barn cameras that offer an independent security solution for areas without Internet and power supply.
Reolink Go, for example, operates on the 3G/4G cellular network without Internet. You can remotely monitor your barn or check on your animals via this barn camera for calving on your smartphone even without WiFi network.
This wireless barn camera also offers flexible powering options (battery powered & solar powered). If features 1080p Full HD high resolution and starlight night vision, enabling you to miss no single details even in total darkness.
Besides the normal motion detection alerts (push notifications, emails, siren), this calving barn camera also allows you to record your customized alert message and get notified with it when motion is detected.
Video Transcription
In this video, you can check on the horses from the cellular barn security camera Reolink Go without WiFi or Internet remotely on your phone.
3. RLC-410W – Best Wireless Barn Camera with Audio
"Does anyone have experience using barn security cameras that feed to your iPhone or computer from inside the barn via WiFi? I'm looking for something for night check or having a way to ID a trespasser with no need to run cables."
If you don't want to run wires around your barn or farm, the wireless ban cameras, like Reolink RLC-410W would be the best options.
It is packed with an embedded micro SD card slot, so this indoor & outdoor barn camera without Internet can also record motion detection events internally.
In virtue of its excellent night vision, it also can be used as a horse stall camera or foal watch cameras for night check on the pregnant animals.
In case you have Internet connection in your barn or farm, you can also watch live viewing on your phone or computer to check what's happening at the barn and surrounding areas.
4. RLK8-410B4 – Best Barn Camera System
"We don't have Internet capabilities, so we need something that would record on a DVR/NVR or something like that."
A barn camera system, like Reolink RLK8-410B4, is best recommended if your barn or farm is large and has no WiFi or Internet.
And this barn camera kit can record videos 24/7 nonstop to the NVR with and without network, so you won't miss a single detail in your barn.
As an easy-to-install PoE barn camera system, Reolink RLK8-410B4 includes 4 long range wired barn cameras. You can replace or move the barn cameras according to your specific needs, such as using them as barn cameras for calving, foaling, etc.
Additionally, the barn cameras included in the system are rugged, weather-resistant and provide clear night vision up to 100ft. Installing such a barn camera system will be the great guarantee for your barn's safety.
For any more questions about the barn cameras, feel free to drop us a line in the comments below and we'd get back to you soon.