If you have a senior family member with Alzheimer's disease (DA), his or her security and safety would be your No.1 concern.
If you are a caregiver in an Alzheimer's facility or care agency, keeping your Alzheimer's or dementia patients safe is your biggest priority.
In order to help you to keep your Alzheimer's family or patients safe, we summarize 4 effective Alzheimer's safety measures for your reference.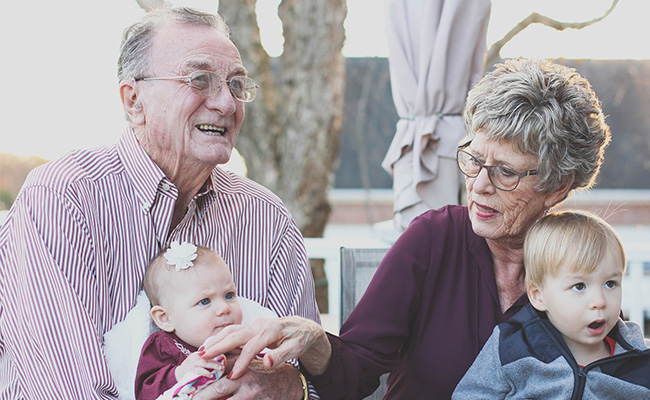 #1. Learn 4 Helpful Alzheimer's/Dementia Safety Measures
You can now get 4 useful Alzheimer's security measures to keep the seniors safe and secure, when the senior is suffering from Alzheimer's disease.
No. 1 Use Alzheimer's/Dementia Security Camera Systems and Other Security Products
How to keep Alzheimer's patients from wandering or lost? How can you get dementia patient monitoring for ensuring they are doing well at home?
Thanks to the advanced technology, now you can buy a wide range of Alzheimer's safety products to monitor and track your Alzheimer's or dementia patients. Please check the Alzheimer's home safety/security product checklist/listing to buy some necessary and useful dementia security products/devices.
1. Alzheimer's/Dementia Security Camera Systems
Why should you use security camera systems for securing Alzheimer's patients?
One of the biggest benefits of Alzheimer's security cameras and systems is that you can check whether your Alzheimer's family or patients are doing well via your smartphones, computers, etc., even when you are not there.
Reolink RLK8-410B4
8-Channel PoE Security System
4 pcs 5MP/4MP Security Cameras; 2TB HDD 8-Channel NVR for 24/7 Reliable Recording; Plug & Play; 2 Network Solutions.
It's almost impossible for you or carers working in Alzheimer's facility to take care of an Alzheimer person 24/7. With a security camera system installed, you can check if the Alzheimer's or dementia patients anytime.
Another killing point of Alzheimer's security camera systems lies in that you can track the recorded videos to see when and where the Alzheimer's patient went lost, since Alzheimer's patients are easy to get lost. Thus you can see which direction to track the dementia person.
For example, if you install a security camera for the front door (or the main entrance), you can get push notifications if someone passes through the detecting area of the security camera. If an Alzheimer's or dementia patient walks through the front door, you can get real-time alerts, so that you can prevent the Alzheimer's patients getting lost.
2. Alzheimer's ID Bracelet/Watch/Necklace GPS Security Tracking System/Device
Alzheimer's/dementia bracelet/necklace ID GPS tracker would be one of the most effective dementia wandering prevention tips.
If your Alzheimer's family wears the GPS locator watch/bracelet all the time, you can locate his or her location immediately.
GPS tracker device for the elderly/senior Alzheimer's/dementia patients, especially in stage 2 or 3, is a big must. As you may know, once an Alzheimer's person gets lost, it's hard for him/her to find the way back. And it's also difficult for you to find your Alzheimer's patients.
People can also contact you via the Alzheimer's ID bracelet/watch/necklace, if they come across your dementia family/patients.
No.2 Pay High Attention to Alzheimer's Door Security to Keep Dementia Patients Secure
Wandering of Alzheimer's or dementia patients is one of the biggest headaches for you.
That's why you need to reinforce the door so that your Alzheimer's family or patients cannot get through the door without your companion. Below are some easy tips to help you ensure the door security for the senior with Alzheimer's disease.
Install security camera systems to monitor the entrances (as mentioned above).
Always keep the front door/back door locked.
Install good and strong locks for your doors to secure dementia patients. Remember to buy high quality Alzheimer's door locks from reputable brands.
Light up your doors.
You can check the top 10 ways to keep your front door robust. However, don't overlook your back door. Get the further reading on securing your back door.
The chance of your Alzheimer's patients getting lost would decrease, if you keep your doors and other entrances robust enough.
No.3 Hire Safety Guards for Alzheimer's/Dementia Patients
Security guards can help you ensure the Alzheimer's seniors' security. They can play an important role on preventing the Alzheimer's patients from wandering.
You can hire multiple Alzheimer's safety guards so that they can cover all of the main entrances of your home or Alzheimer's caring agency/facility.
No.4 Create a Safe Environment for Alzheimer's Patients
Most Alzheimer's patients are all under 65. They need careful and patient caring. If the Alzheimer's patient can live in a safe environment, he or she is more likely to behave normally and enjoy a rather happy and safe life.
Check the below tips on creating a safe environment for the Alzheimer's/dementia seniors.
Avoid injuring the Alzheimer's patient in daily activities. Ensure that the Alzheimer's patient cannot approach those sharp tools such as knife, cleaning supplies, etc.
Avoid serving food that is too hot. Old people with Alzheimer's disease or dementia may forget to check the temperature of food.
Install antiskid floor in the bathroom.
Monitor the temperature of the water in the shower.
The above top 4 safety measures are useful for Alzheimer's stage 2, 3, and end/final stage. Hope the above methods at least can give you a hand on dealing with the Alzheimer's patient problem to some degree.
Alzheimer's disease or dementia is one of the biggest serious diseases in the world. You would be extremely astonished after you've learned the Alzheimer's statistics below.
#2. Shocking Alzheimer's Disease or Dementia Facts and Figures
The statistics blow is quoted from Alzheimer's Association.
Quick Facts on Alzheimer's Disease/Dementia
AD is the 6th leading death disease in the US.
Over 5 million senior people are suffering from Alzheimer's disease.
Every 66 seconds, someone in the US develop the AD.
1 in 3 seniors dies with Alzheimer's or dementia.
Sadly, the number of Alzheimer's seniors is increasing, and the trend is extremely fast. You can watch the video made by Alzheimer's Association to learn more Alzheimer's disease facts and figures below.

It's heart-wrenching to learn that there is NO cure for Alzheimer's disease. Current treatments offer relatively small symptomatic benefit but remain palliative.
The society does work really hard to help the Alzheimer's seniors/suffers. For example, Alzheimer's patients can get Alzheimer's social security benefits. And the government also sets up social security Alzheimer's caring agencies and facilities.
Only depending on the government is not enough. We can also do something to help Alzheimer's suffers. We can be volunteers in Alzheimer's Association. We can call the police at once if find any elder people with Alzheimer's disease getting lost.
A minor action will make a big difference. Love, patience and care are the most warm and effective methods to keep the Alzheimer's patients happy and relaxed.