Zoom security cameras enable you to have a closer look at desired objects, like the human faces and the plate number.
But be careful. Not all security cameras with zoom can get you the details you want, especially if the objects are like 40 feet away.
Today you are going to view different types of zoom security cameras and get the best CCTV cameras with zoom lenses that give you a clear picture of distant details day and night.
Content:
Digital vs Optical Zoom Security Cameras
Zoom security cameras usually have 2 types:
Security camera with optical zoom and digital zoom.
If you want a short answer for the best outdoor zoom security camera solution, optical zoom is the way to go. And here is why:
Optical zoom security cameras use the moving parts on a focal lens to see objects with closer details. That means you can zoom in to get rich image details without image degraded.
For example, if you get a 5MP 4X optical zoom CCTV camera, like the Reolink RLC-423, you can still see the details at 5MP resolution even after zooming in 4 times.
Digital zoom security cameras, by contrast, narrow the apparent angle of view of images, and then crop the areas outside the margins.
So the image will be blurred in a way that you can not make out anything useful out of it if you zoom in too closely, and that's why many users consider the digital zoom as a fake function.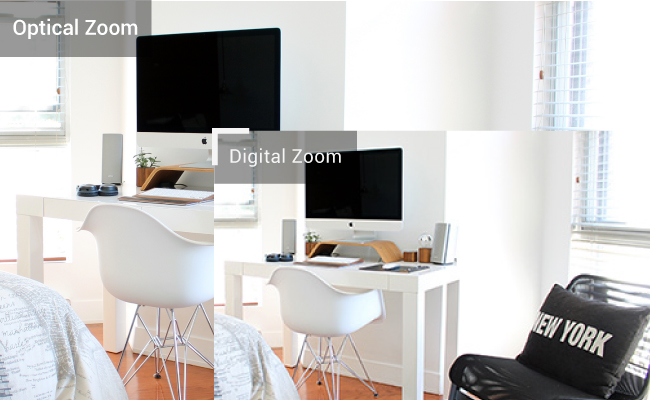 To understand the differences easily, you can just consider optical zoom as looking through binoculars, while digital zoom is similar to enlarging images on your computer screen.
Should Not Miss: Get the full details here: Zoom Security Camera: Optical VS Digital.
Optical Zoom IP Cameras: 3 Options for You
So optical zoom security camera is better at reading the far-away plate number and recognizing faces, but there is still a decision to be made among this type of zoom IP camera:
Manual varifocal zoom, motorized zoom, or PTZ (pan, tilt & zoom) security cameras, which one is better?
Manual Zoom Security Cameras
Security cameras with manual varifocal zoom enable you to adjust the zoom level, but you have to do it manually. That's to say, you have to adjust the zoom level by taking out of the camera's waterproof enclosure.
Sometimes you may even need to climb a ladder to reach the camera for adjusting the zoom level of the outdoor zoom security camera.
Motorized Zoom CCTV Cameras
To make things easier, the motorized type of zoom security camera enables you to adjust the zoom level remotely. You can zoom in or out to view the images via the on-screen controls on the security camera client software or app.
Mind that it's advised to use the zoom security camera with the manufacturer customized app to make sure the zoom function is enabled in the software and work properly without any compatibility issues.
Outdoor Pan Tilt Zoom Security Cameras
The pan tilt zoom security camera not only allows you to optically zoom in for any details captured, but also greatly expands its field of view with pan and tilt function.
This type of optical zoom security cameras and systems are fully motorized, so that you can adjust the camera in all directions. And some high zoom surveillance cameras, like the Reolink RLC-423, can pan up to 360°, tilt up to 90° and zoom in from 4X to even 30X.
What's Your Choice
Obviously, it's not convenient for you to adjust the zoom level of manual varifocal zoom security cameras, especially the outdoor zoom CCTV cameras you mounted to the wall or ceiling.
Motorized optical zoom and pan tilt zoom CCTV cameras offer you easier adjustment of zoom with remote control on the security camera software.
So when you are looking for zoom security cameras, always go for motorized optical zoom or PTZ types.
Best Zoom Security Cameras: Optical Zoom, Wireless & PTZ Types
"What is the best pan-tilt-zoom camera for a home security system?"
"I would like my camera with the ability to zoom in to see my roadside flower stand."
Below are top 2 popular zoom security cameras you may take a look at, both feature high level optical zoom, easy installation, and high resolution for long range surveillance.
This outdoor zoom IP camera features an auto-focus lens, along with the viewing angle varying from 31°- 90°. With 4X optical zoom, you can zoom in to see far-away objects without getting closer, or zoom out to get a wider viewing angle.
Best Pick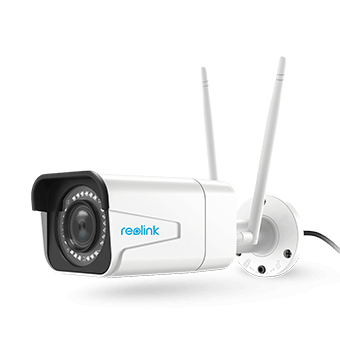 Outdoor HD Security Camera with Zoom
"This camera ups the optical zoom to 4x...it allows you to get an up-close viewing angle even if you mount it high up or far away." –
Mighty Gadget
.
Key Features:
5MP resolution give you high quality images day and night
4X optical zoom allows you to see far-away details clearly
Wireless connection, easy to use and set up
IP66 waterproof rated, suitable for outdoor use
Motion tracking or 24/7 continuous recording with an NVR
The zoom security camera video footage shared by Reolink user:
This pan tilt zoom camera is the most popular model among zoom security cameras. With 360° endless pan and 90° tilt, and 4X optical zooming in and out, this 4MP Super HD IP camera delivers the a seamless live view, leaving no blind spots.
Best Pick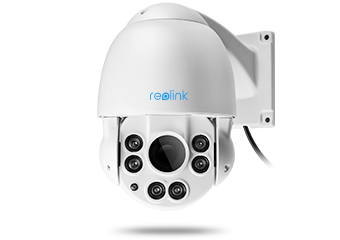 Pan Tilt Zoom CCTV Camera
"This is the first affordable PTZ IP camera that I can recommend without any reservations" –
VueVille Review
. Also featured in Androidpit, SecurityBros, and other top-tier media.
Key features:
5MP resolution captures clear videos day and night
Full 360 degree rotation capabilities
4X optical zoom gets you license plate details far away
Excellent IR night vision – up to 190ft in low light conditions
IK10 rated strong cover protects it from vandalism
IP66 waterproof rated, suitable for outdoor use
The daytime video sample of the PTZ IP camera RLC-423 from a Reolink user:
All these motorized optical zoom security cameras can be accessed via iPhone or Android smartphones, PC, Mac, etc. And you can receive app push notifications and email alerts when there are motion events. And you can build a zoom security camera system with an additional network video recorder for storage.
Burning Questions on Zoom Security Cameras
1. Can security cameras zoom in?
Yes, as long as you get a security camera with zoom, like the two above.
2. What's the security camera zoom range?
The number of 3X, 4X, 20X, 50X, etc. generally means the amount of magnifications that a zoom lens on a security camera is capable of performing. For example, 5X optical zoom means widest focal length X 5= longest focal length.
3. How much zoom do I need?
A good rule of thumb is that if you want to identify license plates and people's faces from 100ft, 4X optical zoom security cameras are enough. If you want to recognize people at 200ft, you need 20X, and if you need to ID people at 250ft, you need 30X.