Waterproof capability, a BIG and the FIRST necessity for any outdoor proposed cameras, makes the weatherproof security camera the BEST choice for the exterior IP camera solutions.
However, obviously, not all advertised weatherproof security cameras perform equally well in front of the wind, rain storms, pouring water, heat, cold, and humidity, although they are all weatherproof labeled.
And today, you are gonna learn 2 weatherproof security camera solutions for outdoors, essentials to find a REAL waterproof IP camera that works in your situation, and more pro tips to make the best use of the waterproof CCTV camera.
Content:
Top 2 Weatherproof Security Cameras for Outdoors
Having compared the reviews, video quality, and tested the reliability in extreme weather conditions, here are finally the 2 winners of weatherproof security cameras.
Actually, they are not only weatherproof security cameras, but also smart monitoring devices with tons of features, like easy installation (wireless literally), color images, night vision, and more.
#1. Weatherproof Wireless Security Camera: Reolink Argus® 2
IP65 qualified with truly NO wire at all, this weatherproof WiFi security camera is one of the most popular mini cameras for outdoors like the front door, backyard, garden, driveway, porch area, even in the wild (solar power supported to generate power even in cloudy or rainy days).
Best Pick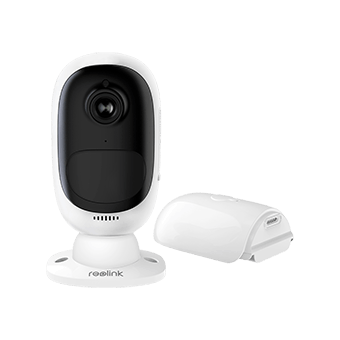 Wireless Weatherproof Security Camera
"The versatile Reolink Argus 2 is a weatherproof indoor/outdoor security camera that doesn't require any wires and is powered by a rechargeable battery pack." –
PCMag Review
. Also mentioned in top tier media like MakeUseOf, TechHive, TomsGuide, ZDNet, TechAdvisor, and etc.
Key features:
1080p HD resolution, highest for battery powered cameras
Easy to install, no need for any wires and power outlets
Easy to use, zero configuration (no portforwarding needed)
Weatherproof security camera with night vision (starlight night vision)
Live view anytime anywhere on your phone via FREE Reolink App
Support both local SD card storage and unlimited cloud storage
Note that this weatherproof surveillance camera features the class-leading starlight night vision, which enables color night vision and sharper night time images and videos ever. So don't miss out if you want a wireless weatherproof CCTV camera with decent night vision.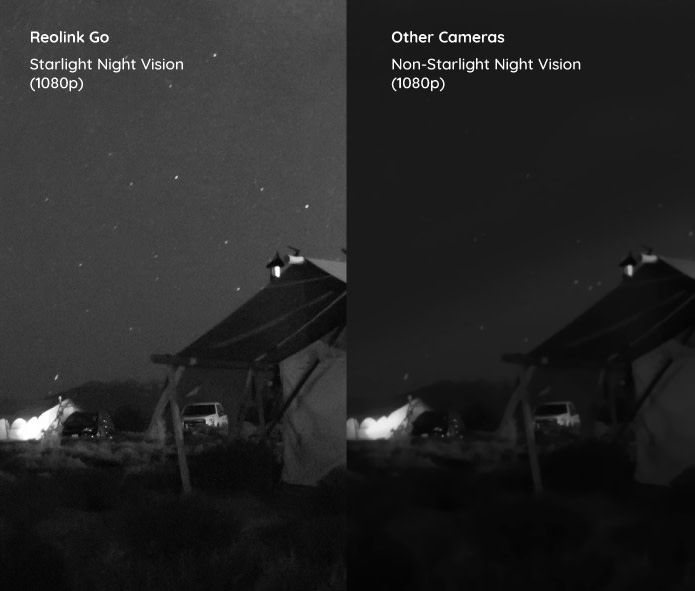 Check out how this weatherproof wireless security camera performs during the extreme cold here:
Note that the operating temperature for this weatherproof WiFi security camera is -10°C~+55°C (14°F~131°F). So make sure your local temperature falls into its working temperature range, if you want to use it outdoors.
#2. Exterior PoE Weatherproof IP Camera: Reolink RLC-410
IP66 rated with metal aluminum weatherproof security camera enclosure, RLC-410 is not only weatherproof but also waterproof! If you prefer a wired and solid solution for outside 24/7/365 that can withstand serious weather, this is it, with a ton of bonus smart features.
Best Pick
PoE Waterproof Outdoor Security Camera
"The RLC-410′s waterproof aluminum body is built for outdoor installation. It's not a wireless camera, but you'll need to pull only one cable to it because it supports PoE (power over Ethernet)." –
TechHive Review
Key features:
Power over Ethernet, easy to use and install
4MP or 5MP super HD resolution to capture every detail you need
100ft excellent night vision in low light conditions
Live view anytime anywhere on your phone via FREE Reolink App
Push notifications and live view anywhere anytime via your phone
RLC-410 Video Sample Collected from #ReolinkCaptures Program:
Pro Insights: This weatherproof outdoor security camera can work in extremely cold environments, even beyond its operating temperature (-10°C/14°F). And here is how: Just start the camera inside and it will get heated and work non-stop even if you move it outside.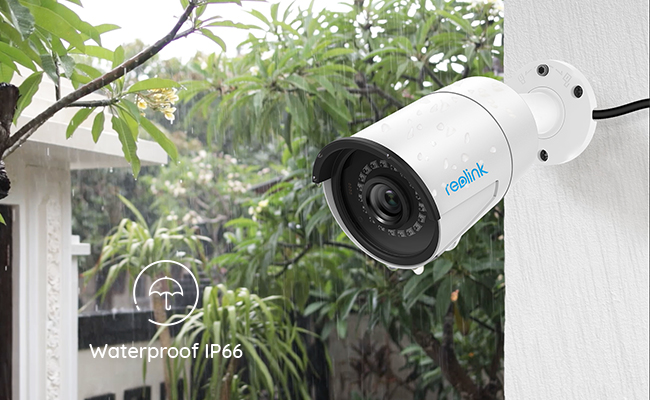 If you want to set up a weatherproof security camera system, you may take a look at the RLK8-410B4 which has 4 quality weatherproof IP cameras (RLC-410), and a dedicated network video recorder. Or you may DIY your own outdoor weatherproof security camera systems.
Bonus Tips: Some of you may think that, with the lens stick out covered by plastic or metal case, the dome cameras are less weatherproof than the bullet ones. That's not true. Many reputable brands do have the dome type IP66 waterproof security cameras, like the popular RLC-420, to satisfy your various mounting needs.
Top 4 Essentials to Find Best Weatherproof CCTV Cameras
"The difficulty is the weather in our area can reach some serious extremes, so the equipment would have to be hardy enough to withstand it."
So the point is what to look for in a waterproof IP camera to make sure that it will work in your region to withstand the harsh weather?
Basically, 4 simple things.
#1. IP Rating
IP code, namely the International Protection or Ingress Protection Marking, is the most straightforward indicator of whether the weatherproof security camera housing an stand the possible high humidity, long periods of rain, lightning storms, hail, blizzards, and etc.
Usually, you will find the IP rating, like IP65 or IP66, in the camera specs in all weatherproof surveillance cameras. What does that mean? The following chart is almost self-explanatory:
| | | |
| --- | --- | --- |
| Level | Solid objects/dust protection | Liquid protection |
| 1 | Solid objects over 50mm | Dripping water |
| 2 | Solid objects over 12.5 mm | Dripping water when tilted at 15° |
| 3 | Solid objects over 2.5 mm | Spraying water |
| 4 | Solid objects over 1.0 mm | Splashing of water |
| 5 | Dust protected (not entirely prevented) | Water jets |
| 6 | Dust-tight (complete protection) | Powerful water jets |
| 7 | X | Immersion, up to 1m depth |
| 8 | X | Immersion, 1m or more depth |
| 9 | X | Powerful high temperature water jets |
Generally speaking, IP65 rated weatherproof security camera, like the Reolink Argus 2, which provides complete protection against dust and water jest, can handle most outdoor installation environments. Most high quality outdoor battery powered cameras are IP65 rated.
And the IP66 rated waterproof security camera, like Reolink RLC-410, does better in handling the powerful water jets, like the long periods of pouring rain. And IP66 is by far a common standard for the non-battery powered consumer-grade weatherproof IP cameras.
Bonus: Click here to learn more about security camera IP Rating.
#2. Operating Temperature
Another big challenge for the weatherproof security camera is the heat and cold.
"Are there any good outdoor security cameras that can withstand serious weather — winter low temperatures down to -20°F or below, summer high temperatures up to 110°F."
"The heat will probably destroy the camera."
"Hopefully the Florida summer humidity won't affect it much."
In fact, you can easily get the sure answer by checking the operating temperature of the weatherproof security cameras, in the camera specs sheet. For example, the IP66 water resistant camera RLC-410 can work between -10°C and 55°C (14°F~131°F) with the humidity level around 10%~90%.
Bump: Again, the working temperature doesn't mean the camera can not work beyond its temperature range. By this I mean, as long as the camera get started and heated, it will keep working 24/7/365 no matter how serious the outside weather is.
But the battery powered weatherproof surveillance cameras are not subject to this trick, since they are designed to wake up every time a motion is detected to save the battery life.
#3. Night Vision
Searching for a weatherproof security camera with night vision?
Actually, the night vision function is now available for most IP cameras, and the IR night vision is the most reliable currently to enable the weatherproof security camera recording at night even in low light conditions.
Or better still, you may turn to a starlight weatherproof security camera, which provides improved starlight night vision even in adverse environments where common night vision weatherproof IP cameras fail to work.
And some of them are weatherproof color security cameras, meaning you can switch the night vision into color mode and record in real color even in low light conditions where human eyes fail to identify a thing.
#4. Easy Installation
For any outdoor project, the installation and wiring could be a big headache.
And that's why the wireless weatherproof camera is the most popular model among the water resistant cameras. For example, with the WiFi waterproof IP camera Reolink RLC-410W, you only need a nearby power outlet for power supply and don't need to worry about running wires back to the main hub.
Or even better, you can get rid of all the wiring hassles with a wire-free security camera with weatherproof design.
Pro Tips to Make the Most out of Weatherproof CCTV Cameras
Here are also some pro insights and tips for you to make the best use of your waterproof security cameras:
#1. Mount the outdoor weatherproof surveillance camera out of arm's reach to avoid it being vandalized, blinded or stolen.
#2. Make sure that your exterior waterproof security camera is not pointing at the reflective surfaces, like the ponds of water, glass panels or car windows, to avoid lens glare.
#3. To protect your weatherproof CCTV camera from the fogging, clouding or condensation issues, it's suggested to wipe the outer lens covers with a micro-fiber cloth regularly.
#4. To protect the waterproof IP camera from lightning and thunderstorm, make sure your wired outdoor security camera is grounded properly and avoid mounting the WiFi CCTV camera to a metal pole.
If you have more eager to know about the weatherproof security cameras, please leave us a comment down blow and I'll get back to you very soon!