Dear Canadian friends, are you living in the real-life Winterfell?
Do you share the same fear with the Stark family when "the winter is coming"? Not for the white walkers but for the security camera breakdown.
So is there a way for outdoor security cameras in Canada to survive the extreme temps?
YES, of course – actually it's much easier than you think!
Not to lock you into the rather limited choices of pricy specialized cameras, but to use the cameras wisely!
Outline:
For a comprehensive buying guide of security cameras in Canada, you may check out this post to gain more insightful ideas.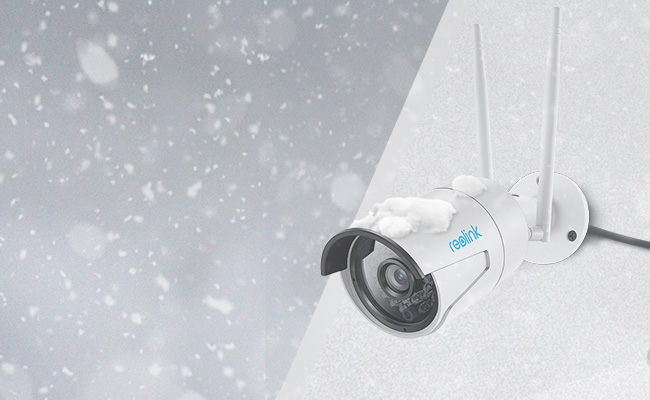 Security Camera for Extreme Cold in Canada: A Simple Trick
Here is how the trick plays:
Start the security camera indoors and put the camera outside after it's heated up.
Then, magic happens: The security camera can amazingly stand the cold weather even under the camera's rated operation temp!
You can also set up the security camera outside directly in warmer days, and rest assured it will not stop working when the weather gets cold.
How come it's like that?
Here is the thing, the cameras usually put off tons of heat already during the use, so the camera for cold weather can work without a heater inside.
Actually the working temperature you find in the specification refers to the cameras' starting temperature indeed.
Once the camera gets started and heated, it should be OK to work through the winter and handle the snow and fog.
That explains why Reolink users in Canada get their cameras working well in -45°C, about 35 degrees below their rated temp.
To tell you the truth, our Reolink R&D team was intended to develop the cameras with heaters once but finally find it totally unnecessary.
Notice: The cold weather security camera doesn't mean it can handle all weather. If you live in a extremely cold area, you'd better contact the security company and check if the camera works in your situations.
Clever Tips for Outdoor Cold Weather-Resistant Security Cameras in Canada
While the "heating first" trick solves some problems, here are more clever tips to find the best security camera for cold weather climates.
Still remember the last snowstorm in your area?
The hovering wind and snow could be devastating!
Well, the IP66 camera promises you that it will never be damaged from dust and powerful water jets, like heavy rain or snow.
It is so called water & weatherproof security camera.
An outdoor security camera for the cold should have solid cover so that the natural elements can never intrude in.
#2. No Battery-Powered Wireless Security Cameras
Ever got mad at the unreasonable low battery of your phone in a cold winter morning outside?
Likewise, the extreme cold environment will drain your security cameras' battery dramatically.
Anyway, you will not want to go out to charge batteries in the horrible winter, let alone you will have to do it more often in Canada.
More importantly, the battery powered security cameras are not designed for the extremely cold weather, which only wake up when the motion is detected.
And therefore, the "heating" trick will not work in this camera type.
So instead, choose the traditional WiFi security cameras or PoE IP cameras, which are more reliable in the cold climate.
#3. Choose the Best Installation Location
Even though you've got a ruggedized cover, say IP66 rated, proper protection is still important to make your cold weather security camera more durable.
For example, install the outdoor security cameras for cold weather under the eave or the roof overhang.
Or you can DIY a shelter for your WiFi or PoE security cameras – a great idea to hide security camera if you want to.
It's always helpful to consider the factors of lighting, sun exposure, wind and snow direction before installation.
#4. Be Careful If You Need to Move Outdoor Security Camera Inside
You may come across condensation issues in this case, in big chances.
There is an easy fix: Just seal the outdoor cold weather security camera inside a plastic bag, and not remove it inside until it gets to room temperature.
#5. No Fake Security Cameras
Why will you consider a dummy security camera?
Worry about the weather issue of real security cameras which is proved to be unnecessary?
Or the high cost for quality home security camera in Canada?
Or the trouble to find a reliable one in Costco, Walmart, BestBuy and Amazon?
Actually, none of them should be the reason for you to get a decoy security camera.
And none of them will be a problem if you choose Reolink cameras, the real security cameras with high quality and affordable price, guarding your home 24/7.
Best Security Camera for Extreme Cold in Canada
What's the best outdoor security cameras for the cold?
Here are some top recommendations if you want to find the best outdoor security camera in Canada, or just a reliable cold weather security camera.
#1. Best Outdoor Security Camera in Canada – RLC-511
With IP66 rated weatherproof cover, RLC-511 is able to stand any heavy rain and snow you could expect in Canada.
PoE technology makes it a plug and play solution, allowing you to set up the cold weather security camera with a single cable.
Not to mention the 5MP super clear resolution, excellent night vision, and the intuitive app to give you live view anytime at any place.
Did I say it only costs you $89.99 to get all the up-to-date features?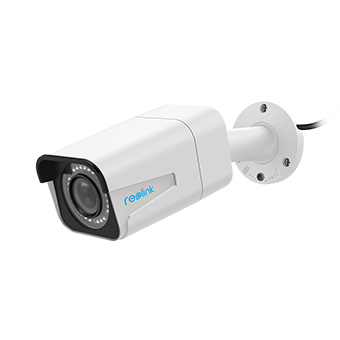 Reolink RLC-511
5MP PoE 4X Optical Zoom Security Camera
5-Megapixel Super HD; 4X Optical Zoom; Outdoor/Indoor Protection; 100ft Infrared Night Vision; Built-in Micro SD Card Slot.
#2. Best Security Camera System for Cold Weather in Canada – RLK8-410B4
Want a security camera system to get more comprehensive protection?
RLK8-410B4 is the best that works in Canada.
Equipped with 4 RLC-410 security cameras and an NVR with up to 4TB high storage, RLK8-410B4 should be your first choice if you want a large coverage & storage in the extreme weather.
Reolink RLK8-410B4
8-Channel PoE Security System
4 pcs 5MP/4MP Security Cameras; 2TB HDD 8-Channel NVR for 24/7 Reliable Recording; Plug & Play; 2 Network Solutions.
#3. How About Indoor Security Cameras in Canada?
While the battery-powered security camera is a disadvantage in outdoors, it is absolutely not the case for indoor use.
When it comes to security camera for home in Canada, the wire-free Reolink Argus 2 will be your best pick, with flexible placement, no wires, and no holes.
Where to Buy Extreme Cold Weather Security Cameras in Canada
Have spent long hours searching online and not sure which one that actually works in Canadian winter?
Why not get a quality cold weather security camera with full warranty and solid support from Reolink official website (reviews inside also)!
Best wireless security camera, best PoE security camera, best security camera system in Canada, and more types to suit your needs.
All enjoy FREE shipment to Canada!