The full form of CCTV is closed circuit television. But what does "closed circuit" mean?
Apart from the security function you already know, what is CCTV used for other purposes? And even though you see CCTV systems in almost every street corner, do you know how them work?
Keep reading to get quick answers. And also, you will find other less-known interesting facts about CCTV cameras in this blog.
Contents:
What Is the Full Form of CCTV Cameras
The CCTV full form is closed-circuit television. It is a system used to transmit video signals from CCTV cameras to monitors or recorders. It is called "closed-circuit" because the signals are not broadcast publicly, but are accessed by certain authorized users.
Accordingly, the full form of CCTV cameras is closed-circuit television cameras. Due to the extensive application of CCTV systems in security industry, CCTV cameras mainly refer to security cameras for home and business surveillance.
Note: Below are other important abbreviations related with CCTV cameras for your information.

Ready. Set. Save!
Big selection, big SAVING. Get your hands on Reolink security cameras & systems before the best prices slip away!
Interesting Facts About CCTV Cameras
1. The earliest documented application of the CCTV camera system dates back to 1942 – longer than you may think. Walter Bruch, a noted German engineer, designed and installed the system that used CCTV cameras to observe the launch of V2 rockets on monitors.
2. It wasn't until 1949 that the CCTV system was first used commercially. In that year, an American company launched Vericon, to keep an eye on dangerous industrial processes or bring a close-up of surgical operations to students.
3. Thanks to CCTV technology, audiences can enjoy pay-per-view sports streaming in the 1970s. "The Rumble in the Jungle" fight alone drew jaw-dropping 50 million CCTV viewers worldwide at that time – a quite historical event!
4. The primitive CCTV systems was not applied in security monitoring until 1968 when New York was first to install video cameras in an effort to fight crime. Since then, CCTV cameras began to spread across the world – rapidly and unstoppably.
5. There are more than 350 million CCTV cameras worldwide mainly for security monitoring in public areas or private residences – a truly enormous amount!
6. If you are in the US, you will be captured by security cameras over 200 times a day – not a surprise if you know every 10 people in America own more than one security camera.
7. People in different countries call security cameras as different names, like surveillance cameras or IP cameras. The British prefer to use "CCTV cameras" when they mention security cameras.
8. A majority of CCTV cameras are IP cameras that connect to the Internet and can work without space limitation. You can not only link your security cameras within a limited area as before, but also access them remotely. That means CCTV cameras are not totally "closed-circuit" anymore.
How Do CCTV Cameras Work
The CCTV camera system at first only consists of security cameras and monitors. Afterwards, various recording units come out for video storage and review.
A CCTV camera system, with full form in English as closed-circuit television camera system, is showed in the following diagram.
Security cameras are used to capture light stream through the lens. After years of development, surveillance cameras can provide higher resolution images and clearer audio.
Even in total darkness at night, security cameras with color night vision technologies can also see clear images in true color.
Moreover, most CCTV cameras equipped with motion detection sensors can trigger alarms when there are human movements. They are a dependable safeguard against burglary and theft.
After capturing videos or audios, CCTV surveillance cameras transmit signals to the security camera recorders for documenting and replaying key moments. DVRs or NVRs are often employed in the CCTV camera system, realizing 24/7 reliable recording.
Besides, some high-end closed-circuit television cameras (the full form for CCTV cameras), also come with a micro SD card (slot) for local storage of motion events when they are detected.
Video clips recorded in the DVRs/NVRs or SD cards can be replayed anytime in your mobile phone, computer or TV monitor, even you are far away.
What Are the Types of CCTV Cameras
CCTV cameras have various classifications according to different factors.
For example, in terms of signal transmission mediums, CCTV surveillance cameras can be divided into:
Unlike analog systems, evolving IP security cameras have become the mainstream in security industry by sharp and crystal images, easy remote access, flexible installation and affordable prices, which offers you superior protection, convenience and peace of mind.
Moreover, on the basis of network connection way, there are
You can choose one kind of CCTV cameras that adapts to a certain scenario. For example, in the places without the router network such as in the RVs, boats and vacation home or even in the wild, cellular CCTV cameras, like Reolink Go, are often employed.
And you can use PoE security cameras or WiFi security cameras in areas with WiFi or Internet like your driveways, gateways or storefronts.
Besides, CCTV cameras can be classified in view of other factors such as the power sources or shapes. More specific categories and their features or prices can be found in this insightful blog.
Why Is CCTV Used
CCTV cameras, the abbreviation of closed-circuit television cameras, are applied in wide range for different purposes.
1. Crime Prevention and Detection
The primary use of a closed-circuit television camera (the CCTV camera of full form) is warning and deterring burglars, thieves and other criminals.
For example, Reolink Argus® 2 has a PIR motion detector and a built-in siren alarm. When detecting invaders' movements, it can trigger siren sounds that are effective deterrents for the crime.
At the same time, Argus 2 would send instant push notifications or emails to your mobile phone for you to take response actions and protect your properties.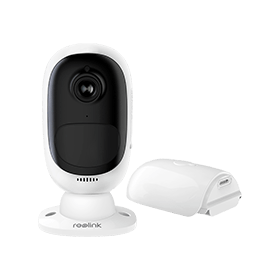 Reolink Argus® 2
100% Wire-Free Starlight Camera
Rechargeable Battery & Solar Powered; Outdoor/Indoor Protection; 1080 Full HD; Starlight Night Vision; 2-Way Audio; Live View Anytime Anywhere.
2. Taking Care of Elders, Children & Pets
Many families use closed-circuit television cameras, the full form of CCTV cameras, in home to keep track of elders, children or pets. After appropriate setup, you can check in CCTV cameras if elders fall down, children arrive home safely or pets eat food on time.
3. Record Valuable Moments
The beautiful moments of life won't be missed out or blurred over time, thanks to your CCTV cameras that can always witness and record something unbelievable, memorable or even crazy.
You can review the snowball fight with your kids or interesting Halloween party in your phone anytime, or download it in your computer for a backup.

4. Business Use
Monitoring of critical areas such as storefronts, offices or warehouses mainly requires the system of closed-circuit television (the CCTV long form) to take care of your properties or improve employees' productivity.
No matter you own small or big businesses, with or without Internet access, you can get inspired about which is the most suitable security camera in this blog.
Bonus: Click here to explore more interesting and incredible uses of CCTV surveillance cameras.
If you have any other ideas about CCTV meaning in the security industry, its types and uses, please feel free to leave comments below.