So you prefer a box security camera and want a rectangle shaped monitoring device?
Or you are just wondering what the box IP camera is?
Or you are really confused about the box camera vs bullet camera question, and just couldn't figure out what the differences are between them and which one to choose?
Today, I'll guide you through all the details you need to know about box security cameras and find out the answers to all the questions above, with pictures, charts, videos, and best budget box CCTV camera picks.
Content:
Box Security Camera Basics
When you type "box security cameras" in the Google search bar, you are probably gonna find out the results are mixed with the bullet IP cameras and the box type CCTV camera.
So here you may get confused: What's the box cameras exactly?
Box security cameras are defined very vaguely, and they could refer to different things to different people. Some may looking for a square security camera and some may after the box IP cameras that can easily changes their lens if needed. Actually, they are all box security camera designs.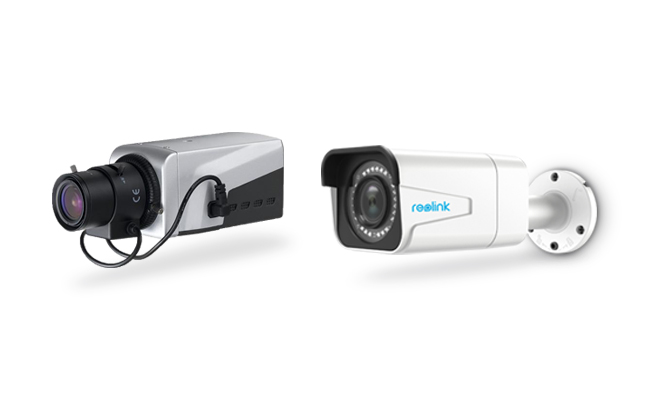 Note: Box security cameras look very much like the bullet security camera in the shape, and therefore they are considered as a type of bullet cameras with box design by many.
Box Cameras vs Bullet Cameras
Some of you may take the box security cameras with the outdoor housing as bullet cameras and, in that case, couldn't make up your mind on whether to go with the box security cameras or bullet types.
No worries. A further comparison will make the decision easy for you.
In fact, the most obvious difference between them, as you may have already noticed, is that the particular box security cameras have detachable lenses and need additional enclosures if you want to use them outdoors. And box security cameras are mostly analog cameras with much lower video resolution.
A comparison chart will make the differences straightforward:
| | | |
| --- | --- | --- |
| Comparison | | |
| Camera type | Analog cameras | IP cameras |
| Resolution | Lower (1080p at best) | Higher (1080p, 4MP, 5MP) |
| Indoor/Outdoor | Indoor | Outdoor & Indoor |
| Lens | Detachable | Fixed |
Generally, a ready-made waterproof box security camera, like the Reolink RLC-511, is the best and also the most popular choice if you want to use the camera outdoors and do not prefer the extra work of adding it to an additional housing (Mind that the housing will require additional purchase).
So here, we only talk about the box security cameras with square body design that can be used both indoors and outdoors. You may also follow our previous guide to explore other security camera types and find the best one to suit your needs.
Top 2 Best Budget Box Security Cameras
To make the decision easier for you, here are top 2 options of box security cameras that are popular among users worldwide. Shop now to get the square security camera at its best price with free shipping worldwide.
This box surveillance camera has everything that you may want for a decent square security camera, including stable wireless connection, small and white housing, easy installation, and highly affordable price.
Best Pick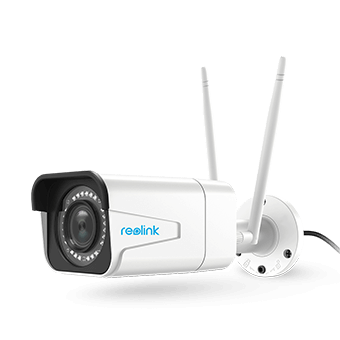 Best Wireless Box Security Camera
5MP industry-leading resolution
4X optical zoom for far-away details
Dual band WiFi keeps stronger networks
100ft high quality night vision
IP66 waterproof for outdoors
If you are hunting for a box security camera with high resolution that enables you to see the human faces and plate number clearly even across the streets, this square wireless 5MP camera RLC-511 will be right for you.
Check the astonishing 5MP video shared by a real user in the #ReolinkCaptures program.
Actually, this camera is not a typical box security camera with rectangle body. It's more like a cube security camera with square round face.
But if you want a box security camera without installation and wire hassles, you might want to take a look at this, the 100% wire-free square IP camera.
Best Pick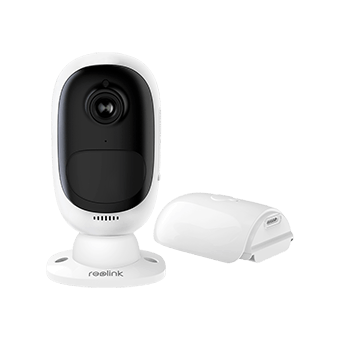 Best Cube Security Camera
Need no wire to work
Solar power supported
1080p full HD (2MP resolution)
Starlight night vision
Weatherproof for outdoors
More than all the great features mentioned above, this small square security camera can be black or white, according to the skins your camera is dressed – a smart trick to hide the camera among its surroundings.
So if you are looking for a low profile black or white small security camera and don't want to mess up with the wires, this is it.
Reolink Argus 2 video footage shared by a real user:
Still couldn't find your ideal box security cameras? Leave us a comment down below and tell us what you need. I'm sure we'll work out a perfect security solution together!