Yahoo is a popular service that offers a variety of features to its users. One of the top features is associated with the Yahoo email account. This feature is the Yahoo APP password. When signing up to the Yahoo Mail app, the password you provide can be used for other third-party applications that can be linked to your Yahoo account. If you are having trouble accessing your Yahoo account, you may need to generate a new Yahoo APP password.
In this article, we will go through step-by-step the instructions on how to generate a Yahoo App Password. We will also cover some other troubleshooting processes for commonly identified technical issues that Yahoo customers run into from time to time.
What is the Yahoo Mail App?
The Yahoo Mail app is developed by Yahoo Inc. and mainly provides email hosting services to individuals and businesses.
What is Yahoo Mail App mainly used for?
One of the main purposes of the Yahoo Mail App is for receiving, sending, and storing emails from personal or business contacts. This is done through making an email address upon sign up to the Yahoo platform and giving it out to your chosen contacts. Some other ways you can use your Yahoo email address is as a unique username to sign up and log in to other third-party services. This may be to receive specific alerts from that service or messages directly to your Yahoo email inbox.
More specifically, you link the Yahoo Mail app with your email address in other practical ways by using the app as a tool to link with third-party providers that do more than just send company updates. One notable example is connecting your Yahoo mail app account with a smart home security camera installed at your front door. By linking your email with a third-party service such as this one, you can receive real time push notifications when a stranger appears in the area monitored by your camera.
You may be thinking that this all sounds very technical. Well, we assure you, it is not difficult to implement or link your Yahoo mail app with a plethora of available services. It all comes down to your Yahoo APP password. We'll take you through some commonly asked questions around setting up this feature so you can connect easily to all available Yahoo Mail app client partners.
What is the APP Password in Yahoo Mail?
These days, emails are used for more than just to send and receive emails for work purposes or to contact friends. Sometimes we want to be able to log in and connect to third-party platforms that can drive useful and timely information to us – and make our lives better.
Yahoo Mail's APP password was created for this purpose. This is accessible through the official Yahoo mail client app by logging in with your own email address and password.
Sometimes though, when you login to third party services or clients, your email address and password may prevent you from receiving messages. This means you may need to generate an APP password for your Yahoo mail account specifically to access these third-party services.
What is the use of creating/generating APP password in the Yahoo mail account?
Some older competitor email apps that are not affiliated with Yahoo require you to enter one password to login.
To access your Yahoo Mail account on these apps, you will need to generate and use an app password. An app password is a long, randomly generated code that gives a non-Yahoo app permission to access your Yahoo account. You will only need to provide this code once to sign into your third-party email app.
How to create/generate an APP password in Yahoo mail account
Below we will go through the standard steps to generate an APP password in the Yahoo mail account. We will then go through a real-world example for generating an APP password for a Reolink home smart security camera.
Here are general steps to generate your APP password
1. Sign in to your Yahoo Account Security page. Or Log in to your Yahoo email account and go to >Account information like the picture below.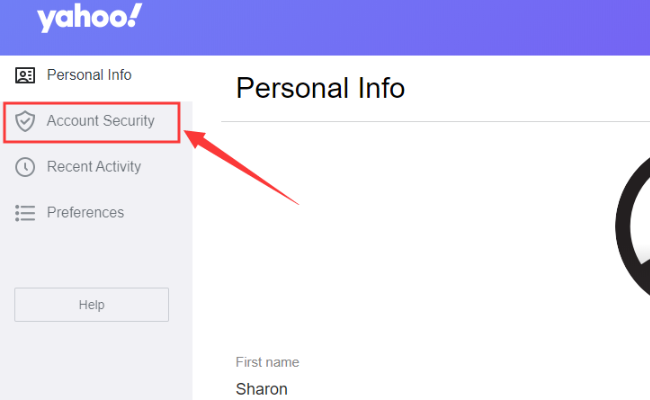 2. Click Generate app password or Generate and manage app passwords.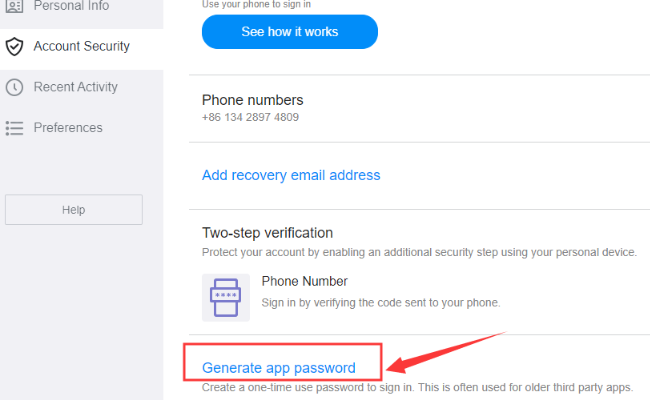 3. Enter your app's name in the text field. Manually input the appliction you are using, like I am useing Reolink for my home smart camera, so I manually input" Reolink app", then click the Generate password botton.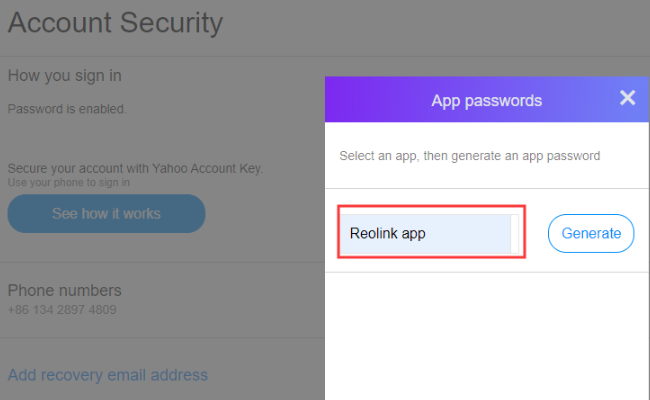 4. It will generate a password like a picture below, Copy the password generated for you, and click Done.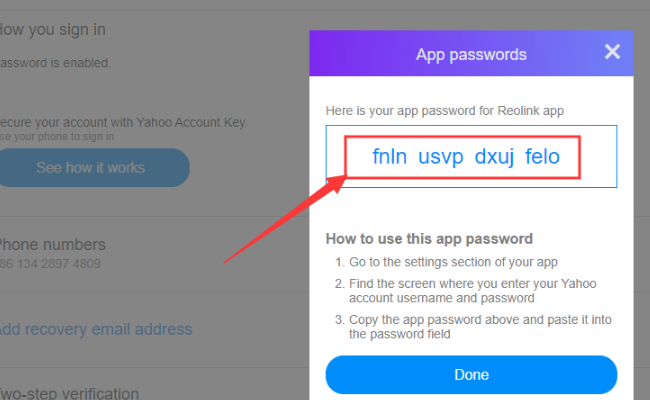 How to Revoke APP password in Yahoo mail account
If there comes a time when you don't want to continue using a third-party service you've linked up with, the best way to revoke their access is to log out the APP password of the Yahoo mail you are using. This will make this previous password invalid.
How to revoke an APP password for Yahoo mail:
Sign in to your Yahoo Account Security page.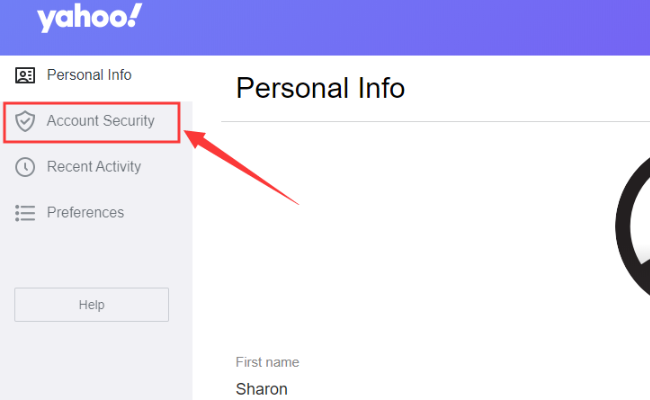 Click Generate and manage app passwords.

Click Delete next to the app password you want to revoke

Click Delete to confirm.
Once these steps are taken, this App password is no longer valid for the service you chose to revoke access to. If you want to bind to a new third party service or reconnect to a service you once used, you can follow the above instructions and regenerate an App password for your yahoo mail account.
What to do if your Yahoo generate APP password is lost or forgotten?
If you lose or misplace your APP password, you will not be able to retrieve it. Yahoo does not show you the app passwords at any time, so there is no way to recover a lost or forgotten password.
If necessary, you will need to generate a new APP password in this case. Simply go to the Yahoo Account security page and select the "Generate new app password" option. Then follow the prompts to create a new password.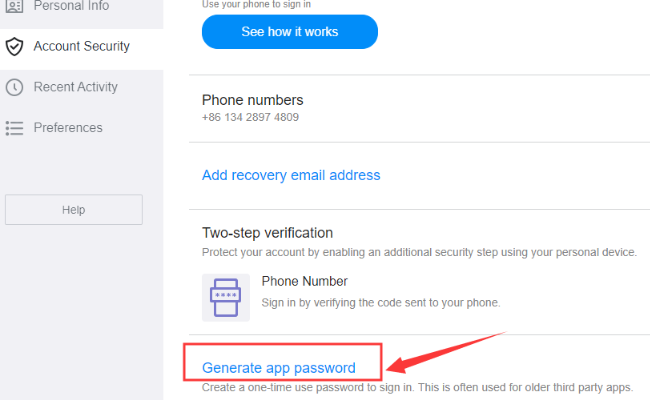 Be sure to copy the password to your clipboard as you won't be able to see it again and will have to generate a new one if you lose it.
Our tip is to save the password to a .txt file on your desktop or any note taking app on your phone such as Evernote or Google Keep.
What happens if the Yahoo generated APP password is not available?
Yahoo's APP password function is a great way to keep your account secure while still being able to use third-party applications. However, sometimes users may find that their Yahoo generated APP password is not available.
Some reasons as to why the APP password may not be available include:
Inputting the wrong app password,

The app password has been revoked or deleted

The third-party service itself is having issues
Luckily, there are a few steps you can take to troubleshoot this problem.
1. First, check to see if you remember the correct app password.
2. If your Yahoo account uses two-step verification, enter the app password you generated, not your Yahoo account sign-in password.
3. then check, Turn On "Allow Apps That Use Less Secure Sign In", sometimes it may cause the problem.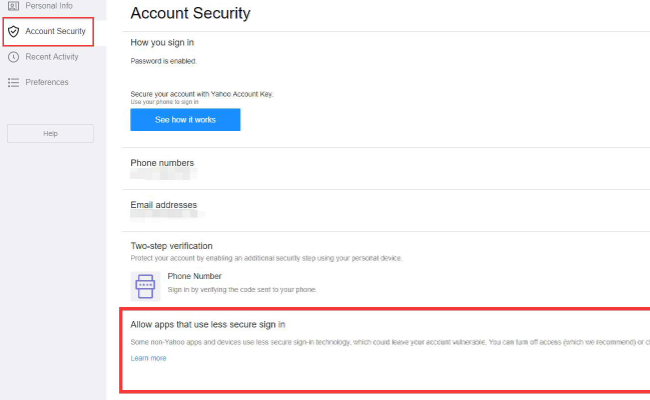 4. If not, you can log into your Yahoo Account Security page to check if the app password has been revoked or deleted.
5. If it has, you can simply regenerate a new one. If the issue lies with the third-party service, try changing to a Gmail app password and see if that works.
6. Lastly, if all else fails, delete the old APP password, and generate a new one.
With these steps, you should be able to fix any Yahoo generated APP password issue.
How to allow a less secure app to access the Yahoo Mail app?
If you want to connect your Yahoo Mail app to a less secure software or app service, then you need to follow the steps below. We will use the Reolink example mentioned earlier to show how to configure a connection of this kind.
Step 1. Log in to Yahoo mailbox and go to Account Info page.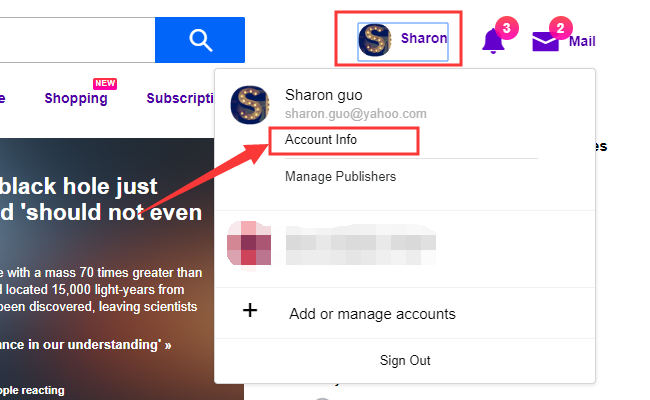 Step 2. Choose Account Security and turn on the button of "allow apps that use less secure sign in."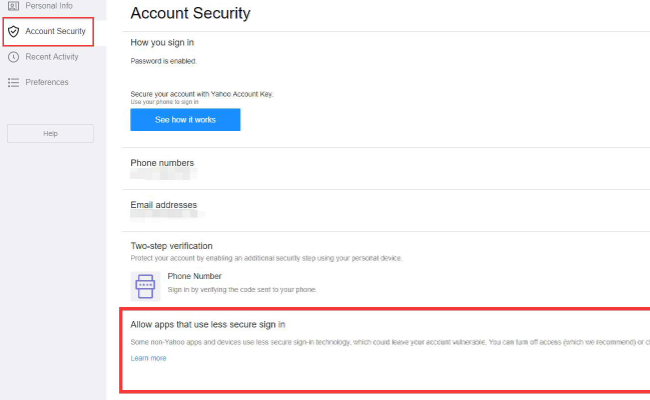 You can also check the following information and complete the settings manually.
Server name: smtp.mail.yahoo.com

Port: 465

SSL or TLS: ON
How to generate Yahoo password for Outlook?
If you are a longstanding Yahoo Mail user, you will know that Yahoo discontinued its email application for Windows 10. If you want to use a different email application, Microsoft Outlook is a good option.
Outlook has many features that are better than the web version of Yahoo. For example, it has a more intuitive interface with no annoying ads, a rich desktop application, lock screen notifications, Smart Lookup, advanced filters, rules, and alerts, plus much more.
To generate an APP password for Outlook, go to Yahoo profile name > Account Info > Account Security > Generate app password > Outlook version > Generate. You can choose Outlook iOS, Outlook Android, or Outlook Desktop.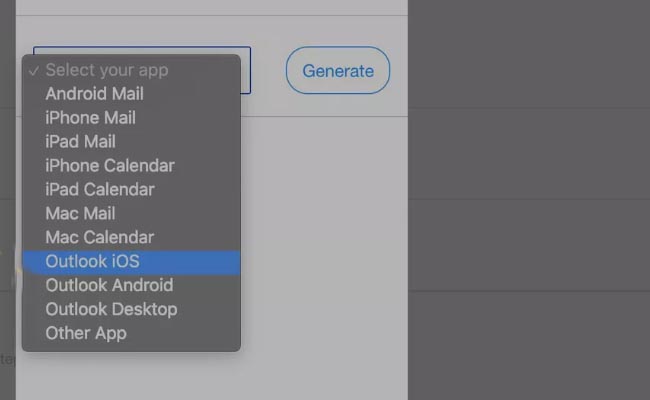 You will then need to go through the following steps to configure your Yahoo Mail account and connect it to Outlook.
Set up Yahoo Mail in Microsoft 365, Outlook 2019, and Outlook 2016
If you use Outlook for Microsoft 365, Outlook 2019, and Outlook 2016, you can link your Yahoo account by following these few steps.
1. Go to the File tab.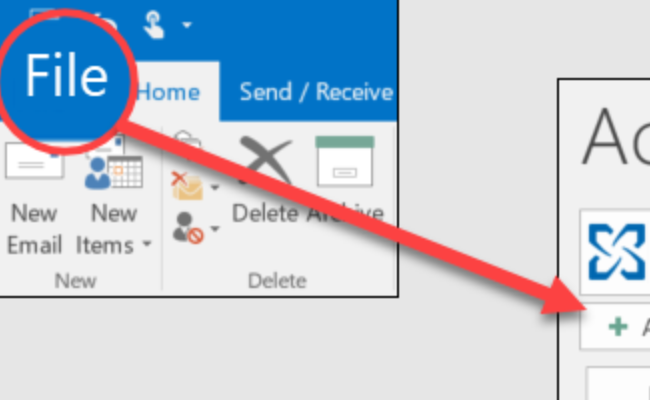 2. Select Info, and then select Add Account.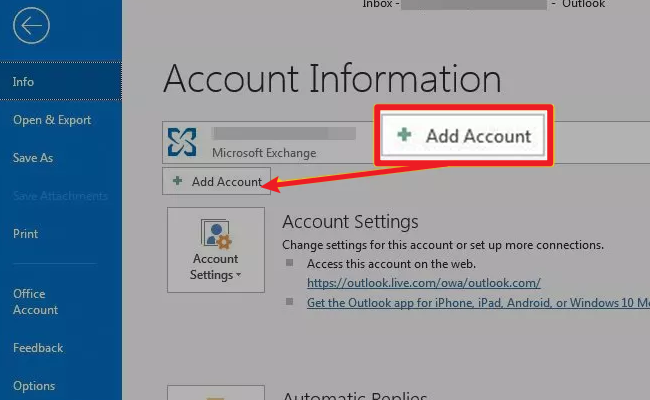 3. Enter your Yahoo Mail address, and then select Connect.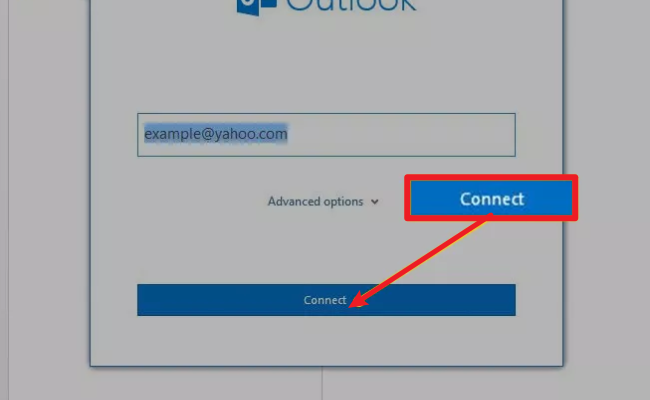 If your Yahoo account uses two-step verification, enter the APP password you generated. Do not use your Yahoo account sign-in password.
Your Yahoo Mail account is now added to Outlook.
Conclusion
So, let's recap. You can use your Yahoo email account to do many things. This includes unlocking many features within the Yahoo platform and beyond. More specifically, accessing alerts and features from many third-party services.
All that you need to do is sign up for your own Yahoo email address and create a password. Use this email and password to log in to the Yahoo Mail app client and proceed to your account security settings to generate a Yahoo APP password. If you run into any problems, check back with this article to take you through some steps to overcome some common issues that might arise aith your Yahoo APP password.
Hope this post help you with the Yahoo mail APP password problems.