I was trying out our latest wireless home security camera – Reolink Argus 2 and Netgear Arlo last week and frankly, I quite enjoyed them. However, there is something caught my eyes.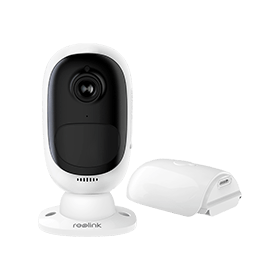 Reolink Argus 2
100% Wire-Free Starlight Camera
Rechargeable Battery & Solar Powered; Outdoor/Indoor Protection; 1080 Full HD; Starlight Night Vision; 2-Way Audio; Live View Anytime Anywhere.
All the videos (footage or live feeds) or snapshots captured by NETGEAR Arlo don't have a timestamp on them while there are clear date and time marks on each frame of video or images taken by Reolink Argus.
I start wondering, does date and time on CCTV or security camera footage matter? How can we tell or see the time of video being recorded by CCTV or home security cameras?
Does Timestamp on CCTV Footage Matter
Yes! The time and date on video footage either captured by CCTV surveillance cameras or IP security camera matters, big time!
Correct timestamp displayed on the every frame of video footage tells the exact time of a certain incident or activity happening on the ground.
Date and time stamped on surveillance footage are particularly useful when, unfortunately, a break-in, intrusion or theft happens in a particular period of time, which helps police to keep track of a chain of relevant events. Every now and then, CCTV footage or surveillance videos will be used in court as evidence.
Security footage with a correct time and date mark is regarded as admissible evidence in the court of law, while footage or images with a wrong timestamp will be unfortunately thrown out of court and be rendered invalid and useless.
Meanwhile, security footage edited by CCTV footage editing software is not admissible in court.
How to See Date and Time of CCTV Surveillance Footage
Many analog CCTV camera system, as well as IP cameras/systems, will display time and date automatically on the footage, such as Reolink IP cameras.

Some IP cameras, however, won't show timestamp or any date information right on every frame of surveillance videos.
There are a few ways you can still see the time and date of surveillance footage being recorded. One effective and straightforward way is to check the time stamped on CCTV or IP surveillance videos.
Some captured videos or snapshots are labeled with date and time it recorded, for example, all footage and snapshot I took with Arlo can be viewed on Library and there is a timeline of sequent events occurred over the course of few weeks or months depending on your subscription plan.
Another possible approach is to download or transfer the surveillance footage to your computer and then check the time and date when the footage is recorded.
Why the Time & Date on My Security Camera is Wrong
Well, that could happen and believe it or not, many CCTV or IP cameras display wrong date and time, sometimes even hours behind or completely different time zone.
The inaccurate time stamp on surveillance footage could be caused by various reasons.
For example, users forget to configure time setting during setup, therefore, surveillance cameras/system will by default display date and time of region where the cameras/systems are manufactured.
Or users didn't configure Network Time Protocol (NTP) server properly, such as wrong server port number or long Sync Time interval.
How to Get Correct Time on CCTV & IP Security Cameras
In order to avoid the wrong time stamp on video footage, users need to synchronize time on your IP cameras with your local time or your devices by configuring camera time setting.
For example, when you want to keep Reolink IP camera in sync with time on your computer or mobile phone, make sure to configure time setting on app or Client.
If you want to synchronize your IP cameras/NVRs with an Internet time server such as NTP (network time protocol) server, which is widely used to synchronize the clocks of computers, users need setup your cameras to synchronize with a reliable NTP server.
To ensure your IP camera's time remains in sync, try to make security camera to sync time with NTP server at a short interval, such as every few hours.
NOTE: Some NTP servers are NOT fully compatible with DST (Daylight Savings Time). This may cause your system to double-count adding one or removing one more hour than they should or cancel each other out. You may need to change your time zone to adjust accordingly or simply not use NTP and DST simultaneously.
How to Sync Time on a DVR/NVR
The procedure to get DVR/NVR time synced is similar to syncing time on your CCTV or IP cameras.
Users either logs in DVR/NVR on via a web browser or desktop software, then go to configure settings and sync the NVR to your computer's time assumingly your computer is syncing with a correct time server.
Time Sync Troubleshooting
If IP cameras or NVRs are constantly stamped with wrong time or out of sync even after repeated efforts, it's advised to update both camera and NVR's firmware to the latest version as soon as possible.
If the problems persist, double check all your time settings, especially NTP port number, time zone, interval, or reach out Tech Support for further assistance.
Conclusion
The importance of correct timestamp on CCTV or IP surveillance cameras is unquestionable. Correct time displayed on the CCTV or IP camera surveillance footage not only helps keep track of what's going on your property, it's also admissible as evidence in a court of law.