Uploading IP camera videos to free FTP servers offers you online backups of important events, and without paying a dime. However, the improper IP camera FTP server setups may end up nothing or corrupted images and videos in the FTP files. So how to configure FTP servers for security cameras effectively? Read and follow the 4 easy steps below to have IP camera FTP setups done like a pro in no time!
Table of Contents:
The key information for the 4 steps to set up IP Camera FTP servers is as follows:
| | |
| --- | --- |
| Storage Option | FTP server |
| Example | Cerberus FTP Server |
| Setup | 4 easy steps |
| Recommended Camera | Reolink security cameras |
What Are IP Camera FTP Servers
An FTP server for IP cameras is an online security camera storage option, which allows you to upload and save CCTV images and videos to a network platform.
By uploading security camera footage to FTP servers, you may enjoy these advantages without paying expensive subscription fees:
#1. Back up important data. You won't need to be afraid of losing IP camera videos even if the burglars have stolen or broken your security cameras.
#2. Access the IP camera FTP servers to watch CCTV footage on mobile devices at anytime, anywhere.
#3. Transfer large files in a fast and secure manner. FTP servers for IP cameras are able to save transferring progress in case of network connection failure.
#4. Schedule transferring time at night or on weekend to avoid slowing down your network speed at daytime.
How to Set Up Free FTP Servers for IP Cameras
Don't be fooled: setting up IP camera FTP servers on your own is NOT a difficult and time-sponge task.
With the 4 easy steps below, you may upload IP cameras videos to FTP servers successfully in a flash.
Step 1. Build IP Camera FTP Servers in Your PCs
First you may download free FTP servers that offer you free FTP storage for IP cameras in your computers and here we will take Cerberus FTP Server as an example.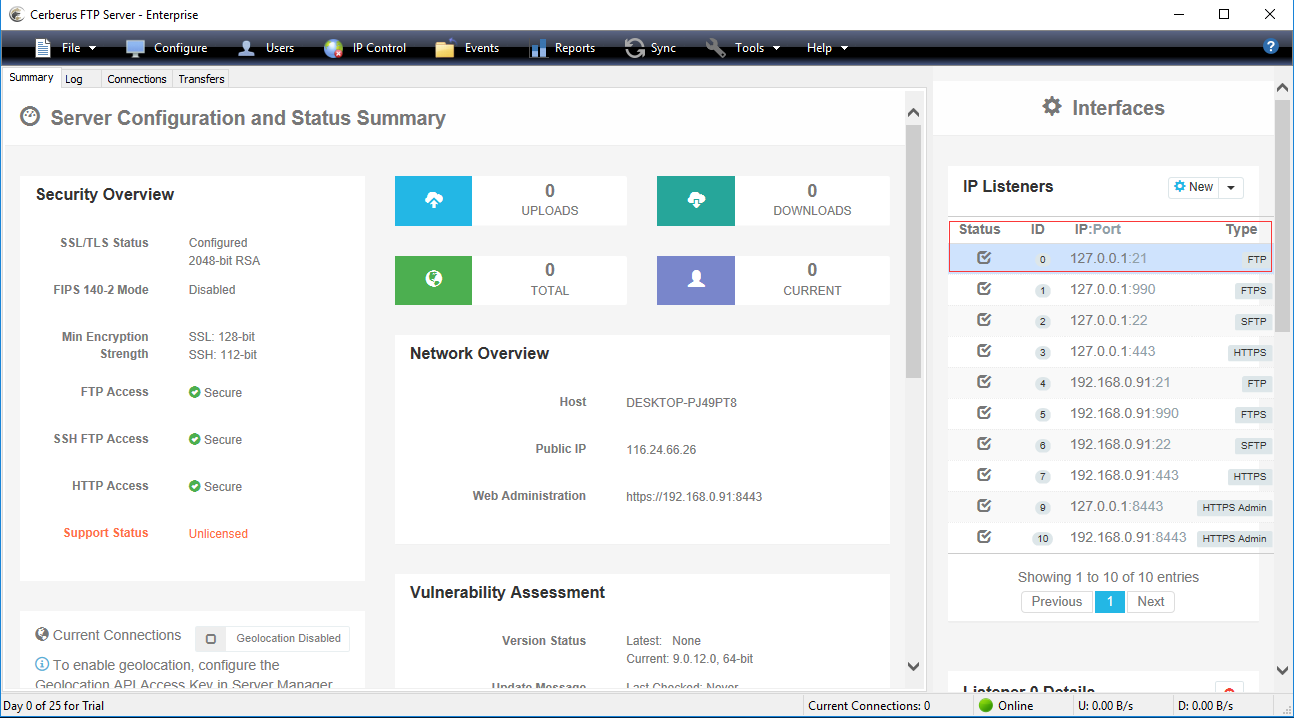 After installation, you are ready to configure the software by clicking User Manager, where you can create a user-defined folder and a directory to a specific Disk.
Step 2. Launch IP Camera Client & Change FTP Settings on Your PCs
With FTP servers for IP cameras installed in advance, you may launch a security camera viewer on your PCs to continue IP camera FTP setups. Below we will use Reolink Client to illustrate the whole process.
#1. Add your security cameras to the Client and login your devices.
#2. Click Device Settings – Network – Advanced and choose the Set Up button next to FTP.
#3. Complete the FTP information as followed.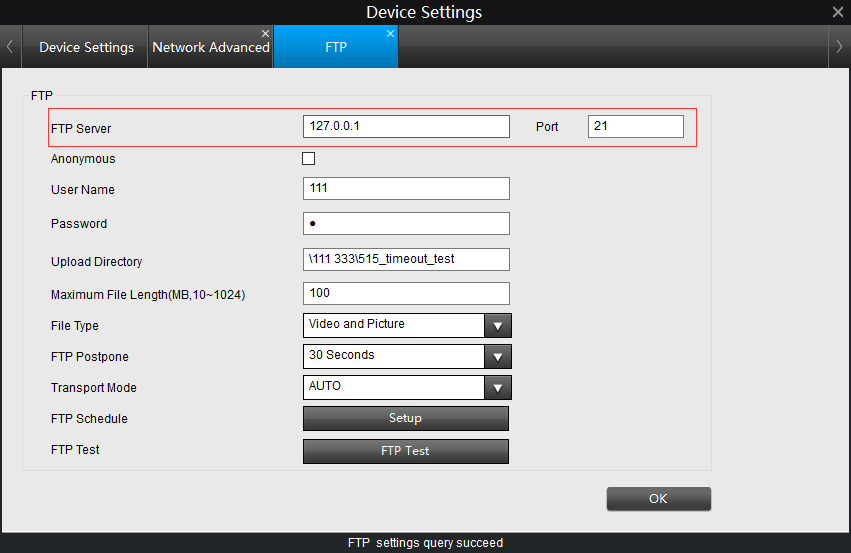 FTP Server: Check the IP address of your FTP servers and type it in. Port 21 is the default value and you may no change it.
Username and Password: Enter the right username and password to login to your IP camera FTP servers. You may also choose the Anonymous mode.
Directory: Choose an Upload Directory to store CCTV images and videos.
File Type: Select to upload images only or both images and videos.
FTP Postpone: Choose the post-record time when a motion is detected. This function only works when you choose to upload videos in File Type and set motion recording in FTP Schedule.
Interval: Setup the time interval for security cameras to upload an image. The minimum time interval is 2 seconds. Also note that this function only works when you choose to upload images in File Type.
Step 3. Schedule IP Camera FTP Upload
Click FTP Schedule to choose your preferred FTP upload models for security cameras. Also remember to click Enable to make sure that your CCTV IP camera footage will be uploaded to FTP servers.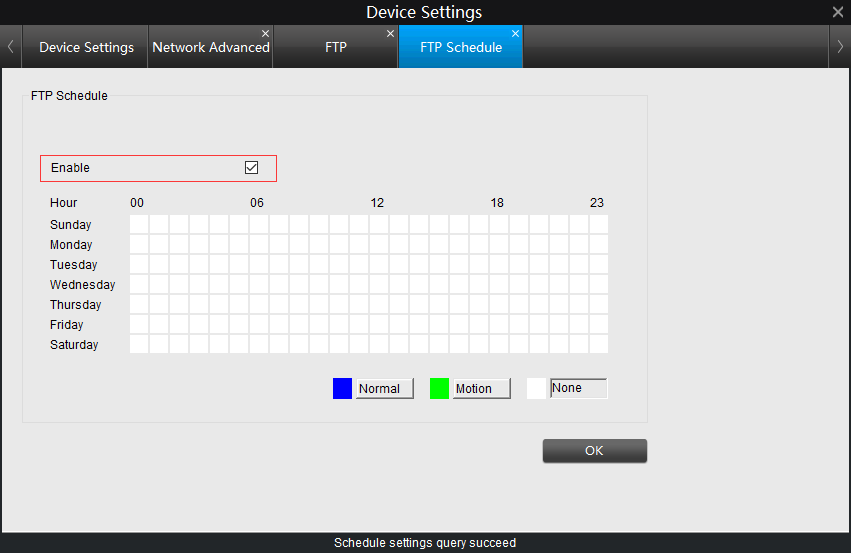 Step 4. Test to Check If IP Camera FTP Setup Works
With all the configuration steps above done, you may go to FTP Test and confirm whether you can record IP cameras to FTP servers successfully or not.
A Top Pick of IP Cameras with FTP Upload Capability
As we have mentioned, free FTP servers for IP cameras can offer you free FTP storage and help you avoid shelling out money for subscription fees.
However, you may not enjoy these advantages if you are using security cameras without FTP upload capability or that come with unqualified hardware.
To ease your concerns, we have picked out Reolink RLC-410, a bang-for-buck IP camera that supports FTP upload to you.
Reolink RLC-410 is a PoE IP camera with advanced hardware and multiple storage options. You may upload its footage to FTP servers and also record locally to SD cards (not included) or Reolink NVRs.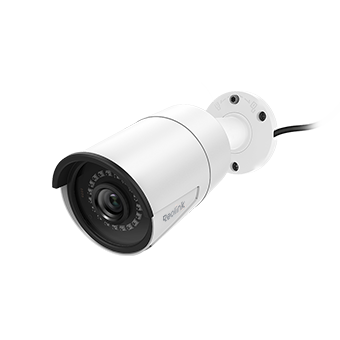 Reolink RLC-410
PoE Bullet IP Security Camera with Audio
5MP/4MP Super HD; Outdoor/Indoor Protection; 100ft Infrared Night Vision; Audio Recording; Mobile Remote Access & Control.
Here are some of the other features for your reference.
| | |
| --- | --- |
| Resolution | 4MP & 5MP |
| Angel of View | Horizontal: 80°, Vertical: 58° |
| Night Vision | Up to 100 Feet |
| Smart Motion Alerts | Via Emails/Push |
| Waterproof Rating | IP66 |
| Audio | Built-in Microphone |
| Working Environment | -10℃~+55℃(14°F~131°F), 10%~90% (humidity) |
To check the image quality, you may also have a look at this RLC-410 video sample shared by a Reolink user.
Hottest Questions & Solutions on IP Camera FTP Servers
Some of you may encounter tough issues when applying IP cameras with FTP servers and we have collected some of the most frequently asked ones below (with solutions).
Question 1. I Have Done IP camera FTP Setups But Nothing Ends Up in the FTP Folder. Why?
You may have a look at the FTP settings in your security camera Client or APP to check whether you have set the IP address of IP camera FTP servers properly.
Also, confirm if you have forgotten to select "Enable" to upload IP camera videos to FTP servers.
Don't forget to check if you have set the motion sensitivity to zero, which means that nothing will be captured by the security cameras.
Question 2. Why Do the Files in My FTP Servers for IP Cameras Get Corrupted or Incomplete?
There are mainly 2 factors behind this IP camera FTP server issue. Network connection failures including too weak WiFi signal and too slow network speed may result in image fragments or videos in very small sizes.
What's more, unqualified security camera hardware and incapable FTP servers are to be blamed for bad encoding of images and videos, which will lead to the corrupted and incomplete FTP files.
To solve this problem, you are suggested to purchase top-rated IP cameras with FTP upload capability and use free and the best FTP servers for IP cameras.
Question 3. How Can I Access My Home IP Camera FTP Uploads from Elsewhere?
To access your IP cameras FTP servers from elsewhere, you need to allow non-local IP addresses to view CCTV footage uploaded to FTP in your computer's firewall settings.
By doing so, you may feel free to enter the FTP servers to view IP camera recordings on mobile devices at anytime, anywhere.
It's your turn now and you may share your new ideas or questions on IP camera FTP servers in the comment below with us.