How much is a security camera or a security system in the market? What price do you think a high quality security camera system should be? When you are thinking about this question, you need to ask yourself:
How much do you think peace of mind should cost?
Or how much do you think security could be?
You might be surprised at the prices if it has been a while since you shopped for security cameras and equipment or if this is your first time shopping for them.
How Much A Security Camera (System) Should Be
This guide will help you see what the current marketplace looks like and take you from the very basic security setup and the lowest budget possible all the way up to a professional security system that includes everything. Most people will fall somewhere in the middle, but you need information to know what your budget should be.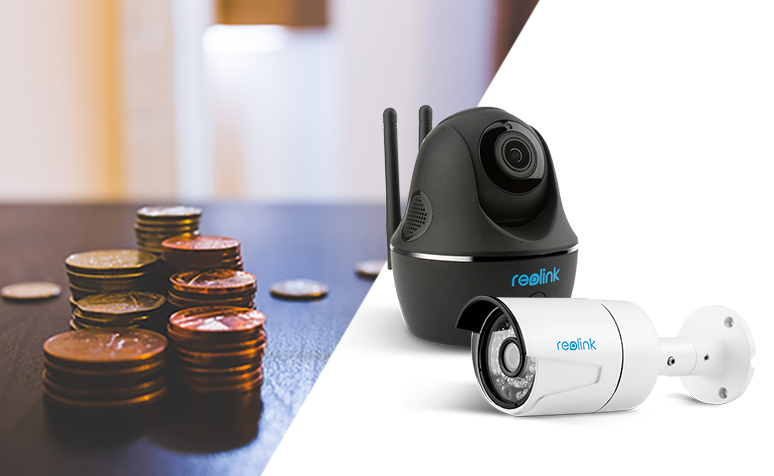 Under $100
You honestly are not going to get much for $100. Unfortunately, security systems – even low-end ones – start at much higher than this. However, you are able to get a single security camera if this is your budget.
You can shop for a high quality security camera in Reolink. There are several kinds of good cameras for your choice — indoor cameras, outdoor cameras, wireless cameras, PoE (wired) cameras, and even battery powered cameras.

Ready. Set. Save!
Big selection, big SAVING. Get your hands on Reolink security cameras & systems before the best prices slip away!
Note: Do not buy any dummy security cameras at all. See
Why You Should Not Use A Dummy Security Camera
.
$100-$300
The next price category is the $100-$300 range, with which you can even be able to get a set of three or four security cameras for home or business security.
Of course, if you are just looking for a couple of security cameras that you can point at specific areas and then have them record to on a computer, you may be able to get high enough quality cameras to make it worth setting up the security system in the first place.
If that is how much you think security cameras should be, you can also go to Reolink Store for several high-end high quality security cameras (which are in 4 megapixels resolution).
$300-$1000
This is pretty much where your security system with a NVR (network video recorder) and high quality cameras – perhaps even 4 megapixels Super HD cameras – is going to start. Spending this amount of money will generally get you four cameras – and possibly eight – along with a monitor system that should have a big enough hard drive to record and store 24/7 video from all of the cameras.
This is the recommended amount to spend on your home or business because it ensures that you will be able to get enough coverage so that you can see what is going on over the entire property as well as high-quality cameras and recording equipment.
Remember, you can find full security systems at the high end of this budget category, but you need to be careful what you buy. Make sure that you do your research and look at customer reviews to ensure that you are not getting a budget system that has technical problems or doesn't work correctly.
$1000-$2500
You can get a pretty good surveillance system with four, eight or even twelve cameras in Full HD or Super HD and a great deal of functionality.
You should be able to get a full security system for this budget category with night vision and wide-angle lenses and these should be sturdy, strong cameras that are weatherproof and can be used indoors and outdoors. For this budget category, you will be able to get features like zoom, pan and tilt, and possibly motion detecting as well.
In this budget, you can freely select high quality security cameras as you like to work with a NVR in the same brand.
$2500 and Up
With $2500 you should be able to get a security system with as many cameras as you want and they should all be Super HD, night vision, wide-angle and offer pan, tilt, zoom, motion detection and even masking – stationary or mobile masking, or both.
Spending as much on a security system may not be for everyone, but if you truly want to make your property is secure as possible then this amount is definitely not unreasonable and you can get a great security system with all the latest features if you spend this much.