Home security apps play an important role in home monitoring. If you download the right Android security camera app or use the best iPhone security camera app, you can see your security camera on mobile anytime anywhere without any fees, and enjoy all the features that a security camera should have.
In fact, some Android home security apps and iPhone security camera apps work well with your cameras, and some would turn your computer or smartphone into a web camera or a security camera. So choosing the right one is the very first step.
Below we'll introduce the typical security camera apps you can get and a list of top 10 best home security apps for your Android and iOS devices.
Common Types of Security Camera App: Proprietary & Third-Party Ones
In general, there are two types of home security apps available in the market:
Proprietary apps: Such security camera apps are provided by security sellers for their own IP cameras only, and at NO extra cost. The greatest benefit of these customized smartphone security camera apps is that you can make full use of your security systems without any compatibility issues. And the security companies would regularly release new app versions to unlock new functions or fix existing bugs.
Third-party apps: Contrary to the proprietary home security apps, the third-party security camera applications are the pay-to-use ones compatible with multiple security camera brands. So before you use this kind of security camera apps for your Android phones or iphones, make sure it supports your security cameras first.
10 Best Home Security Apps for Android Phones/Tablets, iPhone, and iPad
The best home security apps for mobile devices will help you monitoring your home and surroundings with ease. Most apps are compatible with iPhone, iPad, Android, Blackberry, tablets, Windows phones, and other web-enabled devices.
We've summed up 5 best free Android apps and 5 best free iOS apps for home security, according to our test and thousands of users' feedbacks. Try any of them for your home security.
Top 5 Home Security Apps for Android Phones and Tablets
If you use Android smartphones or tablets, like Samsung Galaxy S9/S8, Samsung Galaxy Note 8, HTC U11, LG G6, Google Pixel series, etc., you can pick out any of these best security camera apps for Android.
This is a good security camera app with their equipment and cameras proven to be effective. The features of Ivideon include the capability of sending an audio back via online. Live streaming using internet from any device and location is also possible.
And, you can connect this home security application for your Android phone with a camera the easier way. With this top Android app for home security, you can still save and recover the cloud storage. This is also workable even if bad guys out there break the surveillance tapes.
Pros:
Watch live streams over web and any devices
Send audio back online
Save data on cloud storage
Cons:
No Linux client
Occasional app shut down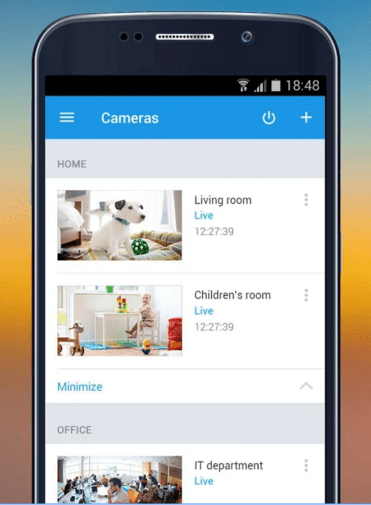 Reolink app is considered as one of the most efficient security camera applications for home security. It works with its IP cameras with zero configurations – plug and play. This free app enables you to view live videos of your cameras anywhere and anytime.  Now more than 2.5 millions of people have been using this app. You can get it from its official website or from Google Play.

WAIT! Check out these Special Deals before you leave:
Right now, you can get EXCLUSIVE & BIG discounts on a wide range of Reolink security cameras & systems, wire-free & plugged-in, indoors & outdoors.
Pros:
5 megapixels or 4 megapixels super HD
Great night vision, up to 190 feet
Easy setup with zero configurations
User friendly interface
Motion-detection trigger alerts
Anywhere access, including remote access and local access
Cons: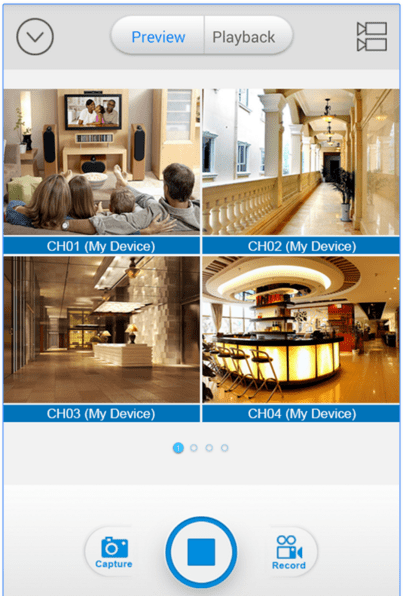 Here is the video streaming via the app (porch pirate captured by Reolink RLC-410).
This Android security camera app for home security is easy to use. You don't need to go through lengthy signups and logins due to the interface. This also has its stunning color scheme that you will surely love.
This application is the kind of best home security app that will allow your smartphones to be turned into security cameras. This way, you can best deliver a simple command.  So, if you have an old smartphone then you should get this application because you can turn your old smartphone into a handy camera. The features of this home security application include of a smooth interface and amazing design. And, users can easily convert their old smartphones as cameras.
Pros:
User friendly interface
Simple to use
Cons:
Occasional app shut down
A little slow to start on old devices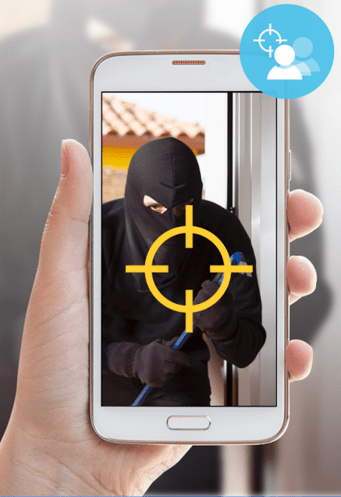 This is mainly considered as one of the best home security camera apps for Android. It allows users to watch live streaming from different cameras via a surveillance system. You can also view live streaming using your camera via 4G/3G Internet or WiFi. The features of the application include of the physical control. And, users can set up this application in multiple servers.
Pros:
Turn your home computer into a surveillance camera
Snap photos from the video stream
Cons:
Too slow to response sometimes
Shut down occasionally
Stop working when the computer sleeps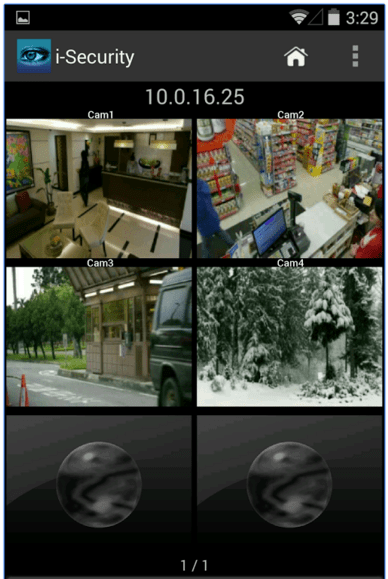 5. Video Monitor
Video Monitor is also another stunning home security app for Android users. It also comes with a good looking and simple interface. This is also user-friendly as well, and it even allows users to implement video surveillance, tracking GPS location and event detection.
Pros:
Motion detection and notify through email
GPS location tracking
Cons:
Shut down occasionally
Also slow at startup
Conclusion for Android Apps of Home Security
All the home security apps introduced above are compatible with but not limited to these Android devices listed here:
Android smartphones including: Samsumg Galaxy J2 Pro, Samsung Galaxy On7 Prime, Samsung Galaxy A8(+), Samsung Galaxy Note 8, Samsung Galaxy S8(+), Samsung Galaxy S7/S7 Edge, Samsung Galaxy S6/S6 Edge, Samsung Galaxy S5, Samsung Galaxy S4, Samsung Galaxy S4 mini, Samsung Galaxy Note 3, Samsung Galaxy Note 2, HTC U11, HTC One, HTC One A9, HTC U Play, HTC U Ultra, HTC One M9, HTC One M8, HTC One mini, LG G6, LG V30+, LG V20, LG G5, LG G3, LG G2, LG G Flex, Sony Xperia XZ1, Sony Xperia XZ, Sony Xperia Z1, Sony Xperia Z2, Motorola Moto X, Motorola Moto G, Nokia Lumia 925, Nokia Lumia 1020, Nokia Lumia 925, Google Nexus 5 and other brands.
Android tablets including: the new Google Nexus 9, Google Nexus 7, Google Nexus 10, Samsung Galaxy Note 10.1, Samsung Galaxy Tab 3, Samsung Galaxy Note 8, LG G Pad, Asus Transformer Book, Sony Xperia Tablet Z, Evga Tegra Note 7, etc.
Top 5 Home Security Apps for iPhone and iPad
iOS users can also simply make use of the top 5 home security apps for iPhone. See the best home security apps for your iOS devices like iPhone and iPad below:
Yes, as you may notice, many home security apps are compatible with Android devices and iOS devices. Reolink app stands out with the easy-to-use and fast features. You can download it on its official website or on App Store to work with its cameras, constituting as a powerful home security system. It is proven to be the best home security app for Android and iPhone to monitor things inside and outside your homes in real time.
Pros:
5 megapixels or 4 megapixels super HD
Easy-to-use with user friendly interface
Works fast
Motion-detection notification
Anywhere access, including remote access and local access
Cons: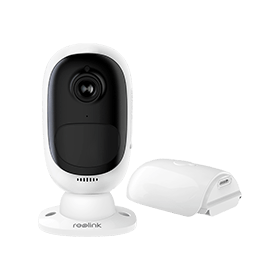 Battery Powered Security Cameras
Truly Wire-Free Battery Operated 1080p Full HD Security Cameras; No Cords, No Installation, No Contract, and No Monthly Fee. Place Anywhere.
Here is the video streaming via the app (Christmas present prank captured by Argus 2).
Most people have their old iOS phones they no longer use. This is mainly due to PRESENCE. And now, you can turn your old iPhone into a home security tool.  With this home security app, you can best monitor your property in real-time. You can also get some notifications and alerts.
Pros:
Turn old & forgotten smartphones into  new security unites
Capture video feeds and trigger alerts when motion is detected.
Compatible with several devices
Cons:
Slow at startup
Only 50MB of free cloud video storage for motion detection recordings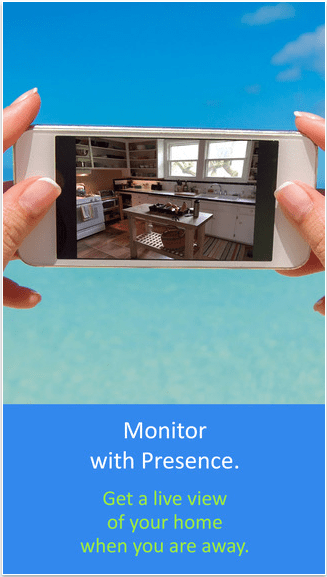 It is difficult to be away from your house. So, if you are concerned about safety and security of your property then you may want to get iSentry home security application. iSentry is the kind of home security app for iPhone that allows users to turn their computers to become web cameras.  Home owners will receive videos or photos when any alarming activity takes place.
Pros:
Turn a home computer into a web camera
Snap photos from video stream
Work well with any web camera
Cons:
Stop working when the computer sleeps
Slow at startup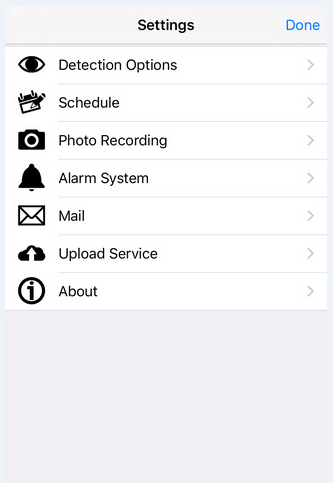 AtHome is much like iScentry. It's also the home security app for your iPhone that can turn your home computer into a web camera. You simply point your camera towards an area in your home and then you get the live view on your iOS devices. It also features motion detecting and alarms.
Pros:
Easy to use
Access the camera anytime
Cons:
Stop working when the computer sleeps
Slow at startup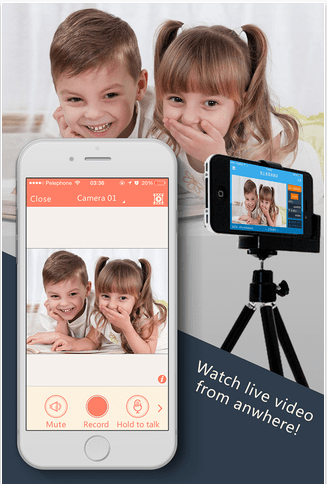 This is also proven to be an effective and simple application that enables users to monitor things inside their homes. This iPhone application for home security allows users to connect to their already-existing home security, and it is also helpful in terms of monitoring all homes and establishments in real-time via security tools and video monitoring.
Pros:
Feature motion-detection trigger
Watch live video streams anytime
Easy to use
Cons:
Slow to response at startup
May take up much storage of your devices during usage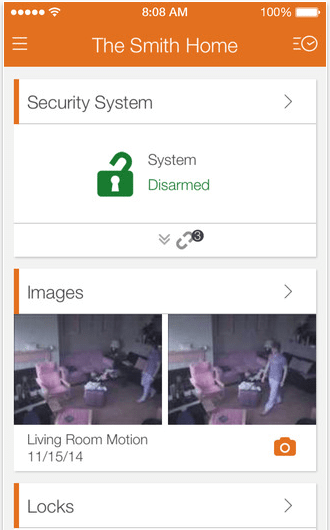 Conclusion for iOS Apps of Home Security
All the home security apps introduced above are compatible with iOS devices, like:
iPhone X, iPhone 8 Plus, iPhone 8, iPhone 7, iPhone 7 Plus, iPhone 6S Plus, iPhone 6S, iPhone SE, iPhone 6 Plus, iPhone 6, iPhone 5S, iPhone 5C, iPhone 5, iPhone 4S, iPhone 4, and iPhone 3GS
iPad Pro, iPad Air 2, iPad Air, iPad mini 4, iPad mini 3, iPad mini 2, iPad 4, iPad mini, the New iPad (iPad 3), iPad 2, and iPad
Choosing the best home security app for your iPhone or Android smartphone, without doubt, can double ensure the security of your home. With these home security applications, you are guaranteed to receive notifications and alerts with any activities in your house while you are away!