Looking for standalone security cameras without the need to sign up a long-term contract? Or don't want to be locked into monthly subscription-based services?
You are not alone.
Many homeowners hope for simple standalone WiFi security cameras with Micro SD card storage, a DIY home security camera with minimal installation, or a portable WiFi-capable surveillance camera with mobile access & motion detection.
Today, we are sharing some DIY standalone home security cameras that work in conjunction with smartphones, laptops, tablets and computers, together with features like motion detection, 2-way audio, IR night vision capability, live feed streaming, etc.
Content
Standalone Security Cameras – What to Consider
While you are googling "standalone security cameras" in the search box, here are the top factors you should take into account before your final choice.
1. Connectivity & Powering Options
Security cameras can be powered by Ethernet cables, AC power, USB cables, batteries or solar panel, flexible enough to accommodate your various needs (learn more about how IP cameras get power).
If there is no electrical outlet in your place, the battery powered standalone security cameras would be the perfect security solutions, requiring no messy cables or drilling holes.
Standalone WiFi security cameras, for example, can be hooked up to a WiFi router without needing an extra base station, so that you don't need a PoE switch or PoE injector. Running over WiFi is a great bonus as you can get rid of serious wiring or installation once for all.
In case your place has only cell coverage but no WiFi network, such as your country house or remote vacation home, the standalone outdoor security cameras with SIM card, like Reolink Go, can allow you to view live feed remotely and record motion events onsite.
2. Storage Options of Standalone Surveillance Cameras
"I am looking for a standalone outdoor security camera that records either stills or video on an SD card (or micro SD card)."
Actually, most people (perhaps including you) are just looking for a simple security solution for their property, like watching over front door mailbox or package, keeping tabs on young babies, pets, parked cars, garbage bin or swimming pool.
Getting a dedicated NVR/DVR for recording or storing video footage of one surveillance camera seems over the top.
In such cases, standalone security cameras with SD card built-in or a dedicated SD card slot available is the boon for you.
3. Motion Alert & Mobile Access
Having motion detection and notification feature is essential for a standalone CCTV security camera in many scenarios.
For example, a standalone wireless security camera can send you push notifications, emails and even siren sound alarms (like Reolink Argus 2) when someone approaches your front door, unauthorized personnel lurk around or handyman drops by.
4. Night Vision Capability
Standalone security cameras should not only stream HD videos during daytime but also at night to identify or make out faces of those approaching the area of interest.
In virtue of the starlight image sensor, some quality standalone IP security cameras can deliver clearer and sharper images and videos even in total darkness.
Below is the night vision image captured by the standalone security camera with SD card slot, Reolink Argus 2.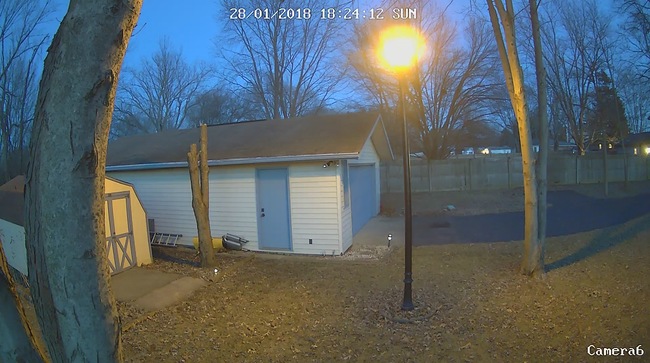 Best Standalone Security Cameras & Systems: Top 3 Options Available for You
To make your selection process much easier, here we've collected 3 best standalone security cameras and systems for your options.
Reolink Argus 2 – Wireless Battery-Powered Standalone Security Camera
Reolink Argus 2 takes on home security cameras to a new height by ditching cables or wires completely, providing a 100% wire-free and hassle-free security camera solution for home surveillance.
Packed with passive infrared sensor and starlight night vision, this standalone security camera with SD card slot can detect human movement and objects radiating body heat as well as scout out large areas of interest at night or in a poorly-lit place, requiring no extra base stations or hub centers.
Besides, its companion proprietary mobile apps offering for Android or iOS devices are easily accessible for you. Its sleek interface and easy-to-navigate setup allow you to tweak the settings, including customizing motion notification, listen in and talk via the apps, motion schedule, battery report, alarm off/on.
Better though, you can configure the WiFi network using a personal hotspot to get the camera up and running. This standalone outdoor security camera comes with a long-lasting rechargeable battery, and you can add a Reolink solar panel to provide non-stop power.
Below is the high quality video shared by a user of Reolink Argus 2.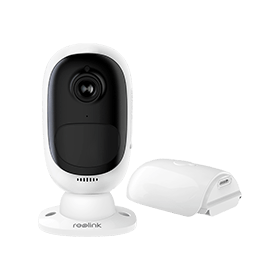 Reolink Argus 2
100% Wire-Free Starlight Camera
Rechargeable Battery & Solar Powered; Outdoor/Indoor Protection; 1080 Full HD; Starlight Night Vision; 2-Way Audio; Live View Anytime Anywhere.
Reolink E1 Pro – Indoor Standalone WiFi Security Camera with SD Card Slot
Running off dual-band WiFi (2.4/5 GHz) and powered by a USB power adapter, compact and sleek Reolink E1 Pro is designed for those who are out there searching for wireless HD standalone security cameras right off the bat.
Sitting on a flat surface like a desk, TV stand or bookshelf sporting on a black armor is Reolink E1 Pro, which can easily be up and running after connecting with local WiFi network or sticking with a network cable.
Armed with pan/tilt motor, soft-looking Reolink E1 Pro is able to pan and tilt effortlessly controlled by an app or automatically rotate non-stop with a bit of tweaking.
What's more, Reolink E1 Pro is embedded with infrared LEDs and motion sensor, which enables the camera to keep an eye on the perimeter at night or in a low-light condition with night vision range reaching up to 40 feet.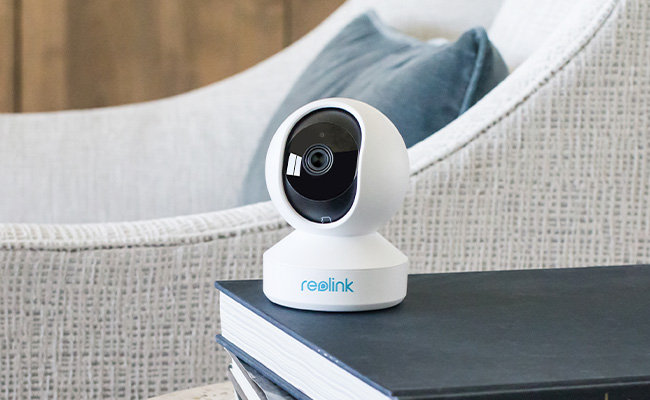 This standalone security camera also comes with SD card slot for storing event-based footage locally and supports cloud storage as well.
No doubt, you can always tap into apps or computer software to get a peek at what's going on inside your house or office. Live stream video feeds, schedule motion detection, enable/disable motion notification, 2-way audio, review SD card footage all are accessible on Reolink apps.
Or you can just let them sit there and watch your remote place even without access to the Internet of any kind, similar to Reolink RLC-511W and RLK8-410B4, which can work to record motions even without access to WiFi or the internet.
Reolink RLC-511W – Wireless Standalone Outdoor Security Camera with Built-In SD Card
Hailed as one of the best-selling standalone WiFi security cameras with SD card slot, Reolink RLC-511W can work independently without hooking up with an NVR, enabling you to save event-based footage locally to an embedded micro SD card.
When motion is detected, you can get instant motion notifications or email alerts, as well as view live feeds remotely or upload videos or snapshot to an FTP server.
Similarly, it does offer night vision, motion detection schedule, pre-recorded video playback, and other customizable features.
Built with aluminum-alloy body and waterproof cable, Reolink 511W is solid and ready to braves elements, a great standalone outdoor security camera for monitoring hallway, alley, front door, backyard, daycare center, store and such!
Explore More: Besides, there are many solid-built and reliable standalone security systems available for choosing, such as Reolink RLK8-800B4 PoE camera system.
Watch the high-resolution video shot by a user of Reolink RLC-511W.
Hottest Questions About Standalone Security Cameras
Still have any questions about the standalone security cameras and systems? Here we have prepared some FAQs and answers to clear away your puzzles. And please feel free to comment below if you have more to ask.
Do Standalone WiFi Security Cameras Use Internet Bandwidth While They're Not Being Streamed/Accessed Remotely? I Only Have 10Mbps Internet Connection.
Good question.
The fact is, the standalone WiFi security cameras won't eat up your Internet bandwidth unless they are accessed remotely or send you alerts when motion is detected.
In general, the wireless standalone security camera systems won't add much burden to your home network. (Read this to learn the IP camera bandwidth calculation.)
Is There an Inconspicuous Standalone Security Video Camera That Doesn't Need to Be Constantly Plugged in Nor Connected to WiFi?
If you need a non-plugged in standalone security camera, the battery powered cameras and solar cameras can both be your handy options.
And for the standalone security cameras with SD card, even they are not connected to WiFi, they can also record motion detection events onsite for your later view, so that you will miss no single detail.
Conclusion
The market is inundated with a plethora of do-it-yourself self-monitored standalone security cameras, it's important to choose reliable and trusted suppliers with decades of experience and expertise like Reolink right from the start.