HONG KONG, January 3, 2019, — Reolink, an innovator in smart home security solutions, will show off its leading-edge Reolink Go 4G LTE camera, Reolink Keen™ 2 battery-powered outdoor PT security camera and the star collection Reolink Argus® Series , etc. at CES 2019 in Las Vegas, taking place from January 8—11.
CES attendees can come to Reolink booth to check the cutting-edge exhibitions here: Booth 42364, Hall A-D, Sands Expo.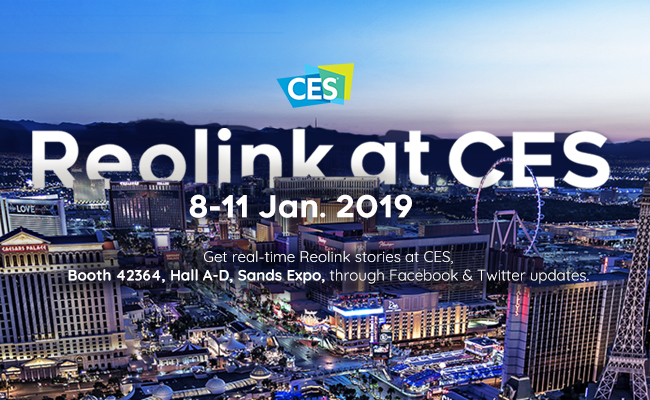 Reolink Go, one of the most futuristic security cameras at CES 2019, is a 100% wire-free 4G LTE battery-powered camera. Its 4G connectivity and rechargeable battery or solar power enable this camera to roam everywhere, even no power outlets, no WiFi and no Internet access.
Experienced editors from top-tier media gave high scores to the Reolink Go. Michael, from TechHive, stated the Go as "The Reolink Go is an impressive security camera, and we recommend it without hesitation!"
And David from Android Pit said, "Running on mobile network and no WiFi connection need, makes Reolink Go one of the most versatile outdoor cameras."
Reolink will also make the first-ever public launch of Reolink Keen™ 2, the innovative outdoor pan tilt battery-powered security camera.
Re-built from the ground of Reolink KeenTM, the Keen 2 brings the wire-free and all-around security solution outdoors with its add-on IP65 weatherproof design, offering customers a stronger, more reliable and more comprehensive outdoor security solution, leaving no blind spots with 355° pan & 105° tilt.
Reolink Argus® Eco will be another highlight in Reolink's pavilion. Upgraded and re-designed from traditional WiFi security cameras, this camera realizes "completely wireless" from top to the bottom with its rechargeable battery or solar powered feature. This camera offers customers a seamless outdoor home security solution at a radically fair price.
Reolink's exhibition also includes its award-winning Reolink Argus® 2 and stunning 4K security cameras, which are capable of capturing ultra clear images and redefining the meaning of super versatile security cameras.
According to Reolink, its battery powered security cameras will be compatible with Google Assistant soon!
Stay tuned or follow the Reolink Social Media to get the latest updates about Reolink CES 2019.
About Reolink
Reolink, a global innovator in home & business security products, is always dedicated to delivering the easiest and most reliable security solutions for home & business. Reolink's mission is to make security a seamless experience for customers with its groundbreaking security products. Reolink products are available and sold worldwide, providing video surveillance and protection for millions of homes and families.
For more information about Reolink and its products, please visit https://reolink.com.
For Media Inquiries:
---
Please download the media kit here>> If you need any further details, please send an email to pr#reolink.com (replace # with @).