One of the biggest headaches you may have is the CCTV security camera picture problems, if you don't carefully follow the HD security camera buying guide. Choosing an IP camera from the best security camera brand is the very first thing to prevent CCTV security camera image quality problems. Still, you can try the top 12 solutions to fix your security IP camera picture problems.
Table of Contents:
This article describes the following key information:
| | |
| --- | --- |
| Picture Problems | Not clear/blurry/too bright |
| Reasons | Camera lens is dirty, etc. |
| Solutions | Check the security camera lens |
| Recommended Camera | Reolink Go |
What Causes Your Security Camera Image Quality Problems
So, as you may wonder, why does your security camera flicker at night? What can cause fuzzy security cameras? And why do security cameras have bad quality?
Actually, the factors that cause your CCTV surveillance camera image problems, like not clear, not showing pictures, having night vision issues or showing green/pink screen, may vary. Here are the main reasons we've summed up.
The camera lens is dirty
The extension cable run may be too long
Varifocal zoom cannot automatically focus
The resolution of your camera is too low (not good image quality)
The WiFi signal is too week or WiFi is not stable (for WiFi cams)
Your monitor is in low image resolution

WAIT! Check out these Special Deals before you leave:
Right now, you can get EXCLUSIVE & BIG discounts on a wide range of Reolink security cameras & systems, wire-free & plugged-in, indoors & outdoors.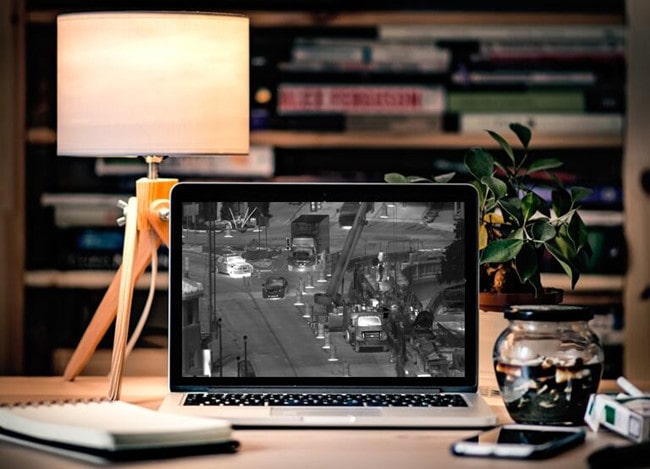 Security Camera Picture Problems — 12 Best Workable Solutions
Whether you have wired or wireless security cameras, the troubleshooting solutions below may help you work out to fix your security camera pictures problems.
Bonus: If you don't bother reading the entire post, take away the key information in this infographic below.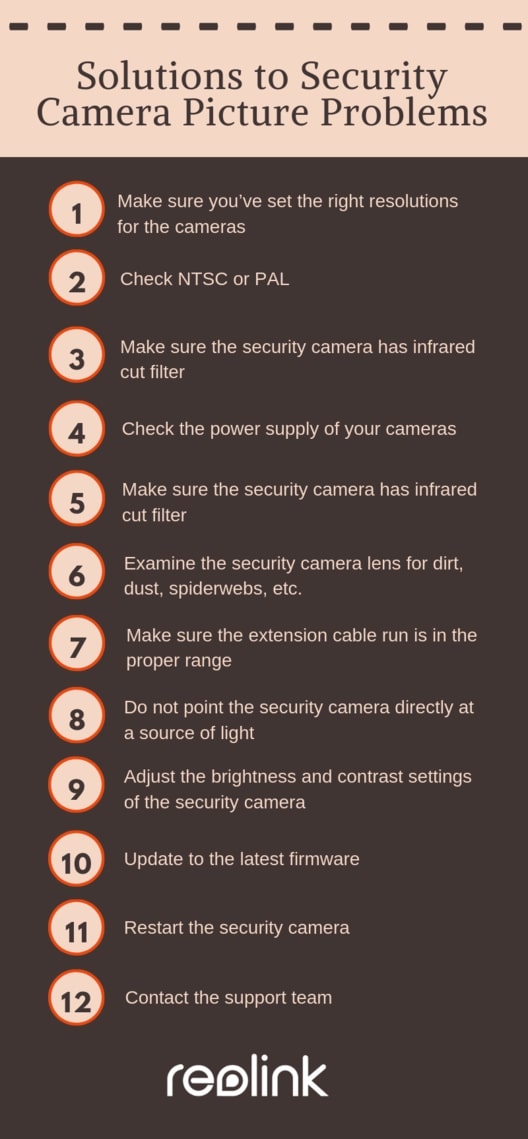 #1. Fix It When Your Security Camera Picture Is Not Clear or Blurry
Here are the solutions to fix your security IP camera video or images not clear or blurry at night:
Check the security IP camera lens for dirt, dust, spiderwebs, etc. if it it cloudy. Clean the lens with a soft and clean cloth. Do not use harsh cleaners or aerosol cleaners that may harm the lens.
Check your security camera specifications to make sure the extension cable run is in the proper range. If you are using a wireless security camera, make sure the camera is not too far from the router.
For a varivocal security camera, you need to adjust the focus and zoom settings. Remember varifocal cameras require adjustment from time to time. If the security camera fails to focus, the images would be indistinct (you can try the solutions for cameras failing to focus).
And you can try the tips in IP Camera WiFi Not Working if you are using a WiFi security camera.
Editor's Note: Also read this post for more handy solutions if your security camera lens is cloudy or foggy.
#2. Fix It If Your CCTV Camera Is Not Showing Images
Try the following quick fixes if your CCTV security cameras is not showing images:
Check if your security camera power supply is working properly.
Test your security camera on a different DVR/NVR port.
Swap the input cables to see if it makes a difference.
Confirm if the video formats that your security cameras and DVRs/NVRs support are compatible.
#3. Useful Tips to Solve CCTV Camera Color Problems
If your security cameras show green or pink images, adopt these tried-and-proven-to-be-useful tips to solve your CCTV camera color problems.
Move the security camera to another location to see if the problem remains with that camera.
Manually turn on and off the IR lights a few times to see if it works.
Power cycle the camera off and on by disconnecting the power connection.
#4. Fix It If Your Security Camera Picture Is Too Bright
Your security camera image quality problem may lie in that the picture is too bright. And you can try the 4 solutions.
Do not point the security camera directly at a source of light, such as the sun or a spot light.
If your security camera has an adjustable sunshade, slide it forward to block excess light.
Adjust the brightness and contrast settings of the security camera.
Move your security camera to a different location.
Editor's Note: Do not point the camera directly towards a glass window.
#5. Fix It If Your Security Camera Video Picture Is Too Dark
If your security camera video picture is too dark or not clear, you can try the solutions below to fix it:
Adjust the brightness and contract settings of the security camera.
Adjust the security camera to a different position or a different location.
Slide the adjustable sunshade (if your security camera has one) backwards to let in more light.
#6. Check Your Security Camera System Resolution or the Video Stream
Make sure you've set the right resolutions for the cameras. A 720p or 960H camera may not capture clear images or videos. If you are using a 4-megapixel (1440p super HD) security camera, make sure the resolution or the video stream is set to 2560×1440 or at least 1920×1080.
If you use a monitor to see the videos, make sure it has the standard resolutions with your cameras.
#7. Check NTSC or PAL
NTSC and PAL are two completely different types of video encoding systems. They have different resolutions and frame rates, and different countries and areas would use different types. See more information about NTSC VS PAL. If you are using a security camera that cannot be compatible with one of them, you may get video screen covered with black lines that appear to be shaking in place.
Editor's Note: Most security cameras can play video in both formats. Anyway, you should read carefully before purchasing anything.
#8. Make Sure the Security Camera Has Infrared Cut Filter – the Night Vision
Not all security cameras have high quality night vision, and if your camera lacks an IR cut filter, it will cause your security camera blurry at night and you are not going to be able to use it outdoors.
Be aware that certain ambient lighting in an indoor environment can also cause the image quality problems. Buy a high quality night vision security camera.
Recommendation: Starlight night vision is the higher lever for surveillance. Have a try with the starlight sensor camera, Reolink Go, or Reolink Argus 2.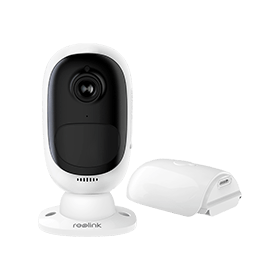 Reolink Argus 2
100% Wire-Free Starlight Camera
Rechargeable Battery & Solar Powered; Outdoor/Indoor Protection; 1080 Full HD; Starlight Night Vision; 2-Way Audio; Live View Anytime Anywhere.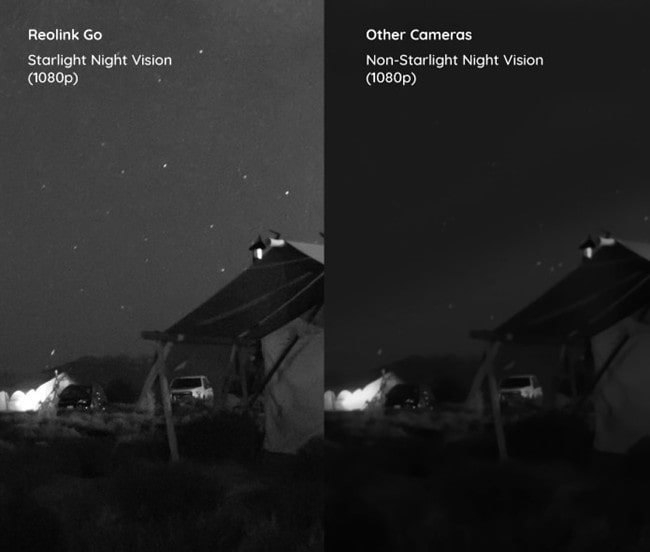 Editor's Note: Be careful about surveillance cameras that cost $50 or $30 or less.
#9. Check the Power Supply of the CCTV Security Camera
If you get "rolling lines" – horizontal lines across your screen that will normally move from bottom to top, or vertical lines that move from one side of the screen to the other side – this can often be caused by a ground loop problem of the power supply or by the faulty power supplies. Make sure the power supply for your wired (PoE) or wireless (WiFi) security camera is working properly.
#10. Update to the Latest Firmware
Most manufacturers or security camera companies will provide new firmware regularly to fix bugs, including troubleshooting the camera picture issues like CCTV cameras not showing images and flickering problems.
Check the manufacturer's website or the security camera company website to see if there is newest firmware released for the security camera. Update your camera with the latest firmware.
Editor's Note: Follow the instructions carefully when you update the firmware. Make sure the firmware you download from the website is the correct one for your security camera.
#11. Restart the Security Camera
You can try the golden rule "RESTART" when you find your security camera has image quality problems, such as CCTV cameras showing green/black. This is not 100% working but most issues can be settled down. Have a try and you may find troubleshooting is so quick and easy!
#12. Contact the Security Camera Company Support Team
Most security camera companies offer tech support for free. Write an email to the support team (normally they will leave the email in their official website), or make a call to them. Explain your image quality problem in details so that the tech support team can get your point quickly.
Editor's Note: If you have other security camera problems, try the top 10 solutions to fix security camera not working properly.