HONG KONG, November 8, 2019 – After debuting a new 4-channel WiFi camera kit earlier in September, Reolink now brings RLK4-410B4, a full-featured 4-channel PoE security system, to its security system series, offering another practical and flexible security solution for homeowners.
This $314.99 PoE security kit, including 4 RLC-410 bullet IP cameras plus an NVR, features 4MP super high resolution and up to 100 feet night vision, which delivers vivid and sharp image quality both day and night.
Thanks to the convenient PoE configuration, users can install and set up this all-in-one security system on their own in a breeze without paying any extra installation fees. Also, RLK4-410B4 4-channel PoE system supports all of Reolink's 5MP IP security cameras, allowing customers to upgrade the system as they wish.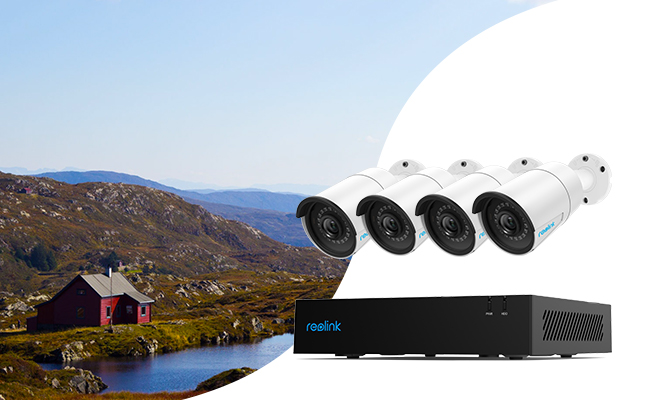 Designed with advanced motion detection technology, this PoE kit keeps you always in the know when an invasion happens by sending instant alerts to you and making warning sounds with the NVR buzzer. Users can also enjoy peace of mind by checking out what is happening around their properties via Reolink's smart software, Reolink app and Reolink Client, when they are away from home.
This 4-channel security system also features a proprietary network for data transmission among the IP cameras and the NVR. So, when there is no Internet available, users can still enjoy 24/7 continuous monitoring with all the recordings saved to the NVR.
Here is a quick look at the attractive features of Reolink RLK4-410B4, the 4-channel 4MP PoE security camera system:
• 4MP Super High Definition
• Up to 100 feet Night Vision
• IP66 Waterproof Design
• NVR with Pre-Installed 1TB HDD (Supports Up to 4TB)
• Easy PoE Connection & Truly Plug-and-Play
• 24/7 Unfailing Recording Even Without Internet
• Effortless Local & Remote Access
RLK4-410B4 security system will be available soon. For the latest updates, please follow Reolink Social Media.
---
About Reolink
Reolink, a global innovator in the smart home field, is always dedicated to delivering the easiest and most reliable security solutions for home and business. Reolink's mission is to make security a seamless experience for customers with its groundbreaking security products. Reolink products are available and sold worldwide, providing video surveillance and protection for millions of homes and families.
For more information about Reolink and its products, please visit https://reolink.com.
For Media Inquiries:
Please download the media kit here>> If you need any further details, please send an email to pr#reolink.com (replace # with @).