Want to keep an eye on your property but there is no power source nearby? Hate running long cables or power to some locations you need cameras on, like the shed or garage? Need to move the monitoring equipment from site to site freely?
The battery operated surveillance equipment is what you need. What are the options? What's the best choice to solve your problems?
Best Battery Operated Surveillance Equipment: Battery Powered Surveillance Cameras
Hours of Google search still land you on some outdoor/indoor battery powered surveillance cameras? Don't be disappointed, that's exactly the best choice you could find.
The battery operated surveillance camera is designed to protect your home 24/7 and has more advanced functions compared with the battery operated lights and other devices.
It sends you emails and push notifications when danger occurs, gives you live view to check what's going on out there and even enables you to talk to others via your mobile phone.
So why bother to look for other alternatives if your every need could be satisfied perfectly with a battery powered surveillance camera? And it won't cost you much – within $100 – if you choose wisely.
How to Choose the Best Battery Operated Surveillance Equipment
Reading the tedious battery powered surveillance camera reviews and comparing the similar outdoor battery-powered surveillance cameras from different brands, however, are painful.
Actually, you only need to answer two questions to make the decision easy without regrets.
Q1: Battery Operated Surveillance Cameras for Outdoor Use, Indoor Use or Both?
For battery-powered outdoor surveillance system, the network connection should be your first concern, since it decides whether you can remotely access the battery operated surveillance camera, receive push notifications and email alerts.
Do make sure your wireless battery operated surveillance camera is placed within the WiFi range, otherwise, your smartphone cannot communicate with the camera.
But you can still check the saved recordings if it is a battery powered outdoor security camera with SD/memory card since the camera doesn't need the network to detect and record motion events.
So if you live on the 3rd floor and want to use your phone to access the outdoor battery powered surveillance camera for the car on the ground floor, the WiFi connection is a potential challenge. Remember to test the WiFi signal with your smartphone or laptop first.
Or you may just get a cellular security camera that runs on 4G/3G cellular data, like Reolink Go, so that it can work without WiFi network at all.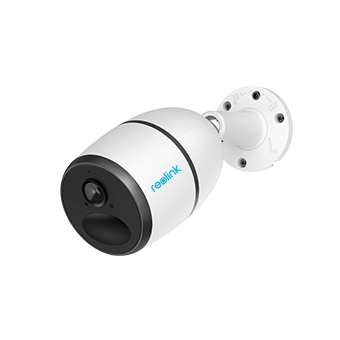 Reolink Go
100% Wire-Free 3G/4G LTE Mobile Camera
No WiFi & Power Needed; Rechargeable Battery or Solar Powered; 1080p Full HD; Starlight Night Vision; 2-Way Audio; Live View Anytime Anywhere.
The next thing you should pay special attention to is its IP rating. The mark IP65 (and above) signals that the battery operated surveillance camera is designed for outdoor use to stand the rain, snow, fog and any extreme weather. So exclude those without this label.
And then, the safety issues. That is whether the data is safe when transmitted wirelessly and whether the security camera is well protected from being taken away or vandalized.
Ask the security camera providers what major enabled security settings are provided. For example, Reolink offers multi-level security features including SSL encryption, WPA2-AES encryption, and SSL-TLS to make sure data is secure.
Some security cameras like Reolink Argus 2 will provide a security mount for outdoor use. By the time the burglar wracks his/her brains on how to destroy the security camera, the well identified images and videos will be sent to your phone already.
The last concern will be the battery life for battery operated surveillance cameras. Actually, the battery life doesn't matter that much since the lithium batteries actually enjoy similar battery life to each other, and it's the way you use the battery powered security cameras that matters.
Bonus: Tips and tricks to extend the battery life of your security cameras.
For indoor battery operated surveillance cameras, the flexibility comes first. Go for the one that can be moved to anywhere freely like the living room, kitchen, baby's room and bedroom. And it's better with a magnetic base so that you can snap it on the ceilings and walls.
Here are some other aspects you should also check if you've got enough time for a comprehensive and in-depth research:
Check whether it is an outdoor/indoor battery operated high definition security camera if you want to see the facial characters and plate number very clearly even in distance.
Check whether it is a battery powered security camera with smartphone app if you want to get everything under control on your phone and check out on things whenever and wherever you want.
Check whether it is a battery powered security camera with night vision if you want to have a 24/7 continuous protection.
Q2: Hidden Battery Operated Surveillance Equipment or the Conspicuous One?
Another thing that should raise your attention is whether the camouflage skin is available so that you can hide the security cameras when needed.
More often than not, a conspicuous security camera will come as a big brother especially when used as a baby monitor or nanny cam. It might also drive your guests away and create an uneasy atmosphere.
And it will be much easier to catch the crimes with battery operated hidden surveillance camera. Also, you will not want to destroy the aesthetics of my house when placed outdoors.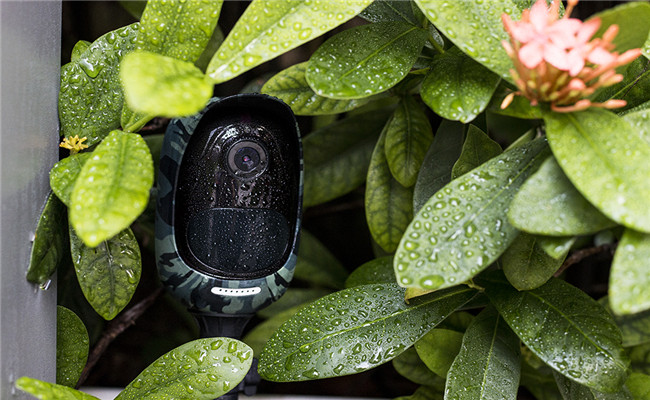 Best Battery Operated Surveillance Camera – Reolink Argus 2
After rounds of selection in the long list including Arlo, optex watchman battery powered surveillance cameras and others, only one left – Reolink Argus 2, for both indoor and outdoor use.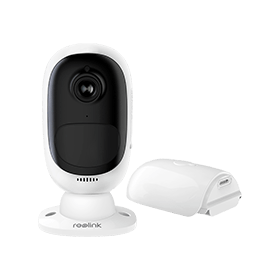 Reolink Argus 2
100% Wire-Free Starlight Camera
Rechargeable Battery & Solar Powered; Outdoor/Indoor Protection; 1080 Full HD; Starlight Night Vision; 2-Way Audio; Live View Anytime Anywhere.
With the IP65 weatherproof rating, multi-level security features, a built-in micro SD socket, the option of the camouflage skin and the security mount, Reolink Argus 2 lives up to every expectation you could have for an outdoor battery operated surveillance camera.
With the giraffe-shaped skin suit, tiny body and wall mount, Reolink Argus 2 is also ready to "go" to anywhere around your house and could satisfy the need for some playfulness to the baby's room.
More than that it enjoys free shipment worldwide (including to UK, US, Australia, Canada, Germany and Singapore) with a competitive price tag!