Higher resolution cameras like 4K or 8K wireless security cameras nowadays are well settled for home video surveillance, like keeping an eye for your front door, back yard, home garage, car driveway, etc.
Yet you might still have some puzzles about the 4K wireless security cameras, say the below top 8 questions we collected from a survey of 4K WiFi security cameras.
Now, after a deep and thorough consulting from our 4K security camera project leader, you can easily find all answers here in minutes.
Skip to:
Note: To avoid future confusion, let's make it clear from the start that the 4K wireless surveillance cameras are equal to 8MP or 2160p ones.
For more basic information about 4K security cameras, refer to our previous post which covers what's a 4K security camera, the difference between 4K and 2K cameras (which one should you choose), step-to-step guide in selecting the best 4K cameras, and more.
Do 4K WiFi Security Cameras Drag Your Network Down
"Will the 4K wireless security cameras slow down my network internet speeds? My whole family does a lot of gaming, and with all of the wireless 4K IP cams traffic, will it affect the game play?"
4K wireless security cameras, also called 4K WiFi security cameras, transmit data via WiFi instead of cables. So will they slow your network speed?
And rest assured. They will NOT slow your router, and your network will have no problems carrying the 4K WiFi security cameras.
That's the why 4K wireless security cameras will even exist, isn't it?
OK, here is how the 4K wireless security cameras make it:
4K wireless security cameras will use the advanced H.265 format, also known as High Efficiency Video Coding (HEVC), to do video recording, compression, and distribution.
This makes it possible for wireless 4K security cameras to deliver 8MP images at the lowest possible bit rate – low enough for them to work smoothly in your current home network.
And, you know, you can always choose the smaller video code stream for data transmission to release the network burden when necessary. For example, you may switch from the clear mode to the fluent or balanced mode, just like the YouTube offers in its video quality, when your network is busy or unstable.
How Far Could You Place the Wireless 4K Security Cameras
From the above analysis, you should be released that 4K wireless security cameras will not need much higher bit rate to work, so where the cameras could commonly work will be just fine with 4K ones.
So generally, the transmission range of a 4K security camera could reach 70 meters in the open area and 20 meters indoors, similar with the lower resolution ones.
However, this could vary according to your specific situations.
If you're uncertain about whether the 4K wireless security cameras could work in your desired monitoring place, like the garage, remote shed, garden, etc, here we offer two good ways to help you find it out:
∙ Check the WiFi signal with your phone at the camera mounting sites. While this may not be a perfect reference, it does give a good indicator of what sort of signal you can expect.
∙ Ask the support of the 8MP wireless security camera producer directly. Email them with a full explanation of your installation environment, like the estimated distance and obstacles in between, and then you will get their professional suggestions accordingly.
How to Reduce the WiFi Interference of 4K Wireless CCTV Cameras
"I just moved into an apartment and there are a TON of other residents using the 2.4GHz channels around me. Is there any WiFi security camera that could better utilize the signal and speed of my router even with the high amount of people in my apartment complex utilizing the 2.4GHz channels?
Just like the above cautious buyer, you might still want to avoid the WiFi interference as much as possible, although the 4K wireless security cameras will not eat up your bandwidth and slow the router down, as I mentioned on the first part.
In that case, it's advised to choose the dual-band 4K wireless security cameras. (Learn what a dual-band camera is here.)
With both 2.4GHz and 5GHz available, the 4K wireless security cameras could avoid using the busy 2.4GHz WiFi band, which is often occupied with the smartphone, PC, Xbox, etc, and enjoy high-speed network with zero interference.
* Also check other 3 solutions to solve the wireless security camera WiFi interference.
Could 4K Wireless CCTV Cameras Work Without Internet
"The network is too weak in the monitoring area, could I still use 4K wireless security cameras?"
The good news is you CAN use the 4K wireless CCTV camera, even without the Internet, but you need to find a local storage space for it, like the SD card and NVR, and you have to use it in a limited way.
The point is that 4K wireless security cameras don't need WiFi or a router to record and save the footages.
The 4K wireless security camera with SD card will record directly to its built-in SD card and rewrite it when the SD card is full. Well, for larger storage, the 4K wireless security system will be better. In that case, cameras within the system will automatically connect to each other on its own proprietary network and start to communicate with each other without a router.
While this provides 24/7 recording to the NVR, you will still need to connect the wireless 4K security system to a router if you want remote viewing and motion detection alerts.
Actually, the wireless security cameras with SD card will be more feasible, read on to find out the reason in the next part.
* Click here to find more ideas about using wireless security cameras without the Internet.
What's the Best Solution for 4K Wireless Security System
Want to get a wireless security system now to work without Internet or save your bandwidth? However, perhaps after hours of Google search you couldn't even find such 4K WiFi surveillance system.
Why is that?
The 4K WiFi security systems capture, collect and store videos in the 4K NVR. And with the only option of high bandwidth demanding code stream to transmit data, your network might be unable to handle this even with H.265 codec – just think that at least 4 8MP security cameras work at the same time!
By contrast, the standalone 4K wireless security cameras will not have such problems. They capture, collect and store videos within the camera, and could send out the video via small bandwidth demanding code stream for remote viewing and storage – and there is only one camera, after all.
How about using the "no network" solution?
Remember that the 4K wireless security system still works on its own proprietary network even without a router. So you might also come across the network problems with it.
How to Configure 8MP Wireless Security Cameras
It's true that 4K wireless security cameras need extra steps in configuration, compared with the 4K PoE security cameras.
Well, another truth is the configuration could be intuitively easy – all can be done in 10 minutes for average people actually, as long as you choose the right brand.
* Generally speaking, all wireless security cameras, regardless of their resolution and brands, could not automatically pick up the WiFi, and therefore you will need to manually configure the WiFi settings for the first time use.
Take Reolink as an example, you only need four simple steps to get the configuration done via either your PC or smartphone:
Plug the camera into the router's LAN port with an Ethernet cable.
Come to the WiFi settings via the mobile or PC client.
Scan and select a WiFi network, and then enter your password.
Disconnect the Ethernet cable, and then you are free to move the WiFi cameras to other places.
If you are still not very much confident about the whole configuration, you will have one-on-one support from Reolink, or you can include the installation service in your Amazon purchase.
Why Should You Choose 4K WiFi Security Cameras
Except for the flexibility, easy installation and super quality images, which drive most of you to search for a 4K wireless security camera, the 8MP wireless CCTV cameras actually gain more advantages from the technical aspects.
#1. 4K wireless security cameras gain 4 times more pixels, and thus 4 times clearer, than 1080p ones.
| | |
| --- | --- |
| Security camera | Pixels contained |
| 4K wireless security cameras | 8MP |
| 1080p wireless security cameras | 2MP |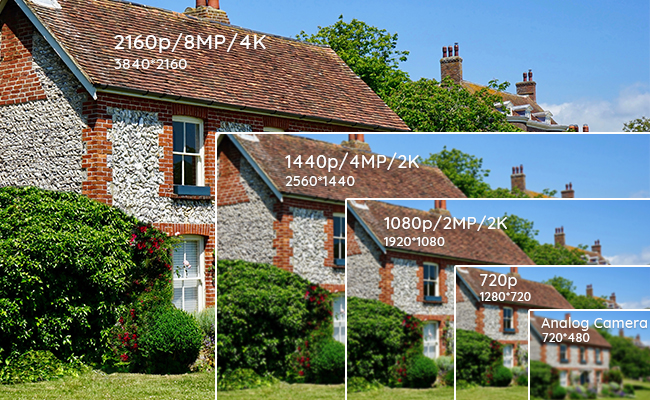 #2. 4K WiFi security cameras use advanced codec which saves bandwidth and storage space.
| | |
| --- | --- |
| Security camera | Codec |
| 4K wireless security cameras | H.265 |
| 1080p wireless security cameras | H.264 |
#3. 8MP wireless security cameras produce 4K images with minimal increase in bandwidth demands.
| | |
| --- | --- |
| Security camera | Bandwidth |
| 4K wireless security cameras | About 6Mbps |
| 1080p wireless security cameras | About 4Mbps |
#4. 2160p wireless security cameras gain higher quality night vision with 4K image sensors.
| | |
| --- | --- |
| Security camera | Night vision |
| 4K wireless security cameras | 8MP image sensor with high quality night vision |
| 1080p wireless security cameras | 2MP image sensor with lower quality night vision |
Which Brand Should You Trust for the Best 4K WiFi Security Camera
There seem to be limited choices of 4K wireless security camera brands out there, but it is still not easy to choose a brand that could compete with the probably booming 4K wireless security cameras in the near future.
The rule of thumb is to choose a reputable brand in warranty, technical support, and customer reviews.
A long term warranty is a reflection of high quality. We have every reason to believe that a 4K wireless security camera with 2-year warranty will be more durable than that only comes with 1-year or less.
A responsive support is another important point to evaluate whether a brand is trustworthy. Some security producers like Reolink promise one-on-one support, which is a huge bonus and you'll find that out when you have problems in the software set up, WiFi connection, etc.
And always remember to read some customer reviews. There might be likes and dislikes for any brands. Just focus on the facts and video feedbacks, and you will be less troubled by the varied opinions.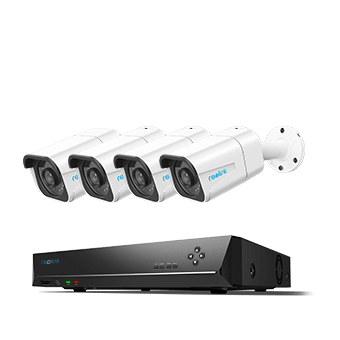 Reolink RLK8-800B4
4K 8-Channel PoE Security System
4 pcs 4K Ultral HD Security Cameras; 2TB HDD 8-Channel NVR for 24/7 Recording; Plug & Play; 2 Network Solutions.
Have Other Questions About WiFi 2160p Security Cameras? – Leave Your Comment Here!
Have more puzzles concerning the 4K wireless security cameras?
You may check this comprehensive buying guide for 4K security cameras to learn how to pick out the best 4K wireless security cameras. Want to get a 4K security system directly? We've also draft a system buying guide for you to keep you ahead of the curve.
Or simply leave a comment below to let us know what you think. I'll get back to you very soon.