Office security cameras are fundamental to ensure your employees' security, prevent outer/inner theft and enable you to check your workplace wherever you are.
However, security cameras in your office sometimes may lead to privacy invasion if not installed properly.
So before you buy security cameras for your office, it's important to know the workplace surveillance laws to avoid unnecessary trouble. After that, you can be off to purchase the best office security cameras.
Today We Will Discuss: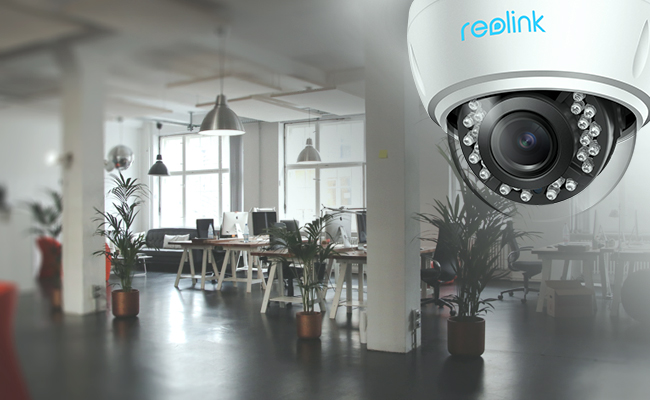 #1. Are Office Security Cameras Legal
Is it legal to put security cameras in offices (workplace)?
Well, as long as your office security cameras and systems have no impact on your employees' privacy, video only surveillance in the workplace is generally legal.
So, can you have small office security cameras in the workplace without informing the employees?
According to the related US privacy laws, video surveillance cameras can be used for watching and recording citizens without their knowledge or consent as long as no sound is recorded.
But audio recording of security cameras in offices requires at least one-party consent in most states. To some degree, legal liability can be limited by displaying notices that conversations and actions may be monitored by audio/video recording.
Most state privacy laws prohibit video surveillance and monitoring in restrooms, break rooms, and other areas where there is a reasonable expectation of privacy. The NLRB also limits employers' use of security cameras for home and office to monitor staff's union activities.
If you own a small business or an office building, you have every reason to have reliable office security cameras in place to improve workplace safety. Any lock can be broken, but an effectively maintained office security camera system adds a stronger level of security.
#2. Best Office Security Cameras & Systems That Are Worth Your Money
What are some best security cameras for office combined with good quality and affordable price? Below we've rounded up the top-rated office security cameras on the market, and you're sure to find one that is the right fit for you.
1. Buy Small Security Camera for Office – Reolink Argus® 2
If you own a small business and need a security camera in your dental office or post office, it's unnecessary to buy a complete office security camera system. Standalone office security cameras are enough to keep almost everything under control.
Reolink Argus® 2, in virtue of the sleek and compact design, is ideal to serve as a small wireless office security camera. Its 100% wire-free feature allows for easy installation and simple set-up, without the need to run wires or messy cables.
Here is what the office security camera reviews say (from PC Mag):
"Easy installation, sharp day and night video quality, and local recording make the Reolink Argus 2 a solid choice for a wireless indoor/outdoor home surveillance camera."
Specs:
1080p Full HD
Battery powered & solar powered (optional)
Starlight night vision
2-way audio
Intelligent alerts (siren, notifications & emails)
IP65 weatherproof
Build-in micro SD card slot
Watch the video below to check out the image quality of this small security camera.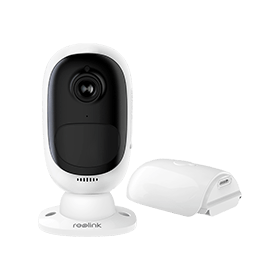 Reolink Argus 2
100% Wire-Free Starlight Camera
Rechargeable Battery & Solar Powered; Outdoor/Indoor Protection; 1080 Full HD; Starlight Night Vision; 2-Way Audio; Live View Anytime Anywhere.
2. Best Wired Office Security Camera – Reolink RLC-410
Reolink RLC-410 is the top seller among the wired office security cameras, boasting of commercial-grade quality and budget-friendly price.
Its water-resistant housing makes it ideal for mounting both inside and outside your office. With the free Reolink App and Client, you can access this security camera for office from anywhere on your mobile devices.
Check out what the office security camera reviews say (from Techhive):
"This indoor/outdoor cam can be used independently or as part of a more comprehensive surveillance system, and it provides exceptional image quality and features for the price."
Specs:
4MP or 5MP high resolution
Power over Ethernet
Built-in microphone
Excellent night vision
Smart motion detection
Intelligent alerts (push notifications & emails)
IP66 waterproof
Below is a video shared by a real user.
3. Best Office Security Camera System – Reolink RLK8-410B4
If you own a large office, a complete office security camera system would be your No.1 choice, which can cover the meeting rooms, storage rooms, lounges, etc.
Reolink RLK8-410B4 is just one of the top-rated office security systems for 24/7 surveillance. It consists of 4 PoE security cameras and a dedicated NVR for video storage. You can also manage multiple office security cameras simultaneously on your phone or computer.
Even your office has weak or no Internet connection, the office security cameras and the NVR can connect with each other via their proprietary network, so you can get video recordings around the clock.
For Your Reference: Can Security Cameras Work Without Internet?
Learn more from the security camera system reviews (from Network Camera Reviews):
"The Reolink NVR is a surprisingly good CCTV kit for the money."
Specs:
4MP or 5MP high resolution
Power over Ethernet
Plug & Play
Support up to 8 cameras
24/7 video surveillance
Watch the video below shared by a user of this security camera system.
Alternative: Have limited budget on office security camera systems? Try a PTZ IP security camera for your office that can rotate in all directions for a seamless live view, leaving no blind spots.
#3. Insider Tips on Choosing the Right Office Security Cameras
With so many choices of office security cameras available, here are some insider tips to help you land on the most suitable ones.
Depending on the installation location and your local laws, you need to decide whether a visible or hidden security camera is ideal for your office.
Scalability of security cameras in offices also matters also you may need to add more small office security cameras as time goes on.
Check what's required in the setup process of office security cameras? Can you install the camera on your own or do you need to hire an installer? Will there be any extra hidden fees you need to pay?
Does the security camera for office you are looking at offer encryption or other privacy features to prevent prying eyes (like Reolink cameras)?
If audio recording is not allowed in your place, you can also disable audio recording of the office building security cameras from the device settings.
#4. Best Places to Install Your Office Security Cameras & Systems
With proper placement, you can get the most from your office security cameras for exceptional protection of both your employees and your property.
The benefits of optimal office security camera installation are two-fold:
Best locations for security cameras in your office ensure full coverage of events in case that an incident occurs.
With appropriate placement, you can minimize the number of security cameras in office buildings while improving overall video quality.
Below are the most common locations where small business owners install office building security cameras. (Also see our Small Business Security Camera Buying Guide.)
Office Entrances/Exits
By installing security cameras for your office entrances and exits, you can keep a track of who is entering and leaving the office, and whether their entry is authorized.
Besides that, some HD security cameras in office entrances/exits are capable to capture clear human faces, which would be helpful should you need pinpoint suspects.
Office Reception/Waiting Areas
Your office reception area could be one of the high-traffic zones in your office. And that's why it's essential to install security cameras there.
If you are worried that your guests or visitors stepping into your office will be uncomfortable with video surveillance, you may choose those small office security cameras to keep a low profile.
Office Supply and Storage Rooms
It's definitely a must to install office security cameras for your supply and storage rooms, where the confidential files/documents and expensive devices are stored.
With the security cameras in office, you can see who accessed the confidential files without authorization from anywhere on your phone or computer. And it's also a good way to watch out for the employees who might steal from you.
If you've got some good ideas about the best places to install security cameras in office, please share your ideas with us and we'd like to hear from you.