Neighbors dumping, throwing & littering rubbish (cigarettes) outside my yard & house! What can we do to stop illegal dumping?
Are you now suffering from fly-tipping? Well, you will learn some effective solutions or ways to stop illegal dumping here. You can also get some detailed answers to fly-tipping frequently asked questions.
Content:
Part 1. Top 6 Solutions to Stop Illegal Dumping
Part 2. "Illegal Dumping" Hot Questions
Part 1. What Can We Do to Stop Illegal Dumping of Waste on Private Property
Still Google the best "stop illegal dumping on my property" brochure?
Now you've GOT one.
Follow the below useful ways to stop your neighbors dumping yard waste or rubbish on your property & yard.

WAIT! Check out these Special Deals before you leave:
Right now, you can get EXCLUSIVE & BIG discounts on a wide range of Reolink security cameras & systems, wire-free & plugged-in, indoors & outdoors.
Way 1. The First Step to Stop Neighbors' Illegal Dumping — Talking to the Person Directly
What can I do about illegal dumping in my alley?
If you notice people or your neighbors dumping trash and old furniture in front of your house, you should confront the person who dumped the litter or rubbish on your property directly.
You can be nice for the first time and tell your neighbors that please don't dump the rubbish in your trash can or in your yard, or you will call the police.
Way 2. Get the Police Involved to Help You Stop Illegal Dumping on Your Property
Well, in most cases, calling the police would be one of the most common ways you would use when you are in trouble. Undoubtedly, when you want to stop someone dumping litter on your property, report the illegal dumping of waste or garbage to the police immediately. The police will come to investigate the event and fine the person who did trash/waste dump.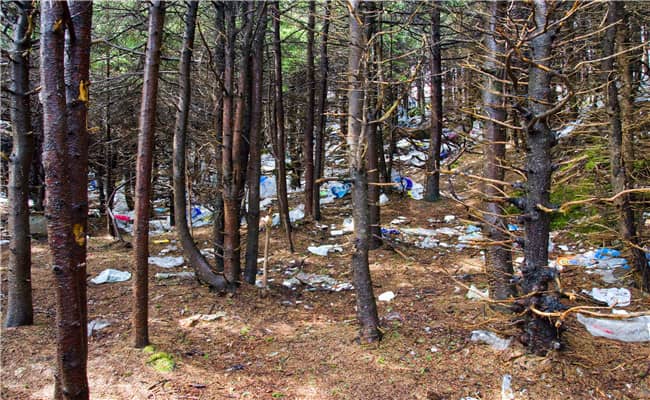 Bump: You can also contact your local Health Department or call 311 for help.
Way 3. Use Security Cameras (Systems) to Stop Illegal Dumping on Your Yard, Trash Can & Property
If the police ask you for evidence of illegal dumping, security cameras would be a helpful tool.
You can buy a security camera on your porch or where the security camera can monitor your yard or where people dump rubbish. It's inevitable that sometimes your neighbors would not admit the fact that he or she has dumped garbage on your property. With the videos & images captured by your security cameras, the guy who dumped rubbish on your property can't deny what he/she did.
Besides, with the evidence, the police can catch the guy more quickly. And the police also can fine the person for litter trespassing crime with obvious evidence.
If you stick a sign that shows your property is under the monitoring of security cameras on your yard, most people would not dare to dump waste on your property. It's also helpful to deter any would-be thieves to break into your property.
Some advanced security cameras can even enable you to get remote live view even without WiFi connection and outlets. You can place such 4G security camera that runs over mobile data to monitor your trash can, and then you can get real-time app pushes when someone dumps litter on your property.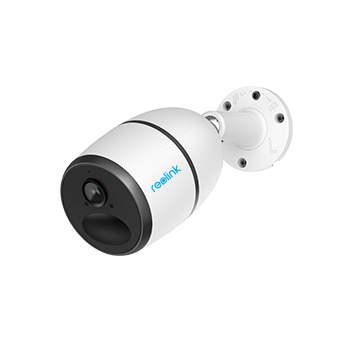 Reolink Go
100% Wire-Free 3G/4G LTE Mobile Camera
No WiFi & Power Needed; Rechargeable Battery or Solar Powered; 1080p Full HD; Starlight Night Vision; 2-Way Audio; Live View Anytime Anywhere.
You can check the below "Garbage pickup" video captured by a security camera. With such a security camera, you can see who dumped the waste into your trash can, and stop the illegal dumping with the evidence recorded by a security camera.
Way 4. Put up Private Property "No Illegal Dumping" Signs to Prevent Illegal Dumping
"No Dumping Trash" signs are indeed helpful to stop illegal dumping to some degree. Some people would not do dumping garbage on your private property when they see the "No Dumping Trash" signs.
You can write "The area is under video surveillance" on your "Do NOT Dump Your Rubbish Here" notice, which can deter a great number of would-be dumpers.
If they still dump the litter when they notice the "Do NOT Dump Rubbish" sign, they are against illegal dumping laws. You have every reason to sue him/her for illegal dumping on your property.
Way 5. Lock Your Area to Prevent Anyone Dumping Rubbish on Your Property
Illegal garbage dumping on my lawn every week, how do I stop this?
Some douche bags would sneak into your yard to dump their litter. It's definitely a good way to lock your area to prevent those bad guys dumping rubbish on your property.
Locking your area is one of the best preventive measures against illegal dumping garbage.
However, different cities have different residential fence standards. Please make sure your fence's height is not against the standard. Check the residential fence standards here.
If you are not allowed to put up fences around your property, place your dumpsters in a well-lit area or places monitored by security cameras. With bright light and CCTV footage, you are more likely to identify the person that conducts illegal dumping on your property.
Way 6. Contact Local Environmental Divisions to Deal with Illegal Dumping
Another feasible solution to illegal dumping is to contact the environmental division of local government.
Aside from costing you extra money to clean up your yard, illegal dumping may also poison the soil and local waterway.
To deal with illegal dumping on your property, it is best to leave the dumping there and seek help from the local environment conservations apartment.
How can we/you stop illegal garbage dumping in Vancouver Island and other countries? Take the above effective solutions now to prevent this awful crime!
If you see illegal dumping, report to the police immediately. If you are suffering fly dumping, wait for no time to take the above solutions to stop illegal dumping of toxic or hazardous waste on your property.
You can also get more information about illegal dumping on the below FAQs.
Part 2. "Illegal Dumping" Frequently Asked Questions (Share Your Ideas Here)
We make an "Illegal Dumping" FAQs list here so that you can get deep insights on fly tipping. If you have any ideas or questions, please leave them in the comment.
Q 1. What Is the Definition of Illegal Dumping?
What is dumping and why is it illegal? Is it illegal to use someone else's dumpster?
A 1: Illegal dumping is the illegal deposit of any waste or litter in unauthorized areas. It is illegal to sue others' dumpsters without their permission. It's considered as the theft of services.
The harms of illegal dumping include but are not limited to:
• Bringing health risks to people, pets, animals and landscape
• Poisoning the soil, local waterway and environment
• Costing extra money to clean up the wastes
• Providing breeding grounds for pests and rats
Hold Up: There are differences between littering and illegal dumping and the standard are the type and volume of the wastes.
Generally speaking, littering refers to throwing away a small amount of household garbage like plastic bottle or wrappers, which is considered as minor offenses in most cases.
On the other hand, illegal dumping is considered as disposing of a large volume of wastes like construction debris, mattresses and old electronic appliance.
Also note that by dumping hazardous items like batteries unproperly, may constitute illegal dumping, even with a relatively small amount.
Q 2. What Is the Penalty for Illegal Dumping?
What's illegal dumping fine or penalty? Is illegal dumping a felony?
A 2: Illegal dumping carries serious fines and can be a Class I felony. The illegal dumping fines vary greatly.
California Penal Code 374.3 makes illegal dumping punishable by a fine up to $10,000.
In Georgia, illegal littering carries fines of at least $100, while illegally dumping large quantities of waste can carry fines of up to $25,000 and/or two years of prison for a second offense.
Q 3. Which City Has Serious Illegal Dumping?
A 3: Almost every city has illegal dumping. However, if you live in the below areas, you might be in a higher risk of suffering illegal dumping.
If you suffer illegal dumping on your property in these areas, take the above 6 effective ways to prevent it.
America (US)
Texas
Travis County
Dallas
Fort Worth
Austin
Houston
Harris County
California
Oakland
San Jose
Sacramento
Orange Country
Walnut Creek
Stockton
Santa Cruz
San Bernardino County
Ventura County
Vallejo
Riverside County
Daly City
Fresno
Berkeley
Alameda County
Bakersfield
Kern County
Lancaster
Hayward
Florida
Pasco County, Tampa, Broward County, Jacksonville, Hillsborough County
Washington DC
Pierce County, Kitsap County, Snohomish County
Detroit
Atlanta in Georgia
Minnesota (MN)
San Francisco
Illinois
Colorado
Philadelphia
Columbus & Hamilton in Ohio
Miami
Memphis in Tennessee
Hawaii
Phoenix in Arizona
Denver
Baltimore County & Montgomery County in Maryland
Oregon
Milwaukee in Wisconsin
Wichita Kansas
New Hampshire (NH)
Maine
North Carolina (NC)
South Carolina (SC)
New Mexico
Richmond & Roanoke Virginia
Tucson
Mississippi
Utah
St. Louis
Los Angeles
Delaware
Louisville & Georgetown in Kentucky
New Jersey (NJ)
Yonkers in New York (NYC)
Seattle
Michigan
San Diego
Missouri
Reno & Las Vegas in NV
Vermont
Arkansas
Boston in Massachusetts
Indianapolis in Indiana
Australia
NSW
WA
 Melbourne
Victoria
Canberra
Wanneroo
Wollongong
Townsville & Gold Coast in Queensland
Tasmania
Blacktown & Hornsby in Sydney
Brisbane
Bankstown
Greenville in South Australia
Holroyd
UK (England)
Penrith, Wicklow, Glasgow in Scotland
Canada
Nanaimo & Burnaby in Vancouver Island
Toronto
Calgary
Winnipeg
Markham in York Region
New Brunswick
Vaughan
Edmonton
Caledon
Ontario
Brampton
Kelowna
Kingston
Mississauga
Guelph
Halifax
Ireland
Dublin, Donegal, Wexford, Kildare, Kilkenny, Galway
South Africa
Durban
Johannesburg
Western Cape
Port Elizabeth
Pretoria
Portland
Wellington in NZ
Malaysia
Thailand
India
Barbados
Jamaica
Hong Kong
Q 4. How to Report Illegal Dumping?
A 4: If you find an illegal (open) dumping in the ocean, communities or other areas, please take notes of the location, the type and amount of the waste, and other details. Report it online or through the hotline.
If you have any useful tips to stop illegal dumping, or have any questions, please leave them in the comment below!