Bank security cameras and systems are now adopted by most banks for crime prevention and teller protection. The 2016 Bank Crime Statistics Report showed a total of 4251 bank robberies, burglaries and larcenies occurred in US.
To increase the security of your bank, you may consider replacing your analogue bank security camera systems with IP cameras or adding new bank surveillance cameras.
Today, we seek to shed light on the importance of CCTV cameras in banks and help you select the best bank cameras with top considerations and recommendations covered.
Note: If you just want to know some facts about bank security cameras as a bank consumer, such as how long banks keep video surveillance, if all bank ATMs have cameras, you may directly skip to the last part to obtain all the information.
Importance of CCTV Cameras in Banks
The benefits of bank security cameras include but are not limited to the following aspects. Please feel free to add more in the comment box below if you have come up with any ideas.
Deter bank crimes. Bank surveillance cameras can help you spot any suspicious activities inside and outside the banks, so that effective measures can be taken to prevent crimes from occurring.
Help crime investigation. In the unfortunate case of bank robberies, ATM frauds or check fraud, the footage recorded by bank cameras and ATM cameras will help you collect data and identify criminals.
Do continuous monitoring. Bank security systems protect your banks even beyond the typical working hours and this is especially useful for the ATMs, which can be accessed by consumers anytime within a day.
Easy remote access. Whether you are off work at home or on a vacation, you can keep tabs on your bank easily on your smart phone, laptop or computer via Internet.
Earn customer trust. The presence of bank security cameras can effectively boost the customers' sense of security, and help build a professional image of your banks.
Editor's Note: Click here to explore the benefits of installing security cameras in public places.
Top 3 Considerations for Bank Security Cameras
The security systems for bank come in an array of sizes and shapes, and have a laundry list of features that makes your selection more difficult. Here is a breakdown of what you should consider before biting the bullet.
#1. What Features to Look for in Bank Security Cameras
In fact, which bank security camera you end up choosing is a matter of matching each one's unique capabilities to your usage needs.
Given the special environment of banks, here is a list of the must-have features and nice-to-have features for bank cameras catering to your needs.
Must-have Features for Bank Alarm Systems:
High Resolution - The banks security cameras with WDR technology provide stunning image quality and no quick-fingered dishonest bank clerks could escape from the bank cameras.
Smart Motion Detection - You will receive intelligent alerts from bank surveillance cameras if any suspect enters the monitoring zone of banks during non-banking hours.
Great Night Vision – The night vision security systems used in banks or 24-hour ATMs can help recognize human faces should the robbery occurs.
Large Storage Capacity – Since some banks are required to keep bank camera footage for a fairly long period, the security alarm systems for banks with sufficient storage space can offer you un-tethered video recording without sacrificing the footage quality.
H.264 video compression - The H.264 IP cameras for banks are especially suitable for video storage with the advantages in low bandwidth usage and storage consumption.
Nice-to-have Features for Bank Cameras:
PTZ - The PTZ bank security cameras features panoramic coverage and superb magnification effect, ensuring that intruders have nowhere to hide.
Plug & Play - We understand the painful costs involved in installing traditional bank security systems. The plug and play bank security systems take you few minutes and no professional installation experience to set up.
Waterproof & Vandal-Proof - For bank security cameras placed outside or in the ATMs, it is recommended you choose waterproof and vandal-proof IP cameras for banks to brave the elements and protect against vandalism.
#2. What to Watch Out for Bank Surveillance Cameras
With multitude of bank security camera and system brands available, note which security cameras have the highest security level so as to protect the bank security camera footage from possible leakage.
For example, the video recordings made on Reolink security cameras are always encrypted with the highest industry security standards, including SSL encryption, WPA2-AES encryption and SSL-TLS enabled.
Additionally, in case that the ATM security cameras should be tampered by vandals, make sure the bank security cameras are placed high enough to exceed people's easy reach.
Better idea: Besides bank security cameras, the physical security presences can also add a layer of protection for banks, such as brighter lighting, on-site police officers and other security personnel.
#3. Where to Properly Place the Bank Security Cameras
Positioning bank security cameras in the improper places is equal to doing nothing at all. To effectively stem the tide of banking crimes, it is important to know where the vulnerable places are in your bank.
Here are some critical places you should consider placing the bank security cameras:
ATM machines attached to banks
Entrance and exits of banks
Teller areas
Bank lobby
Safe vault
Parking lots attached to banks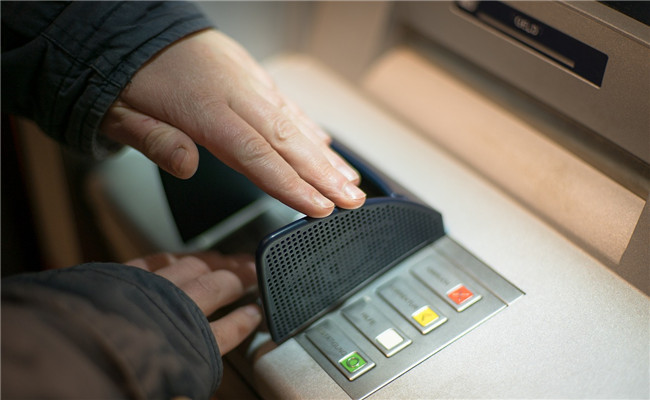 Best Bang-for-buck Bank Security Cameras & Systems
The importance of selecting a high quality bank security camera cannot be overstated, especially when you need them to identify and track down suspects. Below are some best bang-for-buck bank surveillance cameras worth your investment.
1. Reolink RLC-810A – Most Popular PoE Bank Surveillance Cameras
As a best seller among the wired security cameras, Reolink RLC-810A stands out with the decent price and rich functionality (with all the must-have features for bank security cameras mentioned above.)
You may download Reolink free App or Client to watch live viewing of your bank anytime and anywhere on your phone or computer. Or you can also buy an NVR to work with this bank camera for continuous recording.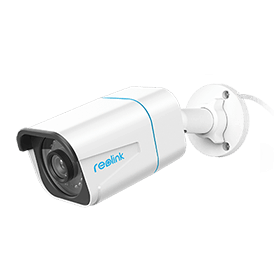 Reolink RLC-810A
4K PoE IP Camera with Person/Vehicle Detection
Smart Person/Vehicle Alerts; 4K UHD Day & Night; 100ft Night Vision; Time Lapse; IP66 Certified Weatherproof; Audio Recording.
2. Reolink RLC-823A - 8MP PTZ Bank Security Cameras
Featuring super wide pan & tilt range, Reolink RLC-823A makes it an effortless task to monitor a large area in your bank or surrounding the ATM machines with one single camera.
Should a bank robbery or ATM skimming occurs, this bank security camera allows you to zoom in to capture the face features of the criminals relying on its 4K 8MP high definition.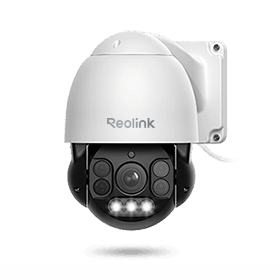 Reolink RLC-823A
Smart PTZ PoE Camera with Spotlights
4K 8MP Ultra HD, Person/Vehicle Detection, 5X Optical Zoom, Auto Tracking, Manual Pan & Tilt, Two-Way Audio, 190ft Night Vision, Live View.
3. Reolink RLK8-800B4 - Large-storage Wired Bank Security Camera System with 4K Ultra High Resolution
Since most banks have to keep the bank security camera footage or ATM camera footage for months, the best resolution is to purchase an integrated bank security system coupled with sufficient storage space.
Reolink RLK8-800B4 is packed with a pre-installed 2TB hard disk drive and supports up to 6TB external HDD, which provides enough storage space to serve your purpose.
The 4 wired security cameras are also 4K H.265 IP cameras, meaning they won't take up much space when it comes to video recording.
In virtue of the 8MP high resolution and great night vision, the security cameras present real colors of objects and reveal stunning details day and night.
Reolink RLK8-800B4
4K 8-Channel PoE Security System
4 pcs 4K Ultra HD Security Cameras; 2TB HDD 8-Channel NVR for 24/7 Recording; Person/Vehicle Detection; Plug & Play; 2 Network Solutions.
4. Wireless Bank Security Systems
If a wireless bank security system is on your wish list, then you may consider setting up one with Reolink wireless security cameras and an NVR. In that way, you may choose whichever WiFi security camera types to best meet your security needs.
As with Reolink RLK8-810B4-A, this wireless bank security system also allows for 24/7 recording and feature smart motion detection, excellent night vision, large storage space and more functionalities waiting for you to explore.
You may check out the wireless security camera system footage from Reolink user:
All You Want to Know About Bank Security Cameras
Wonder how long banks keep surveillance tapes of bank security cameras? Or how you can obtain the ATM security camera footage if you fall into an ATM fraud? Read on to discover all the facts about bank cameras you are interested in.
Q: How Long Do Banks/ATM Security Cameras Keep Security Videos
A: Banks generally keep ATM security camera videos for 6 months in accordance with the banking industry standard. But it may also vary with different banks and the countries you are in.
For example, the United Arab Emirates banks (and possibly other businesses) have a legal requirement to keep bank security camera footage for a full year.
Trade regulators may ask all types of business (regardless if it's a bank or another type of business) operating under their jurisdiction to store footages for just a month, while bank regulations may require businesses to store footages for a year.
Q: Do Bank Security Cameras Have Audio
A: Generally, the bank surveillance cameras don't support audio function.
On the one hand, most states do not permit audio recording in public places unless both parties know it is taking place (check out the audio surveillance laws).
On the other hand, the bank security cameras that pick up sound from afar usually cost more as the microphones are quite limited in range.
Besides, adding sound to videos requires more storage space for bank security systems, meaning extra cost as well.
Q: Do All ATM Machines Have Cameras
A: The privately owned and operated ATMs you see at gas stations and retail stores usually don't have built-in cameras. Yet the ATMs located in large banks or credit unions, such as Chase Bank, Bank of America, First World Bank normally have.
And those banks taking security more seriously are investing in professional bank surveillance cameras to record any suspicious behavior. Some advanced ATM security cameras are even featured with facial recognition.
Q: How Do You Get ATM Security Camera Footage
A: In case you unfortunately fall into an ATM scam or failed transaction, the first thought occurs to you might be how to access the ATM camera footage.
Usually, a bank won't provide bank security camera footage to individuals. You have to report you case to the police and then the bank will show the camera footage to the police officers after confirmation.
But in India, according to the directions given by the Reserve bank of India (RBI), customer now can approach the bank directly and ask for the footage giving a substantial reason. All you need to do is to fill in a small request form.